Tulips from sweets and corrugated paper: do it yourself with your own hands
Bouquet of sweets – Very original and beautiful gift. Especially if he is done with his own hands. Especially popular tulips made of candies and corrugated paper. Make them quite easy
Recently, gifts made with their own hands are becoming increasingly popular. One of these wonderful presents is a bouquet, in which there are tulips from candies and corrugated paper. It does not start long, and your favorite candy hidden in the middle of the colors will be a real surprise for sweet tooth. This article will tell you how to make a bouquet of tulips from candies.
Required tools and materials
For the manufacture of a bouquet of beautiful spring colors – tulips, you will need:
Candies. When choosing them for a sweet bouquet, you need to consider: taste, choose those who like the one who is intended for a gift, shape and packaging, they must be comfortable for fastening on a cutting;
Corrugated paper. Floral fits best. It is denser and keeps well;
Wooden spanks;
Wire. Suitable wire for needlework;
Green Teip-tape;
Elements for decoration. Transparent beads, satin ribbon and others;
Tools. Scissors, Little Passatages or Tongs.
Master class on making bouquet of corrugated paper and candies
We start creating a bouquet from the choice of the most important element – candies. They must be fresh, tasty and like someone who will be handed a gift. Falki must be comfortable for mounting to spanks.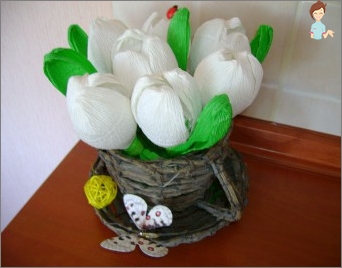 Great semi-circular with a candy flashing from above. «Rafaello» and the like they also look good in bouquets. Due to its round form, they give flowers volume.
Selecting a sweet filling, pick up the color of the paper. In nature there are tulips of a wide variety of shades: from delicate pastel to the brightest. For the manufacture of a bouquet Take two contrast or two – three color complementary colors. The compositions of the colors of one shade look good. For example: Yellow, pink or bright red tulips.
Do not forget to purchase green paper. She will need to make leaves.
Featuring paper and candy, proceed to the manufacture of sweet composition:
Fastening candy to spanks. Flower leg will be long wooden spanks. Candies are fixed on them with thin wire or narrow scotch. It is necessary to mount very tight, so that the sweetie sat tightly on the leg and did not move. For this, firmly wipes the wire edge and the end of the skewers. Tighten the wire using small nippers or passatia. For reliability, fasten a teip-ribbon;
Forming a flower. We make billets of flowers from corrugated paper. Floral or simple paper cut strips along the corrugation. We make stripes width 3-4 centimeters. Then divide them into 3 parts. The obtained details fold in half and twist to one full turn. In order to make the flower form from 3 to 6 blanks. Formed petals fix around the stalk with candy. For this, each of them is tightly wrapped with wire or narrow scotch. The place of fastening of the petals and the leg is tightly wrapped with teep ribbon;
Leaves. Tulips leaves can be made in the same way as petals. To do this, cut green paper with narrow and long stripes. Form the leaves by paying the strip in half. Secure Tape ribbon on cuttings. Another way to make leaves for tulips – cut them out of corrugated paper, repeating the shape of the leaves of living colors, and slightly twisted the tips;
Design of bouquet. Collect flowers in a beautiful composition. Crerate their scotch. Floral paper or «Patchwork». Tie away satin or other beautiful ribbon. Optionally, can be glued to flowers and leaves light transparent beads, imitating the dew.
Corrugated paper tulips and candies in a basket
Sweet bouquets look perfectly in a small wicker basket. The next master class will tell you how to assemble a bouquet of candy tulips in a basket. For the manufacture of such a gift, you will additionally need: a small wicker of the vine or other material basket, foam or floral oasis, double-sided tape, sisal or green mesh.
Collect the composition in the basket in the following way:
We prepare the desired number of colors with sweets;
Foam or oasis cut out in the form of a basket, fix in it using double-sided adhesive or glue;
We disguise the foam sisal or a green grid, fixing it with glue;
We form a bouquet in the basket, starting to stick the stalks of paper tulips with candy based on. Do it better from the middle to the edges;
Basket handle decorate a bow or other decorative element.
Created by your own hands a bouquet of candy tulips, is a wonderful gift for March 8 and a birthday.
Do it is not at all difficult.
But how much joy he will deliver a close to you.
Good luck. To new meetings!