Christmas crafts: knit crochet Christmas toys
Christmas toys - this is not necessarily the glass and colored plastic. Wonderful decorations can be associated with their own hands. Knit Crochet Christmas toys
To turn the Christmas tree nowa work of art is not necessarily to buy expensive Christmas tree decorations in the store. Perfect alternative in this case would be a self-made toys, crocheted. Lovely delicate decorations are obtained even in those who have not yet been held in the hands of spokes, hook and yarn for knitting.
Features knitting process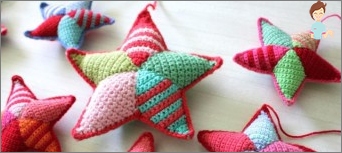 The proposed master classes knitted Christmasunusual crochet toys with detailed schemes will create a lot of original and unusual jewelry that you can decorate not only the tree, but the apartment.
These attributes create a real comfort in a house and a Christmas atmosphere.
What toys can be to tie?
Openwork balls and bells;
Multi-colored canes and snowflakes;
Garlands and sprockets;
Knitted gloves and decorative candies.
To create a small miracle, you will need a minimum set of materials, namely:
Hooks of different sizes;
The multi-colored yarn;
Solutions for fixing shaped articles.
Master class: openwork bowl
This technique of knitting crochet toys is ideal for beginners. It is quite simple, so the task will be easy to deal with novice needle women.
decoration assembly process is the following:
First you need to dial 12 stitches;
Then, a 3 aerial loops for a smooth recovery. This workpiece edge will not get tightened;
Further, knitting continues until until column 23 is formed with nakida;
The next phase of the scheme - a set of loops 7 aircraft;
After the loop will be recruited, two columns with nakida passed;
The third column make the connection, thereby forming an arch;
Similarly, collect a number;
At the final step necessary to make a smooth transition to the top of the arch;
It is necessary to dial 4 air loops, followed by a column with nakida form;
The assembly continues until, until the arch is not closed;
As a result, crochet obtained here is a pretty delicate ball.
Master Class. Christmas bells
How quickly associate the New Yeartoys, crochet bells? Christmas bells assembly principle is quite simple, so the assembly will take them a little time. But thanks to the aesthetic appeal of the product, they can be used not only as the Christmas accessory, but also a decorative element for interior decoration of the room.
To make the bells, we will need these materials:
hook №1.5;
white yarn;
decorative ribbon golden.
The process of knitting products:
7 It is necessary to dial. n (stitches), which are closed in the ring.;
Then make 1. n lift and 12 bars without nakida.;
In the second row form 3. n and 1 bar, but with nakida.;
Then the third row provyazyvayut on the same principle as that of the second;
In the last number of rows in. . P should be increased by 2 in each row;
Further, according to the description of bow is formed;
At the final stage of the decorative ribbon attached to a ponytail bells.
More detailed diagram and description of knitting, Christmas bells toys crochet as follows: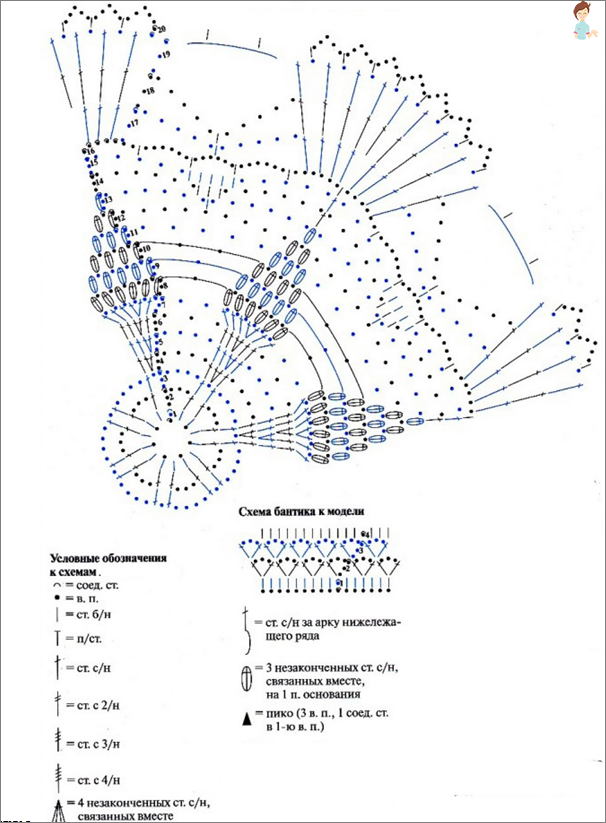 Workshop: Christmas candy
It's very simple, but the original versiontoys will attract needle women who do not want to spend a lot of time knitting. Cute lollipops can be used and the quality of Christmas tree decorations, and Christmas as cute accessories that will become a non-trivial decoration of the festive table.
So, to make simple and bright New Year fairy crochet toys, You need to take these materials:
yarn white and red;
Hook number 2;
The process of knitting products:
The assembly process starts with a set of stitches (15 of each color);
As a result, formed knitted cover;
Inside the cover to insert the wire, bending it in the form of sticks;
Then, plummet "tightened"Dovyazyvaya several loops.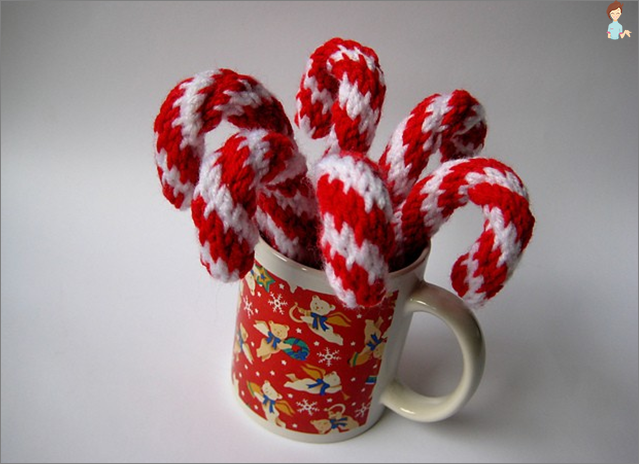 Master class: a garland of stars
In order to create a beautiful and nontrivial decoration, not necessarily very difficult to use schemes assembly of products. It is enough to create beautiful crochet patterns Stars in the form of the type of those that are made for table napkins. One of the easiest options for the scheme you can see in the figure.
Formed a few stars from yarndifferent colors, you can do one thing in common garland. It will look great as a Christmas tree, or just on the wall. In any case, with such accessories Christmas mood you will be provided.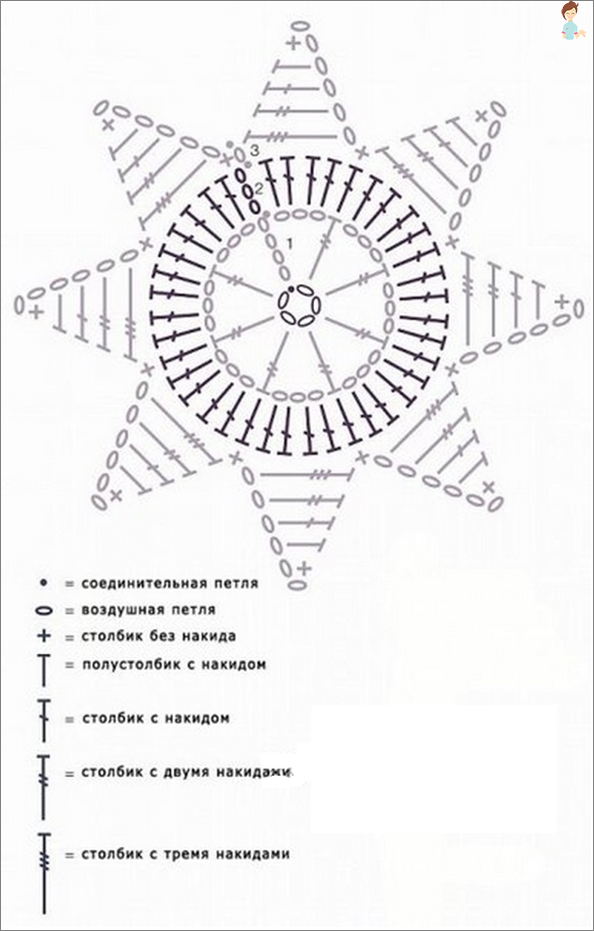 How to make a three-dimensional decoration?
To knit Christmas decorations well-kept shape, they must be treated with a solution, which may consist of a myriad of ingredients.
Consider a few simple options:
sugar syrup. To prepare the solution should take about100 ml of water and 5 tablespoons. l. Sahara. To the liquid thickens slightly, it is cooked on low heat 3-4 minutes. Then, the syrup obtained simply dipped knitted product and allowed to dry;
Adhesive solution. Connect the PVA glue with water in a ratio of 3 to 1. Warm it in the fire and let cool. The resulting liquid dip ornaments and let them dry.
detailed description schemes knitting toys, as well as giving them the secrets of volume will certainly help you make a lot of interesting New Year's accessories. Simple master classes, discussed in the article, will be for beginners real salvation. Merry holidays to you!