We master the art of creating a gift packaging: beautifully decorated it with your own hands
So that the gift looked luxurious and festively, it is taken beautifully packaging. Check out simple ideas how to pack a gift with your own hands, having pleased a loved one
Any gift looks much better in an attractive package. If you need to hand someone's present, take on arms a few original ideas, how beautiful to pack it in the box. So it will look more presentable.
Why do you need festive packaging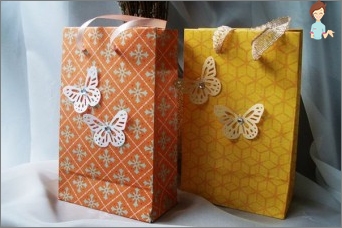 Going to the holiday, we are accustomed to doing surprises, moreover, the selected presents are usually bright and colorfully pack. Not all people are supporters of this approach to the holidays of their relatives and familiar people.
Why do these packages need, because a gift will remain the same, you can ask you! However, pack the gift with your own hands – it means to show respect for his addressee.
For someone, such a lesson, like a festive design of a gift, will seem a waste of time, because in any store you can pack the purchased thing. But understand: if you give it in standard packaging, you just pay for the next service and no one will appreciate it. Another thing is to learn how to do it yourself, beautiful, original and with soul.
Unusual ideas
There are many options how to pack a gift.
First of all, various materials such as are for this purpose
kraft paper;
Screw materials;
the cloth;
tapes;
Natural materials.

 
The choice of funds that will be used in the process of creating a festive packaging depends on what you will give, your creative abilities and mood. Agree: spend the evening to embody into the reality of the most original and intricate idea, it's so cool, because you certainly raise a mood and call him the warmest feelings. 
We make a gift bag
Perhaps the easiest version of the gift packaging is the creation of a dense package of paper. Such an idea will be useful for people who are not creative nature and limited in time. In order to make such a package, use dense-skinned paper, it can be pages of glossy magazines or newspapers. So you chose the present, and decided to make a festive package for him!
You will need such materials:
Pulling paper;
Scotch;
glue;
ribbon.

 
Perform the following actions, and you will certainly work out:
Cut from paper a square or rectangle of the desired size, the form is determined by your preferences and the gift itself. Fold twice the paper, glue it with scotch inside. If you can find a bright scotch or with a beautiful pattern, you will have the opportunity to reliably glue the package without sacrificing it with appearance;
Make a spacious bottom, correctly folding the edges of the package, fix them with scotch;
Cut the ribbons of the desired length for the package handles and stick them. For greater reliability, they are better fixed with a stapler.

 
Your gift package is ready! 
Making a festive box
If you are interested in how beautiful to pack a gift, pay attention to the festive box made by hand from cardboard. So your present will look more presentable and festively! The shape of the box can be the most diverse – round, square, rectangular, triangular. 
To make the simplest square box, take such materials:
ruler.

 

brush for paints;
scissors;
glue;
Two pieces of cardboard with a size of 30 by 30 cm;
On the back side of the Cardboard Sheet, draw two lines of the crosswise, drawing them from one corner to another. These will be the fifty lines, they must be intersecting in the center of the sheet. When the lines are drawn, generate all the corners of the paper to the centerpoint. If all the angles are emerging with each other, it means that you all fulfilled right.
Expand the paper, then fold it again so that the colors are diagonally. Make cuts in collaps. Fold the box, glue it parts using a tassel for paints and glue. Now you can pack in it a purchased thing and go for a holiday! 
Alternative to Paper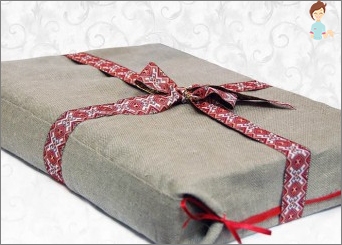 When you have a task to create a gift packaging, you must understand that you can use not only paper. Of course, if you already know how pacify, then it is you and you will use, especially with limited time.
Instead, you can take a fabric, for example, festively will look lace or atlas. The soft material will create the atmosphere of heat and coziness, will indicate your reverent attitude to a beloved person. 
Why wrap a gift in the fabric if you can use paper? The fact is that there are really beautiful and luxurious fabrics with which no paper can compare. Moreover, it is a very original and attractive packaging. 
The easiest way from the fabric make a gift bag. For its manufacture you can take such a fabric as organza, hard fatin, taffeta. You can pack the gift itself or the box with it. Make a bag very simple, To do this, take the fabric of the desired sizes, put the purchased thing and make the matter from above the ribbon. Present Ready! 
You can use the lace gift decor, it looks more luxurious. Lace makes a gift from gentle, touching and mysterious. To use such a design, a gift box need to be simply wrapped with a guipure or tulle, tie from above with a ribbon. 
Packaging with a monogram
Want to stand out on holiday with your gift, handing it addressee? This idea will help you with this! Having several simple elements in arsenal, a little free time and an irresistible desire to please a native or loved one, you will be able to create an original gift packaging.
You will need such materials:
Colored yarn;
scissors;
wire;
glue;
Kraft paper.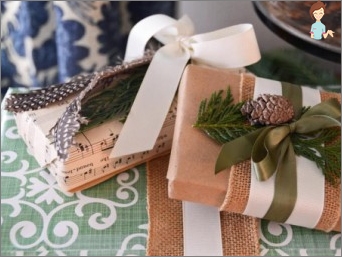 Take not too thin but well-bent wire. Apply a little glue to her end, and immediately start tightly wind at her bright color yarn. So you must completely close the wire threads for knitting.
Fix the thread on the other end of the wire with glue, then applying a little effort, give it the form of the first letter of a person name, which is a gift addressee. Gently wrap the prepared gift in kraft paper, turn a multi-colored yarn packing several times and tie the original monogram to it.
Believe me: this package on the holiday will not have anyone, that you can pleasantly surprise your loved one. 
Now that you know how to properly pack a gift, you can choose among a variety of ideas most suitable for you. Open these simple secrets to your friends so that if necessary, they did not break their heads in creating a festive packaging!