How to make a beautiful bow from a narrow satin ribbon?
How to make a beautiful satin ribbon bow? There are many ways to assemble a bow. You will need satin ribbons, scissors, glue, a little fantasy and patience
Bows We can see everywhere: Moms tie their daughters, gorgeous bows adorn gift packaging and wedding machines. They cling to handbag, shoes and clothes, they decorate flowers bouquets.  For manufacture use a variety of materials. Very original and refined bows of satin ribbons.
They can be decorate anything, even interior and pet items. How to make a beautiful satin ribbon bow?
Classic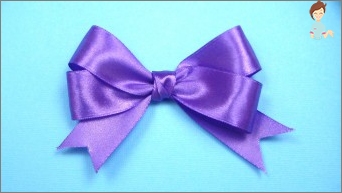 This is the most popular way that is used absolutely everything in everyday life. To make a bow, you will need quite a bit: scissors and, actually a ribbon.
Cut the desired number of tapes, fold her ends in the opposite, crossing them. Sing one of the edges in the ring of another. Tighten the node and gently straighten the tape. This method will also help to figure out how you can make a beautiful paper bow. By analogy, you can create decorations from any material.
Strictness
You will use such items:
Basic tape;
A piece of satin for decoration;
Scissors;
Glue.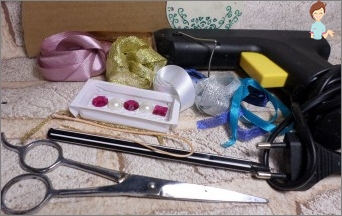 Cut as many ribbons how much you need, turn the edges to the center and lock them with glue.
Connection location Wrap a ribbon, making «the seam» on the wrong side, glue. Caution Scroll to the connection with your finger.
Such a cute satin bow can be used to decorate children's clothing, summer handbags.
Tier
It is completely easy to figure out how to make a beautiful tier tape bow. For its manufacture, prepare tapes:
A slice of 4 cm wide and 10 cm long;
Cut 3 cm wide and 8 cm long;
A slice of 2 cm wide and 6 cm long;
Narrow tape;
Scissors.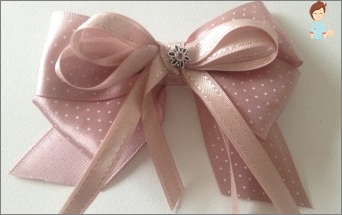 Colors need to be selected depending on personal preferences, with sizes, you can also experiment.
Lay the edges of ribbons so that they do not look slightly. Fold them ascending so that the narrowest is from above, and the wide – bottom. Tie this design with a thin ribbon, leaving long ends. With their help, you can consolidate the product on the packaging box or on another subject.
Contrast
Would you like to know how to make a beautiful bow on a dress? There is nothing easier. Two-color option looks very effectively. The main thing is that the colors are contrasting and bright.
You will need two cuts 2 cm wide and 4 cm, narrow tape, stapler and scissors. Spread a wide ribbon, on top of it, centered, put a narrow.
Form the ring and make the ends of the glue. Will wrap the ring in the middle of a narrow ribbon and tie a knot, not leaving the edges. «Main» Secure the stapler or glue. Fix a beautiful bowl to clothing with a small pin, for example, on a dress.
«Dior»
This design is original and spectacular, its manufacture requires effort and patience. How to make a beautiful, but complicated, slim ribbon bow?

Cut the ribbon to a few pieces. One segment should be the longest, and the rest are declining. Each piece do in a double copy. Glue the rings from them, and proceed to the collection of design.
In the center, place the longest ring, and overlook the sides of it descending, creating «Lestenka». In the center of the workpiece is bonded by glue or stapler. Connection location Decorate a ribbon.
This decoration made of fabric can be attached to packaging boxes, interior items or other accessories.
Flower decor
This product is quite complicated in the manufacture, but the result is worth. All you need for assembling a bow – tape sufficient length.
Form the first ring using index and thumbs. To get a medium pomp, they should be at least 10. All rings collect together and tie them a narrow tape in the center.
«Ears» Carefully disappear so that they have a tidy look. It remains to fix this flower on the subject or clothing – enthusiastic glances are provided to you.
Scrunchy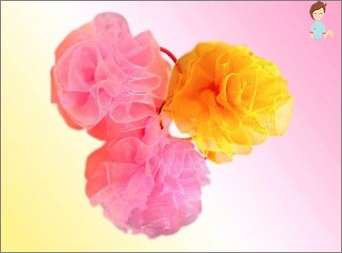 For the manufacture of a rose bow, you need two tapes: one length per meter and 2.5 cm wide, and the second is 0.8 cm wide, but twice shorter.
Prepare two P-shaped paper templates, 8 cm and 6 cm. Secure the edge of thick tape on a wide template. In the center scalulate tape pins, and keep the seam «Forward needle». Form the assembly and tighten the thread, secure it.
By analogy, make a second flower from a narrow tape and a small template. In the center of the sewing bows together, re-adjail the middle. From the wrong side of the sew gum.
Now you know how you can make a beautiful tissue bow. Turn on the fantasy, be patient and then you can turn to interesting and unusual things.