Getting ready for winter: knit crochet skirt for girl
Nowadays, children are expensive, girls are very expensive. However, there is always a place for saving. Our experts will tell how to tie a crochet skirt for a girl
Knitted skirt – an elegant and beautiful element of the wardrobe, which can be easily to tie on one's own. Products related Crochet, obtained very elastic, thanks to which they sit clearly on the figure. We will get acquainted with the theory of knitting crochet skirts, and consider some interesting and simple master classes.
Features of knitting crochet
In the collection, presented below, you can find enough simple and understandable schemes, thanks to which even beginner craftsmen will be able to master knitting techniques.
In order to independently make a skirt, we will need a minimum set of tools and materials:
Hooks. It is advisable to buy at least two or three hooks of various sizes. Depending on the thickness «spout», It will be possible to create a variety of patterns with different mating density;
Yarn. If you decide to sit for the first time for knitting, please note too thick yarn, then you will be easier to make all the necessary manipulations, because the thread will not fly from the hook in the process of assembling the product;
Lining. For skirts may need lining, so it is desirable to take a cotton cloth for it.
Master class: skirt with flocks
Moms of modern teenagers know that their children are sometimes very whimsical to their wardrobe. How to insulate a teenage girl in winter? To tie a stylish crochet skirt, you need to take the yarn at least 4 colors. It is desirable that it is either a silk, or mocer.
In the process of assembling the thing demonstrated on the model, materials were used:
60 g of turquoise yarn;
20 g of yarn of gray and blue shades;
100 g of thread of dark blue.
Production assembly process:
To build the basis, you need to dial 110 Air loops from threads of dark blue;
About 10 rows need to make a note for the future expansion of the workpiece;
In subsequent rows, it is necessary to add 9 loops to add the product to be wavy;
For the assembly of flutes from the transverse walls, 200 air loops are gaining and knit until the height of each band is approximately 15 cm.
In the process of knitting it is not desirable to tighten the loops, otherwise the thing will turn out too dense, and the volanesses will not be air, as it is intended in the model.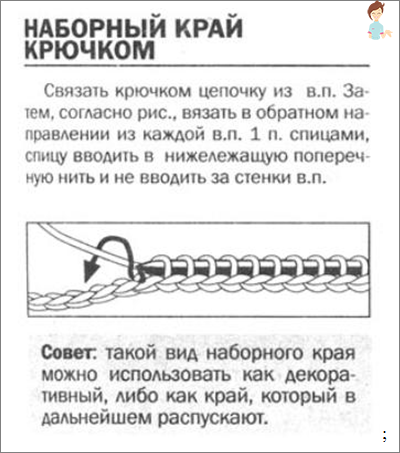 Master Class: Skirt with Ryushami
How can you associate a fashionable crochet skirt for a girl? This is a fairly simple master class, thanks to which novice craftsmen will be able to learn a little and will remain pleased with the results of their work. Bright and pretty thing suitable for girls 12-13 years.
In this case, the assembly is made of cotton yarn of blue. To finish the product, we will need orange threads, of which we will connect beautiful patterns.
To create a beautiful and original thing, you need to stock such materials:
200 g of blue cotton yarn;
Two hooks number 2 and №3;
20 g of red and orange yarn.
Features of a crochet skirt:
The product will consist of two cloth: front and rear;
The main details are collected by a semi-solitary;
Then the bound canvas are stitched on a regular typewriter;
And at the final stage, false pocket pockets from red and orange yarn are encounted on the front of the product .
In more detail, the knitting skirt and patterns are presented in the photo: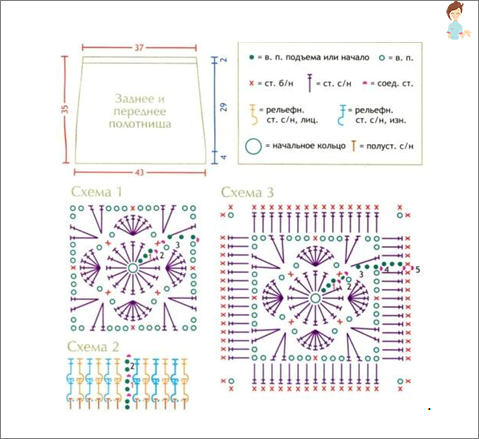 Master Class: Skirt with lining
This knitting technique for the girl involves the use of a lining material, so as yarn, you can take almost any threads, even those that relate to the category «biting».
For assembly, materials will be required:
Multi-colors yarn (blue, raspberry, green, purple);
Hook number 2 and number 2.five;
Fabric lining.
Immediately it is worth notify that the assembly of the model should be started with the waist and continue knitting with circular rows. In details Knitting schemes Unusual Crochet skirts Presented below.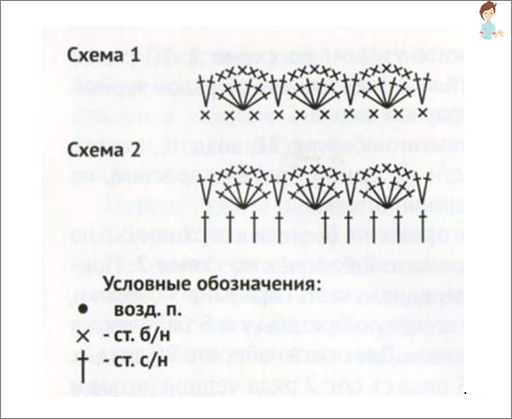 Master Class: Doll Skirt
Want to please your daughter with new clothes not only for it, but also for her «Daughter»? Make the outfit for her doll with your own hands! How can you connect the chocolate elegant skirt for doll? In order for the product to look unusual and original, we will refuse to knit a rectangle in favor of the broken style.
Obviously, the upper part of the design is made with a rubber band, due to which the product is well held on the waist of the doll.
Knit a facial stuff according to the following scheme:
The first nine rows are assembled from air hopes and toll a rubber band;
The ninth row knit in the same way, without adding loops along the edges of the workpiece;
In 10 and 11 rows every three loops add one more looped;
In subsequent rows, additional loops are binded every 4 air loops;
At the final stage of the lower row, we make an involnery and cut the thread.
Crochet – a fascinating occupation, thanks to which you can create original things of any style and colors. People who are fond of needlework often enjoy not only the end result, but also the assembly process itself.
Please your child with beautiful winter outfits. Enjoy your needlework!