Holder for the bag: how to choose and use the accessory
Real Fashion and Style Combine Simple and Convenient Things. Bag Holder – New Device Created for Convenience and Comfort. And it can be made with your own hands
What you just do not find in a light female handbag!  As a rule, it has everything you need any woman, and even more. Bag is always at hand, even when you just relax in the cafe. This is where difficulties arise. Where to put a bag if all chairs are busy visitors so that it is at any time?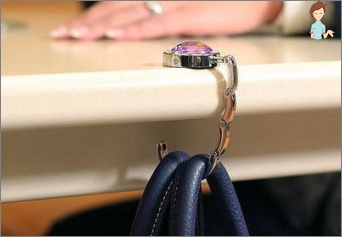 Once this question was puzzled by the owner of one Parisian cafe. The establishment was located in the city center and enjoyed in great demand among fashionistas. Therefore, the issue with the placement of the ladies' handbags demanded a solution. And it came.
The owner of the cafe came up with one fashion accessory, who failed to visit the cafe to visitors, and over time, firmly entered every world around the world. This accessory is called a bag holder or simply hook.
Using bag holders – great advantage
Indeed, the device is so compact that it will easily fit in the smallest female handbag.
Among other advantages, it will be undoubtedly possible:
Simply assembly. The subject usually consists of 3-4 segments that are attached to each other and declined very quickly;
Safety. Hooks holders for bags are equipped with a special coating that does not allow the baggage to slide, so it does not fall. Zinc, from alloy which made a product is quite safe for health;
Reliability and strength. Hook can withstand up to 10 kg of weight. You can hang with its help both bags and packages;
An acceptable price. The usual thing is inexpensive, so you can prevent a gift as a useful and indispensable thing. 
Is it possible to create holders for bags with your own hands?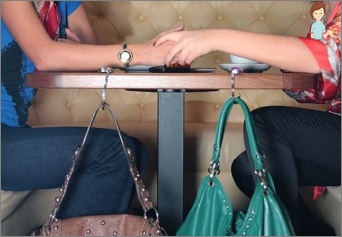 But since it is a relatively new technology, tips, how to make your own hands holder for bags, on the Internet extremely few. Probably worth relying on fantasy and intelligence.
For example, you can come up with a hook for packages using a magnet and curved dense colored wire. What will give your fantasy, you can only guess, but for now it starts playing, you can use the services of online stores. 
Brand sentences
Undoubtedly, if you want to distinguish between the quality and beauty of accessories, you should seek help in an online store «Glam Glam»  and buy a bag holder, for example, with precious stones Swarovski.
Company «Glam Glam» is the first and leading representative of French products in the domestic market. The company provides a wide range of bag holders.
In the online store, every girl can pick up goods in its individual style and taste. Here you will find a variety of ornaments, colors, inlaid parts. And what is noteworthy, the price will please you.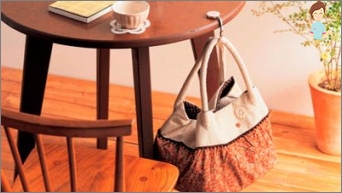 You can draw the following conclusions: few people know about this useful invention, since it is infrequently able to see the like in everyday fuss. But caring and truly stylish woman always knows that the overall impression is made up of details and small things. And than these little things will be thought out, the more pleasant will the impression. Your friends will be interested to get acquainted with such a necessary thing, maybe they will also want to spend leisure with comfort.
As for men, everything is much more interesting here. Like a man will like if his already beautiful companion carefully attaches the holder on the table and hangs his handbag.
At the same time, it is absolutely no important to whom the man you have to: a friend, a business partner, or potential fiance. It will imbued with your interest and sympathy. This fact confirms the above-mentioned story.
It is curious that the inspirational of the idea for the founding of a wide business for the production of bags of bags was then still the future wife of Director General of Leonid Levdanova. They met in the cafe. The man already was fascinated by the beauty of the girl.
But when she took out the holder for the handbag and attached it to the table, in addition to the desire to marry, the idea of ​​establishing his company was also born. Therefore, cute women, holders for bags on the table are created specifically for you and with your feed!