How easy and easy to make the original decor on the wedding?
Interesting ideas of a wedding decor do it yourself. Decor of wedding fuels, champagne, tables. Decoration with minimal cost
Wedding – Celebration requiring major costs. On the decoration of the banquet hall and decorating wedding tables takes a lot of time and money. However, it is possible to facilitate this task, setting up a wedding in a cozy and thematic style, to create only skillful hands, beautiful materials and a couple of assistants. Make your own hands the decor on the wedding is easier than simple, and our material will help you find the most interesting ideas for the successful holding of the long-awaited celebration.
Champagne bottles decor for a wedding with your own hands
For long-standing traditions on the wedding table, two decorated champagne bottles are installed, called «Wedding bulls». These bottles are intact all wedding. You can open them and consume to the first anniversary or for the birth of the first child. Decorate «Bykov» differently, but first need to prepare bottles.
Training
Champagne is installed in a vessel with warm water. After 1 hour, the bottles get and gently remove the labels. Traces from stickers remove with solid sponge. Having hated a vessel from the water, it is wiped with alcohol to restore shine and getting rid of glue residues.
Further incarnate:
The most simple is the bottle decor with stickers. Stickers for decorating
Sold in wedding salons. Choosing a piece of decoration, pay attention to the color. The tone is selected under the design of the banquet hall. The sticker is applied to a clean, dry bottle;
Long-term Union and Love to the Golden Wedding Promises Decor with Golden Paint. The bottle is lubricated with glue and covered with thin 3 layer toilet paper. Layers are separated and trigger. Layer of glue, paper layer and 3 layers. When the paper dries, you need to close the neck with a protective film or paper and cover the entire surface of golden paint from the can. After complete drying, remove the protective material with the neck and tie a beautiful ribbon;
Decor bottles on a wedding with colored ribbons with their own hands always in trend. Therefore, we choose the satin ribbon of suitable colors and carefully wrap it onto a glass vessel. Each layer is slightly lubricated with glue. Final fixation is performed on the bottom of the bottle. You can consolidate the tape as glue and the bracket of the stapler. The wrapped champagne is observed with a lace ribbon and attach a bow. Experiment, try to make a job before the wedding to pick up the best decor;
For those who get along with a sewing needle or knitting, suitable dressy decor. Take the champagne with a cross-folk suit or put on it the robe in the image of the bride and groom;
The original decoration will be a shiny bottle. Apply to champagne glue or
Transparent nail polish and sprinkle with brilliance. Sequins are sold in cosmetics stores. Coloring select individually, under the design of the wedding room;
Wear a bottle of polymer clay and decorate pearl beads. Try to make other decorations from clay, for example, flowers. Such a decor of bottles will create a 3D view.
Decor of glass glasses for a wedding with your own hands
Glass glasses for newlyweds decorate in different ways. With the help of stickers and painting, colored ribbons and polymer clay, watercolor paints and sequins.
Consider some of them:
Decrease the surface of the glass with alcohol and wipe dry with paper napkins. Catch the contour stickers purchased in the wedding salon. Now take color paints – watercolor or gouache. Draw stickers. When everything dries, tape legs with a ribbon;
Make a decoration for wedding glasses from a colored or white ribbon, stick it to a wine glass and decorate the glass with stones and rhinestones with glue;
Drawings on the glass are no less popular. Pick up the paint of warm tones and apply a variety of drawings on the fuer. Cover the drawings with a transparent varnish and sprinkle with sparkles, if required;
Make flowers for wedding glasses from Polymer white clay do it yourself. Dilute the tone of a lilac, pink or blue tint. Flowers stick to the glass with a superclone in the desired place. We glue on the glass beads or rhinestones of different sizes;
Natural Petal Flower. This gentle look of the decor is made from natural petals. Buy Red Roses and Separate All Petals. Put these petals top legs Fugear and decorate with glue, sequin and rhinestones. To the place of the flower bud, we attach a thin piping ribbon in the form of a spiral or a bow;
Gold plated glass. Shoot on glass isolate or tape. Figure you are doing at will. Now cover not the missed places of brilliant paint from the can. When the paint dries, remove the scotch. You can only keep the leg of the Fozher;
Lace cut the desired shape and pasted on a glass. You can stick a lace tape and decorate it. Lace dilute with pattern or colors.
Decor of ordinary candles for a wedding with your own hands
Glasses and bottles with champagne decorated as candles? They also deserve decoration! Conventional white candles look simply and gray.
Let's try to give them a festive image.
Decoration of wedding candles, interesting and unusual lesson. Decoration options Great set. Here, for example, decor with colored ribbons and beads. Like wine glasses, candles are tied in openwork ribbon and decorated with beads. Decorations are placed on glue;
Candles made on their own best option for the wedding. Here you can set the right shape and color;
Candles painted by brilliant varnish look elegant. Draw a cob or cells on a brilliant varnish candle and glue pearl beads;
You can decorate not the candle itself, but a candlestick. Make it yourself from difficultly flammable materials;
Stick to the candle flowers made of polymer clay or purchased in the store;
Wedding candles can be painted and make inscriptions on them;
The most difficult decoration of wedding candles is carving. On the candlelight you can cut anything, but the lesson requires professionalism.
Ideas for the original wedding decor do it yourself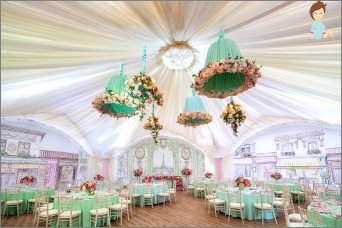 Wedding Table Decoration Idea – Tracks. Tracks on the table are made from different materials. Make a widespread lace, openwork ribbons or fabric. Make Roads from Color Format A4. You can build a track of flowers and tinsel.
Origami Wedding Wedding will help create interesting paper figures and decorate a banquet room unusual.
Decor in glass jars.
---
Take glass jars, decorate them as desired and install inside the candle. Estobe banks as decoration.
Ideas for decorating the wedding hall, tables, fuels and other items great many. Make a celebration unusual and memorable, let this day bring a young family happiness and joy.