How to paint salt and how can it be used
Decorative decorations for home with their hands from color salt. With which dyes you can paint salt in different colors. Options for crafts from color salt
Very nice and originally watched bottles or cans filled with colored sand, or colored salt. Undoubtedly, they will become beautiful ??decoration in your home. You can easily make such a rainbow jar on your own at home. To do this, you can use colored chalk, watercolor or food colors.
How to paint salt in different colors of children's crayons
You will need:
paper;
Colored shames are oblong, in the form of long cylinders;
salt;
jars.
When you are going to paint salt for jewelry and decor with children, it is better if each of them will also have its own box with shallow, jar and paper sheet.
How to paint salt Or white sand chalk:
I smell some sand on paper and distribute it carefully in the middle;
We take a piece of chalk of the selected color and start rolling it in the sand;
Chalk paints sand;
When the first party is painted, carefully put it in a jar, folding the paper to the corner;
Take chalk of another color and continue with consecutive alternation of colors;
Each batch is neatly pouring into a jar;
You can lay out the layers in the rainbow sequence or in another thematic combination, as you will tell you fantasy.
How to paint salt paint watercolor
You will need:
colored paints;
Glass containers in which we create our decorations: banks, bottles, glasses;
Salt salt is very small or very small sand;
a bowl;
tea spoon;
funnel;
Decorations that we put in glasses or banks – it can be decorative candles, shells, beads.
How to paint salt for beautiful crafts paint:
Pour a teaspoon of water in a prepared bowl. It must be added to the paint;
Then, in bulk salt or sand with a spoon, thoroughly mix, rubbing paint so that everything is homogeneous color;
The painted material will be wet, so it needs to be dried, preferably in air, or in close proximity to the heater, if it has time for the heating season;
Stain in the same way material in different colors and dried separately each portion;
After we have prepared multi-colored sand with watercolor, smear it into the glass container with a funnel or paper sheet. If this is a bottle, then only a funnel will need here;
Put the sand layers, you can tilt a bottle or a thin wand to form interesting patterns. It is also interesting to try to create images.
How to paint salt for crafts with food dye
You will need:
1 kg of sea salt;
1 tablespoon of vegetable refined oil (better purified olive);
1 teaspoon of mint or eucalyptus essential oil, your taste;
50 ml of liquid soap odorless;
Chipping of food dye that can be purchased in a store with confectionery decorations.
How to paint sea salt:
The liquid components are mixed and poured into a bowl into which the salt is added;
Sprinkle with a food dye;
Then, thoroughly mix the components and pour out a thin layer on paper. Let dry for about one day;
After drying, such a salt is used for a gift or for a pleasant and relaxing bath.
Color Sand Use Options
Using these simple methods, you can paint salt for a wedding sand ceremony, which is becoming increasingly popular lately. This is the American custom that is used at the wedding and not only.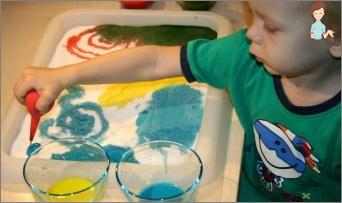 The ceremony passes immediately after saying the bride and groom wedding oath. Young couple uses pre-prepared, specially designed vessels or decorative bottles filled with sand.
Very popular to take two bottles with sand of different colors, usually pink and blue. The bride and groom move the sand into a large glass container.
The resulting composition symbolizes the unity of marriage. After the wedding, thus obtained by colored sand couple keeps at home as a memorable souvenir. For the sand ceremony of sand can have other colors.
You can decorate with such bright unusual jars or bottles of a shelf or, for example, a windowsill. Clearing a container, we get beautiful patterns. On the neck of bottles or banks, you can tie twine or decorative tape and a beautiful jar for decor is ready.
Small sand can be painted and placed in transparent containers, which can be used in the future as very cute candlesticks for decorating an apartment.
Performing such simple crafts together with children, you will deliver them a lot of fun. They will be able to apply their skills and fantasy to create beautiful crafts with their own hands, will acquire knowledge of the colors and their combination to achieve the desired shade.
Such work will become an incentive for independent creativity, and will also help stimulate curiosity of kids.