Packaging for New Year's Gifts 2015
What types of packaging exist? Packaging for children's gifts and traditional packaging. How to pack gifts of different shapes? Packaging for New Year's Gifts 2015 do it yourself
Before the new year there was a little less than two months, and now it's time to think about his celebration and, of course, gifts. It is in this holiday that you understand that to give them no less beautiful than to receive. And it is best that the gift is made from the soul will say the festive packaging, without it for the new year it is not to do.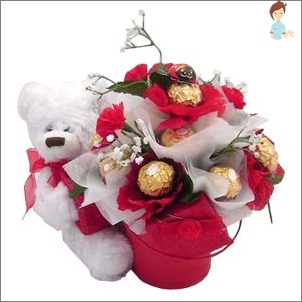 The symbol of the upcoming 2015 is the artistic and capricious goat. It's not easy to please her, but nevertheless, astrologists promise many opportunities, new beginnings and interesting prospects for persistent people.
Getting ready for the celebration
Original packaging for New Year's gifts – an important aspect of the upcoming holiday. She will give a festive mood and warms anticipation from a gift. At the same time, it is worth not to forget about the element of surprise and the mystery, which taield wrappers. After all, while you can not open it, you will not understand what hidden behind all.
Packaging is divided into such types:
for children's gifts;
for candies;
independently manufactured;
Traditional.
Packaging for children's New Year gifts
Most of the new year love children. In order to wrap a gift to them, you need to choose bright and funny paper, which is decorated with everything that is enough for fantasy. You can even use children's toys from kinder surprises, which are probably abundant in every family, where there is a child.
A good example of festive packaging will be a ball filled with small presents. What to put inside and how to decorate the ball, only your own fantasy will tell me. Also, a ball with gifts is often used when small children come to visit New Year's Eve. You can organize a cheerful game, hiding the balls somewhere in the room and arrange a real hunt for them.
Traditional packaging
Popular Presents on the New Year is engaged in almost all stores. If there is no department where you can ask to wrap a gift, you can buy a one-photon packaging paper from Agava and finish the box with the present.
Buy also light tennis balls, they will be useful for festive design. Well, the old christmas toys with beaten ears will surely have in every home. Carefully break the Christmas toys, it is better to take a hammer for this purpose, and spark them into the crumb.
Tennis balls to do glue from all sides and cut break in the rainbow glass crumb. When the glue on the balls dry, stick them to the box and wrap it with rope or threads under the color of the balls. You can also take a Christmas tree tinsel for these purposes.
Self-made packaging
Of course, it is best to spend time and come up with the original design of the New Year's packaging of your presents. Here are some ideas for self-making packaging for New Year's gifts of the coming 2015.
In the form of a cap
You will need:
Golden colored paper;
Corrugated color cardboard;
wrapping paper;
scissors;
glue;
Cardboard square shape.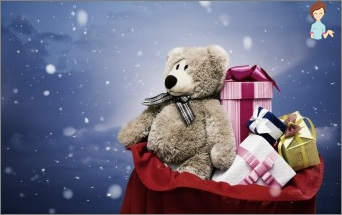 First, the cardboard is backed by packaging paper. In the center of black. From golden paper, cut out the unintelligue strip, and cut it down with thin shavings, leaving until the end a couple of centimeters. Twist with scissors in the spirals and glue a strip around the perimeter to the circle borders.
Corrugated cardboard make a cap. On his painting glue curled in chips Thin paper ribbons. After that we put the present in the cap and glit it to the cardboard. Before putting a gift inside, it is possible to wind it in several layers of corrugated paper.
Craft paper
In great demand Packaging of New Year's gifts Kraft or Agava. Carefully wrap the box with the present in the craft, cord the joints of the joints or secure the stapler.
You can decorate:
curls from paper ribbons;
homemade pompons;
Snowflakes, Christmas Mishur, rain;
lace, embroidery;
Pug's garland;
New Year applique
stamp hoisters;
Confetti made by a hole pair of multicolored paper.
From the sleeve sweaters
Cut the sleeve of the length you need and sew one end with an inside. Remove the sleeve and in the resulting bag. Put your gift. Then teege the neck of the Sleeves of color flight, decorate the sides with snowflakes, buttons, tinsel, other festive elements. Such packaging is great for bottles.
Perfectly complement any present a small label with New Year's wishes written by New Year's Eve. Templates of such labels can be downloaded and print on the Internet.
Packaging gifts in form
Gifts are of different shapes, respectively, the packaging can also be divided by this feature:
So, pack the square or rectangular object. Put it in the middle of the wrapper and turn around from all sides, fastening the ends with a transparent or bilateral scotch. Then decorate snowflakes or confetti, tie the ribbon;
Flat object or converter We put the painter on a sheet of paper, fit the corners and scrape them with a stapler or scotch. We burn with ribbon, decorate strapiki, glued butchers, and t.D.;
«Truffle» Used for several presents, for example, for all family members. In this case, gifts are laid out on a tray or a solid piece of round-shaped cardboard. Then put a tray for the middle of a large leaf and turn it around them, tie to the neck from above the beautiful ribbon. For «Truffle» It is better to take a rustling, corrugated or brilliant paper;
An uncomfortable form can be wrapped if it is small, as well as «truffle». And if its sizes are solid, for example, like household appliances, it is better to put a gift in the box, which is then placed paper and decorate to your taste. At the same time, lay out the inner surface of the box with multi-colored napkins or corrugated paper;
The object in the form of a ball can also be packed in a box or in «truffle», And you can put in a festive package and a beautifully decorated with multi-colored napkins;
The subject of the cylindrical shape is packaged as follows. The present is put on the side and rolls up a sheet of paper. The edges are fasten with scotch. Top and bottom paper bends inside in small segments. Top is observed ribbon. Also, such a gift can be wrapped in corrugated paper decorated with asterisks and snowflakes, and make a candy from it, tapping both sides with beautiful ribbons or a New Year rain.
These examples of festive packaging only drop in the sea, because to wrap and decorate a gift can be used absolutely everything that your soul. It can be newspapers, photos, lace, embroidery, clothespins, postal twine and much more.
In the package you do not limit anything, no materials nor fantasy. We hope you will spend the remaining days before the holiday, choosing and packing presents to your loved ones, children and friends. Merry holidays for you!