How to sew a toy for kid with your own hands
How to sew toys for children do it yourself. Choose materials for soft toys. Simple Matryoshka doll for kids. How to sew funny python in one hour
Sew the baby toy with your own hands is not so difficult, as it seems. If you know how to keep a needle in your hands and feel a creative gust – Getting started, especially since a new fun will be a big joy for kids.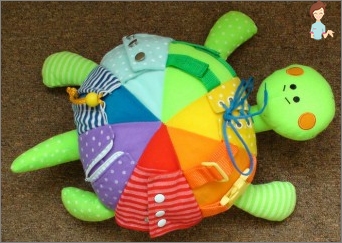 Toys for children do with their own hands from cloths of juicy colors, with a bright print or monophonic. Sitental, cotton, flax, felt, burlap, fleece and artificial fur – these materials are easily processed with a cut, and they also have a pleasant texture that develops tactile sensations.
As the most simple filler, the usual wool will suit, but better stocking of sewing vatin, syntheps (sometimes the foam can be distinguished harmful substances, it is better not to risk).
There is a special filler in silicone balls, very pleasant to the touch, with massage and soothing effect, but it has two minuses – a high price and a ban on the use of in toys for children under 5.
How to sew a Russian mother
A simple toy for kids with your own hands is obtained from the sensitive fabric, it can be done quickly, and you will not need any special skills.
Materials and tools: 
Dense paper and pencil for pattern;
Bright sieve;
Red cotton fabric;
beige cotton fabric (for face);
paints;
stationery glue;
filler (syntheps);
needle, thread, scissors, brush for paints.
Start with the fact that you draw the form of a future matretory on thick paper – it will be a pattern of toys.
Fit pieces of different sitts so that the top third of the patterns accounted for red cotton – where the head is «in handkerchief». Clearance in places of fabric convergence Leave 2 cm. Note on the folded fabric contour doll, cut it out with sharp scissors, leaving the allowances on the seams 1 cm.
Sure a simple seam first a red fabric with a fiber cap, then pave fine stitches on the contour of the Matryshka. Remove the shape and type it with a filler, squeeze a secret seam bottom.
Cut out a piece of beige cloth round face, stick it into place and paint the colors, eyes, eyebrows, ruddy brushes and neat mouth. On the site of the spout, put two points. The classic face of the Russian Matryoshka is ready!  Seam connecting «packerel» and «dress» You can leave as it is, and you can decorate a bead thread or a ribbon.
We sew a bright snake
Connect to the process of the child, and you both get great pleasure, and the resulting thing will remind you of happy minutes not one year. Especially touching the first fruits of joint creativity – soft toys, cross-handed children. Control the child safely used sharp objects. We will sew a funny bright python!
Materials and tools:
Thin fleece of two colors for «Body» snakes;
Multicolored fleece pieces for «Pain»;
2 buttons for the eyes;
filler (wool or small pieces of syntheps);
needle, threads, scissors.
First, we cut two circles from the contrasting fleece fabric – the idea to make the belly and the back of different shades, the back is better than yellow or green, like a real python.
From bright red fabric cutting a split tongue, we sew it in «head» Several neat stitches. Further we are wearing a cam seam «body» Snakes to the tip «Tail».
As the seam progresses, do not forget to fill the toy, because because of the elongated form, then it will be difficult.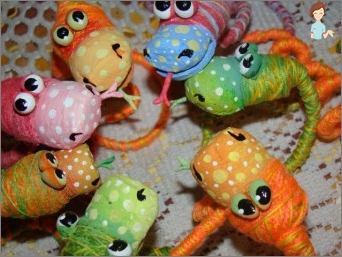 Sew a narrowing «tail». Sew buttons in place «Eye».
We proceed to the decor: you need to chop out of multicolored pieces of strips or circles – future «Plots».
Small tambourous or simple suture sew them in artistic disorder «back» of our python. The toy is ready, as you can see, you can not make it that in one day – per hour!
Pillow – Head of Lion
A great soft toy for the kid with your own hands is in the form of a circular pillow – you can play, but you can take a nap, putting my head or hugging.
Materials and tools: 
Pleasant to the touch artificial fur sand or yellow color;
Many multicolored pieces of 10 cm long ribbons;
filler (syntheps);
woolen threads of brown and green color;
Thick needle, threads, scissors.
Cut from the artificial fur two circles of this diameter, which you have thought of the pad – it can be a small pillow toy or a full baby pillow. On the contour of one of the circles with the front side, the sewing stitches folded twice the pieces of bright ribbons. At the same time, place their loop closer to the center of the circle.
Sewing both halves face inside with a durable seam, leaving the gap in order to invest the filler. Remove the cushion case and type it with a synthetic hyproma, then a secret seam. Close the hole.
Fur it is better to choose a short to be comfortable to squeeze the face of the lion. On the place of the eye, make a few stitches with green threads, contour with cilia and eyebrows, cut brown. Lose brown and triangular nose and «Cat smile» with mustache – long beautiful stitches. Everything is very simple!
We sew a developing toy for children with their own hands
To develop a child, you need interesting toys that can be made of fabric with simple patterns. You can take from the Internet or come up with yourself, because the baby is 2-3 years old, namely, at this age such crafts are most needed, unpretentious to form. The main thing is to do everything neat and choose a bright fabric.
What ideas will fit? Good letters and numbers will be good, because to learn the alphabet of the child easier in the game form. The secret is to make beaks from a pleasant touch of fabric, large (in a height of about 10 cm), multicolored.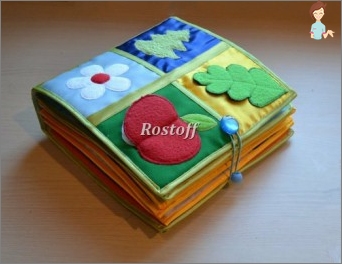 You don't need to decorate the alphabet with something special, it is better to flash the letters on the contour of the cam seam – it is neat and firmly.
You can still make a rug from a fleece, sewing it in patchwork – from multicolored squares. Each color square corresponds to a soft figure of the same color.
Such developing homemade lotto are well taught with shades and develop an analogy in children 1-2 years. As a simple figure, a soft carrot is suitable on a synthetic tube or cotton, mushroom, apple, a ball and a cube.
Space for creativity in the manufacture of children's toys big, do not be afraid to start sewing for your child, even if you did not try before. It's exciting and can be your hobby.