Open the architect in yourself: we will build racks from drywall do it yourself
Shelves made of drywall do it yourself: a set of materials and tools, step-by-step instructions, «Artistic» Ideas
Laws of minimalistic solutions in the design of the interior as if impregnated with the eastern wisdom – «Do not upgrace the space around itself with massive furniture!». But it is not always possible to painlessly get rid of old home attributes, especially if it is characterized by functionality and capacity.
In American residential premises, the creation of special niches and built-in wardrobes for storing things and saving space has long been practiced. «Useful» The video did not come to our countries.
Shelves made of drywall – Excellent idea to optimize space, which will allow you to easily recycle a variety of chests, servants, cabinets and chests.
In addition, concise shelves can make a variety of interior style, emphasizing its elegance and originality.
On the built-in shelves made of drywall, you can arrange vases, candlesticks, flowers, books, decorative accessories. They will fit perfectly for the arrangement of their own collections and souvenirs acquired in different countries. These racks are able to withstand even multimedia technique, but subject to the presence of durable fasteners and correct compliance with the conversion.
How about the appearance of weightless, lightweight, openworks in your apartment? These products can also serve as partition, for example, between the corridor and the living room. Is it really very functional for the usual enclosing object?
Where to start creating shelves from drywall do it yourself? Ancient Russian proverb says – «Seven times measure cut once». Use this principle and here. You must make exactly and in detail to imagine how your room will look, equipped with man-made racks, in the final version.
Transfer your first ideas on a sheet of paper, after making measurements and exhaust them to the dimensions of the album sheet. Analyze the desired shelves depth. Focus on what you will be folded in a new «furniture». If these are bulky objects in the form of equipment – your brainstorm will need additional «reinforcement».
The case is for small – to determine the form, size and concrete position of the shelf. And then – pure technical issues. Count how much you need material, rails, fasteners, jumpers and GLK (sheet of drywall).
What will bring the shelves from plasterboard to your interior?
The first pursued goal of the construction of shelves from plasterboard in the living room – optimization and expansion of square meters. Why do you need all these old-fashioned cabinets and pendant shelves that occupy a huge number of space?
Enough to buy materials and create restrained minimalist shelves on their own. This accessory will become an integral part of the interior in the spirit of Loft, High Tech, Techno, Modern, Provence and Eclecticism.
Decorative niches from drywall can be additionally highlighted from the inside. This will create a charming atmosphere and decorate a residential premises. You can embed point lamps, or arrange them all over the perimeter of the window. You can also use multi-colored lamps to make your living room like a real museum!
The inner wall can be saved with bright wallpaper or textured plaster, and in the niche you can introduce collages, stained glass windows or mosaic.The front wall is worth decorating stucco. The combination of glass and mirrors in the shelves – approaching the real Hollywood luxury at your home.
If you decide to decorate a shelf of plasterboard with a wall in the living room to install a TV or plasma panel inside it, acquire a galvanized profile to ensure the strength of the design. Shelves in the wall can be completed with curtains to hide from prying eye things inside it.
Planning the room using shelves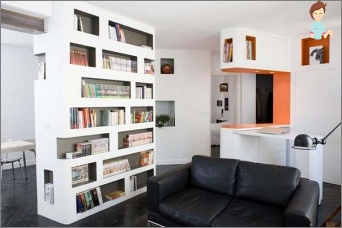 If you decide to get rid of boring furniture and looking for something new, gypsum cabarton shelves will be the perfect choice for you. Meanwhile, the use of economical and practical plasterboard in the interior can play a key role in the layout of the room.
The construction of racks will help you zone a large-sized object, bring innovations in it and bring to perfection.
For example, the angular shelves from drywall will perfectly fit into a miniature office – a workstation zone. Partition with built-in shelves made of drywall is perfectly suitable as marking the entrance to the house, dividing the corridor and an entrance hall with benefit.
Racks from this material can be placed in the bathroom. They are suitable as a stand for decorative colors and places of storage towels and detergents. But in this case it is important to choose a durable moisture-proof material, allowable to use in rooms with a humidity of 70% and above.
It turns out that shelves made of drywall are not only convenient and practical, but also aesthetic. If you wish from the product, you can create whole bulk cabinets, complementing them from above light doors. But we will talk about creating miniature shelves as the first stage of modernization of the interior.
We implement the project with your own hands
How to make a shelf of plasterboard? To successfully realize your creative idea, it is important to choose quality materials, the general parameters of which correspond to your requirements and dimensions of the premises.
Profile for drywall, i.e. its structural frame, can be wooden or metal. The choice of product depends on the objectives and purpose of racks. The larger the load, the more powerful the framework should be taken.
To feel like a real architect and form the regiments with their own hands, get the entire worker in advance «arsenal»:
GLK (Gypsum Carton Lists). Pay attention to the thickness and compare the dimensions of the material with the implemented project;
Base for design (rack galvanized profile). Ideally – «popular» Metal whose parameters are 50×25 mm. It is the most convenient and easy-to-install, in addition, components are offered to it – ties and adapters. Purchasing such a product, you deprive yourself the need to scrupulously select additional parts in stores;
Self-tapping screws (in implementations are marked as gyro-metal and wood);
Putty;
Fastened fasteners;
Mounting tape;
Guide strips;
Dowel;
Primer mixture;
Electromotive (if the highlighting is meant);
Decorative or texture plaster, wallpaper, glass, mosaic, arched profiles – depending on the individual artistic idea.
In addition to the main set, you will need additional tools – markers and pencils, roulette, screwdriver, spatula, brush, scissors stationery, hammer, pliers and other healthy items that can be found in any house with repairs.
Brief phased instruction:
Seam the wall with a construction bubble level;
Form a common frame in such a way that it turns out a rack with through shelves;
Where the introduction of fasteners is provided, drill small holes;
When the lamp is ready, start the shelf overlap and the walls of the plasterboard sheets;
Not worth it «to invent a bicycle» – Contact your consultant in the sales department and ask how to make installation and trim;
Do not forget to glue all the joints and angles by mounting ribbon. It is better not to save on it, because you risks spoil all the work when the plaster starts cracking and turning;
Tighten the screws until complete penetration into the material;
Next – the case for finishing works that you must do on your personal taste.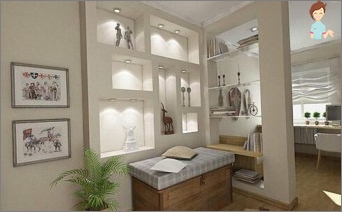 The construction of racks and shelves from drywall – a relatively simple, not requiring special professional skills and abilities. And you can easily cope with it yourself.
Enough enjoy artistic, logical thinking and «straight» Hands. And we also recommend that you do not save on tools and materials.
Even a banal roulette, being cheap, can demonstrate to you false proportions. Come to repair with the mind, and you will definitely achieve the implementation of all intended projects in the best possible way!