Ideas for holding a bachelorette party: how creatively and fun to say goodbye to idle?
Before the wedding and the bride, and her witness, think about how to hold a bachelorette party? To remember the holiday and brought pleasant emotions, ideas should be creative
You have already appointed a wedding date, bought a gorgeous dress, invited all guests? So, it remains for small – to organize a bachelorette party. Here and there are a lot of questions. How and where you have fun with girlfriends before the wedding so that the party leaves only pleasant memories, and communication brought positive emotions?
There are no hard rules for this event – every bride can herself invent ideas for this holiday. But some nuances still have: he must be the eve of the wedding, so you should not drink too many cocktails. After a rapid party will be very difficult for the long-awaited and solemn day look good. In addition, you do not want to talk in the registry office «Yes», suffering from hangover syndrome? How to hold a bachelorette party before the wedding?
When to organize?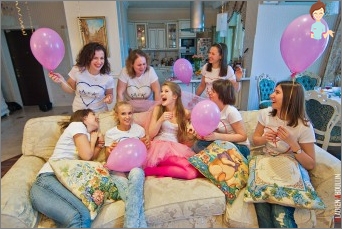 If you are girlfriend with girlfriends a month before the wedding, you can hardly feel this special atmosphere that happens on the guest students. But and walk the day before – not the best solution. You do not want to sleep your own wedding?
Ideal option – to organize a few days before marriage. Then you will have time to restore the forces after «Wires of the past». Commier about your girlfriends there were no important things the next day, otherwise they will not be able to relax and relax.
Where to begin?
As a rule, all the preparations take the bride's girlfriend – the main character and so worries enough. How fun and creatively hold a bachelorette party before the wedding so that the event is at the highest level?
The witness must take into account important recommendations:
For a week, you need to know the names and phone numbers of all invited girlfriends;
It is necessary to clarify the age of the participants of the holiday, for example, 17-year-old guests did not stay outside the door of the nightclub;
Choose a party to a party needed taking into account the age and interests of girlfriends. Perhaps someone does not eat sushi or fundamentally does not go into striptease-bars;
You should draw up a plan for entertainment.
When everything will be ready, the witness should inform all those invited and tell them about all the nuances of the celebration, if there are. You can enjoy girlfriends to create a party to make it easier to cope with all financial issues.
Joint activity brings closer, in the process you will get acquainted closer and will be able to communicate easily. In addition, no one will make complaints, and express discontent, because everything is agreed in advance.
In addition, where you can hold a bachelorette, do not forget that first of all the holiday is created for the bride.
Therefore, it is necessary to take into account its culinary preferences, musical tastes. Come up with the original outfits, enter the dress code. To keep the guest party remains in mind, be sure to take care of the photos. Of course, you can take pictures yourself, but in the process of celebration it will not be up to that. Better to negotiate in advance with the photographer who captures you professionally. Such pictures are no less important in the home archive than wedding.
Another «spicy» Question – Is it necessary to invite a stripter? This nuance should be discussed with the bride. The opinion of the groom also plays an important role – you do not want your girlfriend a difference with a future husband?
Do I need to give something?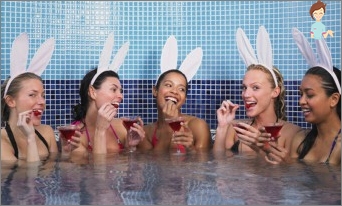 Naturally, no gifts do not do. No need to spend money on expensive presents – they are better to save for a wedding. You can give pleasant little things, decorations and other signs. Almost all women are not indifferent to cosmetics, so you can please the bride with high-quality lip gloss or good bragmatics.
Flowers are always appropriate. Great baskets with roses – elegant and stylish.
Such compositions retain the fresh look and fit into any interior.
Top 10 ideas for the bacheliness
Event options Thousands, you just need to include fantasy.
Conventional gatherings in a cafe are trite, it is better to realize a more interesting idea.
pajama party. How can you hold a bachelorette party? Participants can collect at home and relax for a bottle of wine or martini. This is an economical version of the bachelorette party, because you do not have to spend money on gorgeous outfits and expensive cocktails;
Spa rest. Procedures relax and bring confusion. «Holiday Body» gives pleasant emotions, and after you feel beautiful and rested – this is exactly what you need before the wedding;
Bahn in Ban. This is an excellent alternative to SPA. The bath does not have to be away from
Civilizations, you can look after the modern sauna with additional services. It will be boiled herbal tea for you or will prepare snacks to good beer;
Journey to youth. The highlight of this student will be a special atmosphere that will help you remember «youth». Short skirts and sex dresses, lush hairstyles and bright makeup. Remember how you have fun in student years, and the main attributes will help to recreate that atmosphere. Under the bottle of champagne can be a little inhibited;
Eastern holiday. Rose petals, transparent fabrics, fascinating music and dancing will help to feel like eastern beauties. Enter the ban on jeans and trousers – outfits should only only on the topic of parties;
Retro. Immerse yourself in the charming jazz rhythms in the restaurant. Choose outfits of those times, make the appropriate hairstyles. After the student, you can ride in the evening city on the retro car;
Lot of extreme. If the bride and her friends love Extreme, you can organize a trip to the paintball club, ride on the yacht, go to the water park, arrange a contest. And do not forget to capture this holiday – be sure to invite the photographer;
Relax at the city. In the evening you can regret the fire, sing songs, share your dreams and
thoughts, admire nature and enjoy the taste of expensive wine;
Costumeful bacheliness. To diversify a party, you will need a creative approach and a good mood. You can draw your favorite movie or come up with your own story;
Rarty-Buss. This option will cost you in a round sum, but aren't you worthy of an elite rest? The bachelorette party in the limousine will remember all participants for life. In the car you can drink champagne, eat delicacies and dance. Wheel Party – One of the best options for the pre-wedding event.
Whatever ideas for holding a bacheaker you did not come up, the main thing is a good mood. Try to relax and have fun, because after the wedding, the bride may have other worries and hasslets.