Benches for the cottage: Mastery with your own hands
If you decide to make a beautiful and comfortable bench with your own hands, then this article for you. In it, you will find the necessary tips, how and from what to make furniture for giving
Any cottage plot is not only a place for gardening work, but also a recreation corner. And what is needed to break comfortably in the fresh air? Of course, bench. Make tables and shops for giving with your own hands – not so hard. Main, desire, some free time and fantasy.
With this approach, you will manage to make original benches for giving and nice to spend time on them, breathe fresh air or communicating with relatives.
What makes a bench?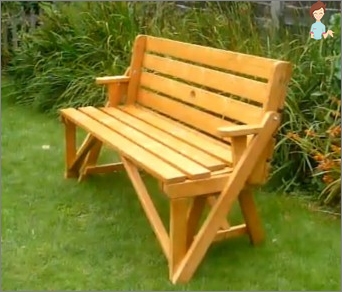 First of all, we will define the material from which we will make a place for a break. Most often, the bench for the cottage is made of wood. This option is most accessible and optimal for most people.
When choosing wood, it is recommended to give preference to the rocks that are less susceptible to rotting:
Cherry;
Oak;
Larch;
Hazel.
For additional protection against rain, snow and other weather conditions, wooden benches are covered with several layers of varnish.
In addition to wooden, benches and tables for the household plot can be metallic, plastic and stone. If you wish, you can combine several materials at once. For example, make a seat and a back of a tree, and metal armrests.
For the manufacture of stones bears, the following materials are used:
Quartz;
Coarse granite;
Marble.
Such benches are famous for their strength and unlimited service life.
Benches for cottages made of metal are also practical and durable. True, there are one undoubted minus – attract, like a magnet of cops for scrap metal.
Plastic benches and tables for giving – a very convenient option. Such furniture has low weight, it can be moved at any time, and the price is most available.
What tools are needed for the manufacture of garden furniture?
You will not need any expensive devices with complex names. You will be completely existing, probably every good owner tools: hammer, saw, nails, etc.
Where to begin?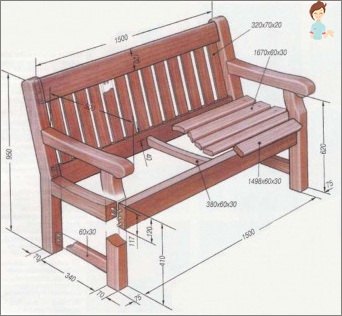 Stage first – drawing. It will help you calculate how much material is needed for the manufacture of benches and / or tables for giving. Determine which value will your furniture be, do it is recommended on the place where you plan to put a shop and a table. Having calculated the dimensions: height, width and length, you can proceed to the drawing.
By the way, professionals are recommended to make a bench with a height of about 50-60 cm, but if there are children in the family, then the shop is worth making below or separately make another reduced furniture option.
If you plan to make a bench with a back, then immediately determine the desired height and inclination level. Those who appreciate the beautiful and will decorate their furniture, it is worth considering this moment in your drawing. Wrought items should be drawn in a separate sketch.
If you planned to decorate a bench with carved parts, then for ease of work, prepare a template, and on it, with the help of tools (jigsaw, hacksaw) you will cut items.
Mastery wooden shop
When the drawing is prepared, materials and tools available, you can start work.
The first thing to do is a frame. Remember that the front support will be twice as shorter than the rear. After all, the latter will go into the back. For the manufacture, use a solid board, without bitch and cracks, it will make the furniture more durable.
Next, connect two bars. As already mentioned, the optimal height of the shop is up to 60 cm, the boards for the manufacture are taking at least 2.5 cm, and the length is 1.5-2 m.
Now prepare the board: Treat it, take it out and pass the surface.
Assembling furniture is easy and easy. Side supports are connected by sites for seating and back. So that the product is stronger in the corners mounting bars.
For more comfortable holidays on the bench are made armrests. Bruks prepared in advance are attached to the bench, and then the wood is impregnated with an antiseptic, covered with varnish or paint. This is done to extend the life of furniture.
Style and form
If you approach the manufacture of a bench with a soul and fantasy, then the product will be a wonderful decoration of the household plot.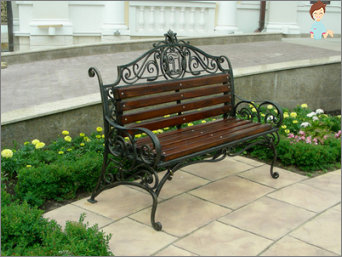 An writing bench made of metal for giving with beautiful and unusual decorations will attract the attention of neighbors and passersby. It is unlikely that someone can pass indifferently past such a product. The form of metal furniture is limited only to your fantasy. Having attached a little effort, you can create just a fabulous thing.
Vegetables from wood can also have a completely any, even the most bizarre. There may be straight and angular.
You can build a bench-flowerbed and shopping bag, on which the lattice will be provided for plants.
As you can see, building the furniture with your own hands is not so difficult. The homemade product will be a wonderful decoration of the site.
It does not matter whether it will be a straight or angular bench for cottage, made of wood or metal, the main thing is the individual style and particle of the soul that you invest in the manufacture of furniture.