Shelf for shoes – do yourself
You need a shelf under shoes, but none of the proposed trading options is satisfied? Then shelf for shoes do it yourself – your way out. We offer you instructions for self-assembling shelves
As you know, the first impression of an apartment or private house, as well as his owners is created at the sight of the entrance door and the hallway itself. But even if you have provided the hallway with the most expensive interior and used with the finishing of beautiful and expensive building materials, then carelessly standing pairs of shoes near the doors or under the wall immediately spoil all the impression.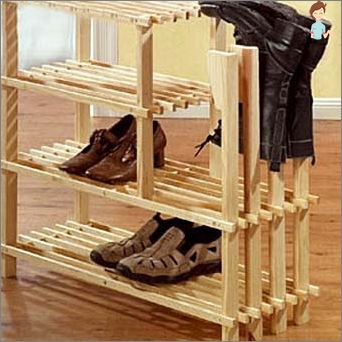 Even if the shoes will stand neatly folded in the corner, it still takes a lot of space and certainly does not decorate the general view of the room.
In order not to spoil the appearance, the shoes are usually or hiding in separate lockers near the front door, or the decorative shelves of an open type are used, which in many cases serve not only the storage location, but also equipped with a small seat for convenience. Buying similar interior elements is not always due to financial difficulties or lack of a suitable model.
Therefore, many masters prefer to produce such products on their own, using branded materials. If you have to make a draft shelf for shoes yourself, buy material and order it cutting it in size, then you can assemble a beautiful shelf at home and it will cost much cheaper than buying a ready-made option.
Materials used
As a material for the manufacture of shelves or lockers, you can use almost everything, ranging from ordinary cardboard from packing boxes and ending with metal or any kind of fabric. It all depends only on your imagination and stylistic requirements of the entire interior.
In most cases, such items are made from various wood species or its derivatives in the form of DVP, chipboard or plywood. The shelf under the shoes made with their own hands from various breeds of a tree, perfectly fit into almost any interior and comes up to any design style. This material is distinguished by affordable, relatively low cost, convenient in operation and practical.
Manufacture of a shoe shelf of wood
Before starting the creation of the shelf on their own at home, it is necessary to accurately determine its position in the room, since it will be based on this will be created and selected option. The product should not be very cumbersome and its location must provide free access to it.
It is also necessary to provide for sufficient volume, since there will be not only indoor slippers and summer shoes, but also winter boots and shoes that occupy a lot of space.
The height of the product and each individual space should have enough space for high winter boots, which are not desirable to bend when stored. Also foresee all other special requirements based on the type of shoes you use.
An ordinary shoe shelf can be made in two main ways:
assembly of finished elements;
Independent manufacture.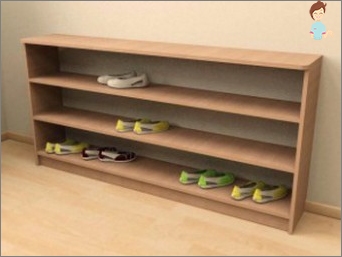 Assembly of finished elements is possible in the case of buying a product in a disassembled state or when constructing a modular design. Today there are many models that are made in the form of a set of different modular elements.
This allows you to assemble the shelf as a designer in various design variations. Such products are mainly produced from plastic or metal.
Independent manufacture is much more complicated and includes the preparation of the necessary tool, the purchase of consumables and the creation of the shelf according to your sketch.
Tools and materials
Standard shelf for shoes with its own open-type hands is quite easy to manufacture and does not require any special skills.
To work, you will need such a tool as:
plane;
sandpaper;
adhesive for wood;
paint desired color or varnish;
Metal corners for giving strength;
screwdriver or screwdriver;
Self-tapping screw;
saw;
Roulette and pencil.
From the consumables for work we take a conventional board, a width of about 25-35 cm and a thickness of 1.5 or 2Santimeter.
Manufacturing process
The procedure for making the shelf for shoes to the hallway will look like this:
From the whole board we saw two pieces of 80-90 cm, which will serve as side vertical racks;
making a shelf with three tiers, it is necessary to prepare 6 support bars with a width of 5 cm and 3 cm long, which will perform the role of support for transverse crossbars;
Cut off 4 pieces of 60-70 cm, which will serve as horizontal shelves for shoes;
Each of the sliced ​​pieces should be treated with sandpaper until the smooth surface is reached without sowing;
On the side shelves, we fix with the help of screws harvested bars, they will lay on top of the crossbar with shoes;
From the back of the product, we establish metal corners to ensure strength;
Insert the shelves on the fixed bars.
Such a shelf under shoes can be performed in several options. Typically, the bottom shelf is fixed at a distance of 3-5 cm from the floor, and the upper 3-5 cm below the top of the vertical rack. The remaining two is attached at an equal distance between them. Thus, we will have four full-fledged shelving for shoes.
You can the top of the shelf under the shoes make the seat. For this, the uppermost crossbar is cut into advance for 4 cm longer than the rest (if the thickness of the board is 2 cm), fastened horizontally over the racks, thick foam rubber is fixed and tightened with beautiful cloth.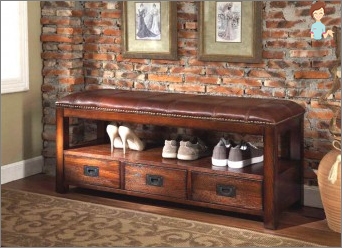 You will have 3 rack for shoes and the seat from above, which will not only look beautiful, but also have increased functionality.
Horizontal parts that lie on the middle bars between vertical racks can not be fixed, in which case they will be removable, which is also convenient. Next, you need to decorate our product at your discretion.
You can cover it with a varnish to save the texture of a tree and give it a deeper natural color. You can paint paint any color that is suitable for your interior color.
We looked at the easiest version of the product that can vary in altitude, width and depth of the working space at your discretion.