Many pour head over how to save on bedding. The answer is simple – the perfect option is to sewing bed linen with your own hands
Everyone knows that the third part of his life man takes. It is he who is able to restore all our strength, he rejuvenates, refreshes, is the best medicine for illness. The many factors affect its quality, and even – external.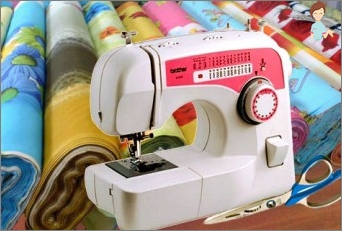 Therefore, during sleep, it is necessary to use bed linen only from natural linen, cotton and silk fabrics.
But with rising prices, bedding is becoming more and linen, and so noticeable that it is time to think about it to sew himself.
Of course, a children's set for a crib will have to buy in the store so that it is without synthetic additives and with quality certificates. But on us – adults, you can save, sew bed linen with your own hands, the main thing is to choose the desired material and correctly calculate its consumption.
What fabric to choose?
Some bed linen manufacturers can offer cheap fabrics. But unfortunately, the best materials for bed linen – sitherium or coarse can not be bought inexpensively, and so that the fabric still contains one hundred percent cotton fiber – generally impossible.
Judge, if the cost of one meter of Boszya or Citz is leveling the cost of one kilogram of cotton, and it costs above 100 rubles per kilogram, then the price for these natural fabrics can not be low.
Finding a cloth can only be low quality, with a reduced density or with a lot of additive synthetic fibers, that is – Polykotton.
Such fabrics have a slightly shiny and smooth surface, and they are not too durable and do not have the features to sit after washing. But only cotton fibers are capable of creating real comfort and comfort during sleep.
Although, probably, it will be much better to buy a polycotton and sew a bed set of linen from it than to buy it «cheaver» in all senses. Question – why? To understand this, you must first figure out what is the density of Citz or Bosi.
The density of Boszya or Citz is the amount of cotton used, spent on the production of fabric meter.
Any factory in its range has fabrics of different density, which are used to sewing bed linen and wear not in one year, the main thing – not to get to the obvious fake, similar to your gauze properties with short-lived colors.
Roll Label Bosi must necessarily have a tag, with a specified tissue density. Here, for example, the Shuisian Boshi density from 128 to 142 grams / meter. Such fabric is durable, durable and high-quality, bed linen from it serves for many years, not a lens and not sitting down after washing.
However, and others can be trusted to others to our domestic producers, they are worthy of fair praise.
But it is necessary to take into account that fakes are possible, so you need to pay special attention to the label, with the company's details and the quality characteristics of the tissues, as well as the available corporate logo and the factory certification sign.
How much fabric needed for bed linen?
Sewing bed linen, first of all, includes measurement of the necessary parts of the kit, such as pillows, mattress, blanket. But in order to facilitate this task, you can simply remove the measurements from your old set by adding allowances to the shrinkage, the seams and the inaccuracy of Croy (about 7 cm).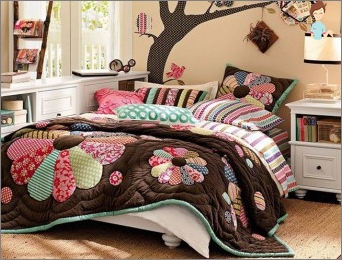 Current pillowcase is made about 25 centimeters. You can and less, but if you do not want your pillow to look in the morning from pillowcase, it is better to sew it that is this size.
Sheet never need to cut «Iniquit«. It is better to add more centimeters 20 wide from its former width, and cut the length optionally, an excess part can always be fed.
A duvet cover lies also wider than 7 centimeters. You can always remove unnecessary, but I will not get to add. Moreover, when the first washing, any fabric of natural fibers sits down. Only after washing and you can see what dimensions need to stick.
And only after that, and you can already correctly calculate the desired consumption of material to tailor. The scheme shows the optimal version of the standard 2 bedroom kit: three pillowcases, sheets and a duvet cover.
Fabric Buy for sewing a bed kit better in 220 cm wide, this option is the most optimal.
First, because it will not be necessary to make docking seams, to build up the width of the duvette or sheets. And secondly, this width of the fabric will cost cheaper.
Before starting to sew bed linen, you need to take care to sewing it turned out to be completely utmost. To do this, you need to buy a width of the Bosi more than 220 cm on 25 and then carve out three pillowcases instead of two, without trimming.
And if the fabric is bought to a set of from two pillows, then you just need to turn them on the across the scheme. As a result – drop 45 at 155 cm, from which the children's pillow will turn out.
The scheme is rather clearly depicted and does not require any comments.
It turns out four pillowcases of 50 per 70 cm in size, so it is more profitable to carve two sets at once, adding more duvet cover and sheets to this calculation.
For any sleeping place, the width is better to make more than two meters, even if the sofa or bed have less width.
Pillowcases that are tailored along the drawing can always be deployed so that they are harmonious with a total drawing of the sheets and a duvette, but sometimes such «disharmony» only decorates bed linen.
How to sew bed linen at home
When sewing bed linen at home, the seam treatment is performed by Overlock, if it is, of course, there is, but not just a zigzag. You can also sew a special shawl suture that does not run during washing.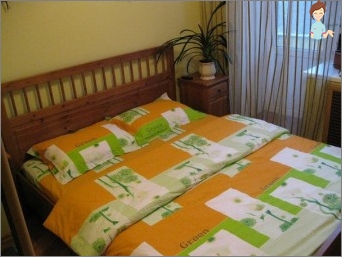 It is a little rude overlock, since the double tissue is twisted twice again, as a result of which the seam consists of six layers of matter. On the pillowcase, such seams from dense bosis will be noticeable.
In addition, such a treatment for bed linen is a very labor-intensive process requiring certain techniques. Experimental seamstress sews without desiccation, smooth single seam, strictly around the edge.
Also when sewing it matters the choice of thread. They should be durable, but not too thick, so that they do not fall apart from moisture and washing.
On the sewing machine, the lines step is set to medium size, because the small one is unable to make a strong seam, but on the contrary, frequent needle piercing, can destroy fabric fibers.
The reasons for which the linen is profitable:
The size of the finished linen is very rarely coincided with the size of the available bedding, and find a ready-made kit to a non-standard bed (pillow, blanket) sometimes it is extremely difficult;
Completeness of bed linen can be any at your discretion;
Properly chosen matter will allow and will help adhere to a certain style;
Technological techniques facilitate tailoring and upcoming operation of sewn bedding.
Designer search is such a pleasant and fascinating occupation, which may be the main reason for self-sewing.
How nicely spreading beautiful, and most importantly – high-quality bed linen made by her hands, to light sincere delight and interest, hear the question – «Where can I buy such beauty?» Enjoy your sewing and sweet dreams!