Let's give the second life things
Talks that if you try, you can change any thing from fashion, change and make it modern
Probably, many of you, expensive girls and women, faced such a situation: a complete wardrobe, hang it off, and nothing to wear. Something has already come out of fashion, something, the most favorite, lost the appearance, and something just became little. And you feel a difficult choice: «What to do with an old thing? Throw or ..?»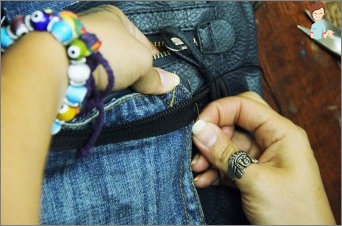 Do not hurry, get rid of her you will always have time, it is better to try to give your favorite clothes a new life. Believe me, it's only worth starting, and you will understand that the alteration of the old one or the clothes already released from fashion is a very exciting process.
Throw or leave?
Any thing after rework can be more interesting and original than it was, only worth adding to her some details. What is just not done with the clothes published from fashion: they are transformed, overflowing, paint, decorated with embroidery and various details ..
Come on creative things, turn on your fantasy, and get a new new clothes made by your own hands, and we will help you with interesting advice and ideas.
Transfer denim clothing
In the closet, there will be a favorite jeans that can be converted with your own hands, since you do not wear them, but also you do not decide to throw them. Let's work on them.
The easiest option is to make shorts. We will cut everything too much, and if you wish, we still decorate. For decoration will be suitable: decorative buttons, rivets, zippers, rhinestones, appliqués, Ryushi. Want, you can even whiten them in chlorine or paint with special paints.
We sew a denim skirt. Here you will need jeans with an overwhelmed waist, but two sizes more than your. Cut off the pants just below the castle, «Empty» fabric at the edge, that is, make a fringe.
That's all, a short skirt on the hips, ready. By the way, try to paint it with a bleach: Picture simple hearts, flowers, asterisks, and you will see how spectacular and original your skirt will look.
Unnecessary jeans-stretch can easily be converted into a straight elegant skirt. Cut the pants until the length of the skirt. Repair all side seams. Inner sew, leaving the slot. Cut the strip from the elastic tissue along the length of the skirt from the elastic fabric and from the lace, lace impose on the fabric and set to the outer side seams of the skirt.
It turns out a chic jeans skirt with lace inserts. As you can see, remake denim clothes with your own hands – an interesting occupation, there are always interesting options.
Fashionable alteration with their own hands jacket and vest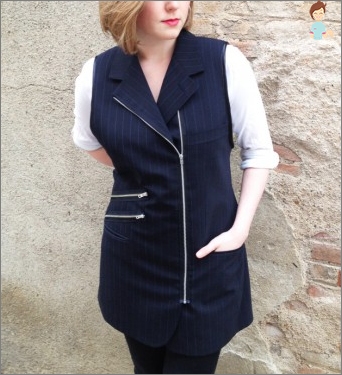 If a strict vest looks dull and brings to you, I don't want to part with him, do not be discouraged! From this situation we will leave by alteration. Take a different braid with a bright ornament and a width of up to 3 cm. We will decorate the shelves, as they are the main in the vest.
Position the bracket into several rows on the bottom of the shelves so that they repeat the line of the finished vest, and will attend. Make a fringe from beads: Burn on a thread on 20-25 beads and a trick along the edge of the shelves each thread at a distance of 5 mm from each other. It turns out a wonderful ethnic vest.
And now we'll put a little over an outdated black jacket. Sut off the sleeves and sew others in their place – from the fabric with a pattern (cage, strip and t.D.) It is now very fashionable direction: do not combine. Replace on the same cloth lake pockets or cover the buttons. Gloomy jacket will look modern and even fun.
In a similar way, you can also remake the upper clothes with your own hands, decorated coat, jacket, cloak and t.D.
How to change the blouse
You have a sports-style blouse with pockets, and you want to make it romantic. Is it possible? Yes, if you find pieces of sewing or lace, suitable in color to the blouse. Way to half the lace pocket, measure its width, without forgetting to add 10 mm to the bending, cut off and carefully enter the pocket.
Next, it is necessary: ​​a fracture cuffs, master the lace and sew it into place of cuffs, and from the inside – a gum. Corners of the collar, too, decorate lace. It turned out a very feminine blouse!
How to remake a T-shirt
What, and already this good in any closets is enough. For example, you have an excellent T-shirt, but she is great for you. Do not hurry to give her someone, make a mini-dress out of her. Cut out one sleeve, sides, and leaving the neck by sequins. If you wear such a dress with dense black tights, add trendy accessories, then the image will be very stylish.
How to see the knitted skirt
Your favorite classic knitwear skirt has stretched out on the sides and lost its product view? But if you have skillful hands, you can do it even better than she was. For this you need quite a bit: take a thin fabric to the tone of the skirt (chiffon, tightness or kapron).
Cut 2 flores with a width wide no more than 7 cm, treat zigzag cuts. Repair, approximately 30-35 cm on the side seams of the skirt, insert the volanesses in the seams, notify and enter the typewriter. It turned out the original and modern skirt!
Small tips for needlewomen
Use various artificial flowers in the design of clothing, they will give a form of a plaque of Glamor. For example, a trick of a flower of pink cloth on a black T-shirt strap, and add some pink feathers. In this form, you will definitely not be unnoticed;
Simple, but contrasting bay, will change and revirts any bored sundress. Example: black sundress and raspberry bay;
Little black dress is always fashionable and relevant, but it can bother. Update it, sewing, instead of black, new red straps. Or on the gateway dresses are admitting an elastic braid with sparkles or rhinestones;
A narrow cat in pink will change the view of any old black cloth clothes, even though pants, even a skirt;
For a black skirt Sew the gold belt and a rose to it made from the same cloth. A few more roses. It turns out the original evening outfit.
And last, do not be afraid and do not worry, if suddenly you will spoil the thing that you altered with your own hands, or it will not get exactly what you dreamed about. Not trouble, you still wanted to throw it sooner or later.
Continue to create, fantasy, experiment and you will definitely work out!