Giving a second life to things
He describes that if you try, it can be any thing out of fashion, change and make it modern
Probably many of you, dear girl, andwomen, faced with such a situation: a full wardrobe, nowhere to hang, and nothing to wear. Something has gone out of fashion, something favorite, lost look, but something just was not enough. And before you face a difficult choice: "What to do with the old thing? Discard or ...?"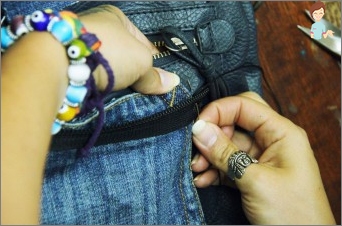 Do not rush to get rid of it, you alwayshave time, it is better to try to give new life to your favorite clothes. Believe me, once you do, and you will realize that modifications or old is already outmoded clothes with their own hands - this is a very exciting process.
Throw away or leave?
Anything after the alteration can be interestingand more original than it was worth it just to add some details. That just is not done with outmoded clothing: alter, perelitsovyvat, paint, decorated with embroidery and different items ...
Come to be creative, turn your imagination, and get a new new thing, made with his own hands, and we will help you interesting tips and ideas.
Remodel jeanswear
In the cabinet there are certainly a favorite pair of jeans that you can alter your own hands, as you already do not wear them, but do not dare throw. Let us above them to work on.
The easiest option - to make shorts. Cut off all unnecessary, and even decorate as desired. To decorate the suit: decorative buttons, riveting, zippers, rhinestones, appliques, ruffles. If you want, you can even whiten them in bleach or paint special paints.
We sew denim skirt. It will need jeans with a high waist, but two sizes too big for you. Cut the leg just below the castle, "rastrepyvaem"At the edge of the fabric, that is, make fringe.
That's it, short skirt at the hips, ready. By the way, try to paint it with bleach: Draw a simple hearts, flowers, stars, and you will see how much more effective and more original your skirt will look.
Unnecessary stretch jeans can easily be converted intoelegant straight skirt. Cut the leg to that length which is at the skirt. Thrust all the side seams. Inseam sew, leaving the slot. Cut equal length skirt strip of elastic tissue and from lace, lace fabric, apply to outer and stitched to the side seams of the skirt.
It will turn chic skirt of denim with lace inserts. As you can see, alter jeans clothes with his own hands - an entertaining activity, always have interesting options.
Fashionable remake their own hands jacket and vest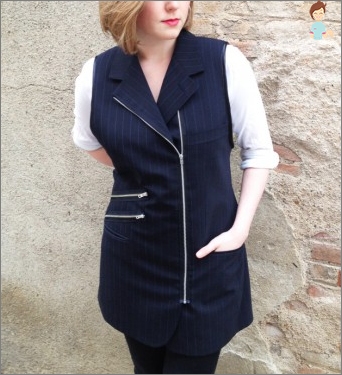 If strict vest looks dull and brings youlonging, and do not want to part with him, do not worry! From this situation, leave via alterations. Take a different braid with colorful ornaments and a width of up to 3 cm. Decorating the shelves will be, as they are key to the vest.
Place the braid in several rows on the bottomshelves so that they repeated the line finished vest, and stitched. Make beaded fringe: strung on a thread 20-25 beads and sew along the edge of shelves each thread at a distance of 5 mm from each other. Get amazing vest in ethnic style.
And now a little Doing magic on black obsoletejacket. Cut off the sleeves and sew on their place the other - with a pattern of tissue (cell, strip, etc.) It is now very fashionable trend: to combine incongruous. Replace with the same fabric pockets or lapels obtyanite its buttons. Grim jacket will look modern and even fun.
Similarly, you can rework and outerwear with your hands, to decorate a coat, jacket, coat, etc.
How to change the blouse
You have preserved in a sports-style blouse withpockets, and you want to make it romantic. Is it possible? Yes, if you find pieces of embroidery or lace, suitable color to blouse. Apply half lace pocket, measure its width, do not forget to add 10 mm to the hem, cut and carefully sew the pocket.
Next, it is necessary to: otporot cuff is gathered lace and sew it in place cuffs, and on the inside - gum. The corners of the collar, too, decorate with lace. The result was a very feminine blouse!
How to remake T-shirt
Something which, as much of the good in any cabinetsmissing. For example, you have a great t-shirt, but it is great to you. Do not rush it to someone to give, to make her a mini-dress. Cut one sleeve Close the sides of the neck and embroidered sequins. If you wear a dress with thick black tights, add fashion accessories, the image will turn out very stylish.
How to modernize knitted skirt
Your favorite classic skirt knittedHe stretched out to the sides and lost its presentation? But, if you have the skillful hands, it can do even better than it was. To do this quite a bit: Take the thin fabric to match the skirt (chiffon, crepe de chine, or nylon).
Cut out of her 2 flounce width of not more than 7 cm,Treat cuts a zigzag pattern. Thrust of about 30-35 cm at the side seams skirts, flounces insert into the seams, baste and sew on the machine. The result was an original and modern skirt!
Small tips for needlewomen
Use in the design of a variety of clothingartificial flowers, they give the image a touch of glamor. For example, sew the flower of pink fabric strap on a black shirt, and add a little pink feathers. As such, you will not go unnoticed;
Simple, but contrasting inlay, change and enliven any boring sundress. Example: black and crimson sundress inlay;
The little black dress is always fashionable and actual,but it can get bored. Update it, sew, instead of black, the new red straps. Or sew collar dress elastic webbing with sequins or rhinestones;
Narrow pink slips to change any kind of old clothes of black cloth trousers even though the skirt;
To sew a black skirt gold belt and sew him a rose, made of the same fabric. A few roses sew along the hem. Get the original evening dress.
And lastly, do not be afraid and do not worry ifsuddenly you mess up thing altered by the hands, or she will not exactly, what kind you dream about. It does not matter, because you still want it sooner or later throw away.
Continue to create, fantasize, experiment and you certainly will succeed!