How to make a frame with your own hands: Techniques, tips and recommendations
Want to have an original decoration for pictures or photographs, which means information how to make the frame with your own hands, will be like the way. A little practice and you create a masterpiece
Handmade every day is becoming more popular. Exclusive things are highly appreciated in many corners of the world. Some products cost quite expensive, and only units can afford them. Today there is a huge number of examples how to make one or another piece of decor with your own hands. Let us dwell on the facilitation options for photos and paintings.
Thanks to different technicians, you can get an option that perfectly fit into any interior. Besides, it will be a wonderful gift for any person. So, by lyrics, we turn to practice and consider some interesting master classes.
Making a bagent frame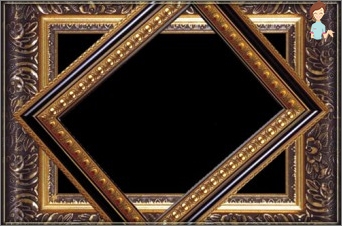 The main material will serve the ceiling plinth, which is sold in any construction store. Due to the variety of drawings and textures, you can get beautiful framing, suitable for both photos and pictures or panels.
If you use flexible material, you can get an oval or round version. To make a bagent frame you need to take a plinth of polystyrene foam, the size of which directly depends on the desired scale of the product.
Take the glue suitable for this material, for example, PVA or «The Dragon», Tools for measurement, knife, acrylic putty and spatula. Still need «Liquid Nails», Tassels and acrylic paints.
Make a big frame need in several stages:
Deciding with the size of the frame, cut the necessary parts, but do it at an angle of 45 degrees. Having attached details to the photo and making sure that they are suitable, glue them with the selected glue;
After the joints dry them are best, to remove all the resulting gaps. It remains to wait for everything dried. After that, remove dust;
Now you can paint the frame in the selected color.
In essence, everything is ready, it remains only to insert a photo or picture, fixing it in a new-cut frame with liquid nails and place in the selected place.
Behind you can attach a suitable sheet of cardboard that the image lay down is denser, but it is optional. Holding to this instruction, you can make a wooden frame using an outdoor plinth and nails.
We make a frame from the magazine
Decorative products made of primary means is not only beautiful and original, and cheap. Instead of throwing away the old and unnecessary magazine, make an excellent framing from it. For this product it is necessary to take cardboard, magazines, multicolored threads, «Plow», Scissors, Measurement Tools.
Make the frame with your own hands easily, because there is a detailed instruction:
Dimensions will be indicated in the photo 10×15 cm. Take the cardboard and cut the rectangle 20×25 cm and, measuring 5 cm on each side, draw another one, the size of which will respectively, will be 10×15 cm;
Using a stationery knife or any suitable tool, cut a central rectangle to make a through hole;
Make one more such part and stick it to the first, but one side do not glue, so that you can insert a photo;
Pull the bright sheets from the magazine and twist them into dense tubes. So that they do not unfold, finish the end;
Take threads and wind them on the resulting jewelry and additional fixation tubes. It is necessary to make a lot of blanks;
Start gluing tubes to the base, some bend to make a beautiful corner. Do it until the entire perimeter is prisoner. Make a foot for support.
How to make a circular frame?
This original option is suitable for any product, whether it is a photo or embroidery. Make a round frame from dense cardboard and paper or fabric for decor.
In addition, you need to have tools for measuring, knife, scissors, «Plow», hole punch and loop for hanging frame.
Manufacturing occurs in several stages:
Measure the image for which the framing will be made – it will be an internal value. Then add a few centimeters to get the inner diameter. Using the results obtained, take 2 billets. Ring framing photos – base. From the cardboard, also make another circle that a pair of millimeters will be less than the diameter of the frame. It is necessary as a substrate to hold a photo. On it, make a recess size of a little more pair of centimeters. Bully below with hole punching, do the lace holes;
For the decor, make a ring out of paper or fabric, but consider the podgibs on the external and inner edge. On the decoration it is necessary to make noise on the allowances throughout the perimeter so that it lay down, smoothly and beautiful;
Now you can collect the product. Put the decorative material, on it the basis and, bendingly made by the teeth, gently glue. Insert the lace to the substrate and glue it. Cland so that you can insert a photo.
This is a wonderful gift for any holiday. In addition, turning on the imagination, you can decorate the finished product with various accessories, having received a new original version as a result.
Make a bulk frame with your own hands
Such types of framing are suitable for different products, and can be placed anywhere in any place. There are many options, consider one of them oval shape. Take the cardboard better from the box, napkins or toilet paper, «Plow», Fat rope, scissors, knife, acrylic paint (in the master class is used golden), liquid bitumen and paper.
Make your own hands such a photo frame is easy if you follow the instructions:
So that everything turned out perfectly, best of all start with a sketch on paper. Draw the desired oval, cut out and only then transfer to cardboard. It is necessary to obtain one-piece oval and 2 oval frames, and one should be slightly less than about a couple of millimeters from the inner and the outside;
With glue creaking 2 parts. In a separate container, connect glue and water. In the resulting mixture it is necessary to water the napkins and shook them the frame, it is necessary to make a bulk frame. Leave dry;
We take an oval part and putting an attached framing on it, circle from the inside. From this line you need to retreat a few millimeters to get a bigger oval. It is important that in the future insert a photo. With the help of a stationery knife cut it out, but not to the end. Side Leave several centimeters of the one-piece to work out, as if the window. So that the internal oval opens well, the undisputed part is neatly selling;
Connect the framing and the basis with the help of glue, and after all times it is pretty plenty of paper. Do everything carefully to get a one-piece object;
Go to decoration. To do this, on top all over the perimeter, glue the prepared cord. You can make a bow out of it. To hang the frame to form a loop and get it back. Now take a golden paint and carefully walk around the perimeter, and from above bitumen for decoupage. Extraly remove the napkin.
How to make a decorative frame with your own hands?
We offer another option of a beautiful framing for a photo. It is easy to do it, so you can raise the work of the children. For this frame, you need to take a dense cardboard, scissors, varnish, glue, for example, «Plow», Paints, tassels and grinding peas or beans.
Frame for paintings and photos do in several stages:
Decide with sizes, but consider that on each side the framing should be more than 1 photo by 1.5-3 cm. After that, take 2 identical cardboard blanks;
On one billet circle and cut a rectangle. Get peas on her. This can be done in any order;
Now choose any color of the paint and color peas. When everything dries, the time of varnish has come;
Separately, make a foot-support or loop that needs to be glued to another part of the workpiece;
It remains to bore 2 parts so that then you can insert a photo.
It's time to create!
As you can see, dedicate needlework, you can create a real masterpiece with your own hands with your own hands.
With it, it will be possible not only to decorate your home, but also please a loved one if you present the frame as a gift. Using the considered master classes and showing a little imagination, you can independently invent new options for framing.