How to make a candy bouquet with your own hands
If you want to surprise your friends with an unusual gift, try to make it with your own hands. For example, you can pretend sweets in the form of a bouquet of sweets or an unusual cake
Many love to make their own hands different crafts. Materials for them can serve almost anything. For example, you can make tasty bouquets, cake, pineapple and even Christmas tree from ordinary candies. With the help of simple techniques, you can create flowers, which visually nothing worse than real, and smell such bouquets will be chocolate and caramel.
If on some of the holidays you want to surprise you a dear person, then be sure to find out how to do such unusual gifts from candy. Sweet in the literal sense of the word roses will delight no less than the real. In addition, they are not covered … until they eat them.
Candy stand
The simplest crafts are sweet flowers. Initially it may seem that it is very difficult to make roses from paper so that they look like live flowers. In fact, this will require a minimum of effort and a small amount of materials.
How to make flowers from paper and candy?
You need the following materials:
sweets in candy or foil;
transparencies;
Scotch;
Corrugated paper of different colors: green, red, yellow and t. D.;
bamboo sticks for kebabs;
PVA glue;
scissors;
Thicks.
The principle of manufacture of each craft is common for almost all models.
How to create tulips
These flowers make the easiest way. First of all you need to fix sweets on a bamboo stick. We glue a scotch one end wrapper. If you work with round candies in foil, you can wrap them into the film, and the ends fasten on the stick.
Corrugated paper, for example, pink color cut the petals for tulips. Each flower will need 6 oblong petals. Fix them around the core base using threads: inside – 3, outside – also 3, overlapping joints.
Give the shape of the petals: from above and about the center of paper you need to stretch a little and exacerbate. Glue PVA tips of petals among themselves. The leg wind the strip of green paper, glue a leaf.
The remaining crafts are performed in a similar way. Difference only in the amount and form of petals.
How to make beautiful roses from candy
In order to create roses you need to cut out of paper, for example, red Round Petals, not less than 10-15 pieces. I wander them and make edges slightly wavy. Glue them around the candy core in turns starting with the smallest, forming flowers. Sheets cut the heart-shaped shape and make cloves around the edges.
How to create sweet chamomile
These flowers also do very simple. The core is better to do from chocolates with a yellow wrapper. From white paper cut out a lot of oblong pointed petals. We stick them into two rows on a wand. Slightly strifting, revealing the center of chamomile. Sheets cut down with small cloths around the edges.
How to create mimos of sweets
These flowers are made a little different. Extra need green wire. From yellow paper twist small yellow balls, inside which we put nuts or petty dragee. We put them on the wire, forming inflorescences. Leaf cutting thin «Christmas tree».
How to make bouquets from ordinary candies
After the flowers were made, you can form bouquets themselves. You can assemble them with a yecha and wrap with color film, paper or floral mesh. But a more interesting option is to combine sweet crafts with real living colors. Sweets better arrange in the center, covering the ends of sticks with a thread or wire.
Fresh flowers Insert between paper and on the edges of the bouquet. Their legs should be longer than bamboo sticks so that the bouquet can be calmly put into the water and do not wet homemade elements.
Another option – bouquets in a basket. As the basis, you can use cardboard. Secure it a bit above the bottom of the basket and do holes in it. Insert delicious gifts into each of them, and over the top of the whole composition with a ribbon, so that under the weight of the candy, she did not break. Card blocks disguise with beautiful paper or tinsel. Such a present will be the perfect option for March 8 or birthday.
Cake from candy
Cake – an integral attribute of this holiday. No birthday without him. Real sweets can be pleased, building a cake from his favorite candy. How to make a festive candy cake?
Arm yourself with the following materials:
bars;
candy and dragee;
wrapping paper;
glue;
Packing tape;
cardboard;
Decor.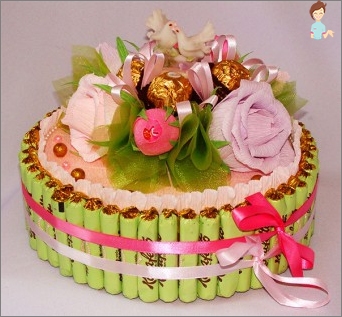 Can do such a cake in different ways, but most interesting, perhaps, is the next. First you need to make the basis. Cut the circle and make cuts to the bottom line. Bend the edges, glue by cuts. It turns out a round box. Cut the cover.
If you build a neatly round shape you hard, you can simplify the process and use the finished square box. Now we glue the cake with beautiful packaging paper both outside and inside.
At the edges, glue with bars. Inside fall asleep candy, cookies, dragee and other sweet gifts. Cover all this with a lid and tie the ribbon. From above Cake can additionally decorate. By the way, if you have already tried to make sweet bouquets, you can make roses for decorating the covers of our craft. A huge plus of such a dessert – it can be a little bit and very long.
Pineapple from candy
Very interesting version of crafts – Sweet Pineapple. Make it best of all candies wrapped in golden foil to visually bring similarity similarity to a real fruit.
How to do pineapple from champagne and sweets, materials:
candy in golden foil;
Termoklay;
green ribbon or colored paper;
Bottle based.
First you need to prepare the basis. It can serve a bottle of champagne or wine. First, it is the perfect addition to sweets, and secondly, its form resembles pineapple. You can take the usual pet bottle. Degrease the base surface. Now one must be glued with candy with a gun. The last row should be at the level of the label on the neck.
Next, pineapple must dry. At this time, you need to prepare a green top. Cut from tape or paper are cut out oblong pointed leaves. Purchase the neck of the bottle. Scissors convert leaves. Pineapple ready! You can prepare such symbolic gifts, if you like to visit friends.
Christmas tree from candy
In childhood, many beloved holiday had a new year and no gifts are at all. Often on the New Year tree Parents hung delicious toys: tangerines, cookies, candy. And what if from the latter and make the christmas tree? How to make a Christmas tree from rain and candies?
Follow the following materials:
superchalter or gun;
Sweets in shiny foil;
cardboard;
green rain;
Garland, beads.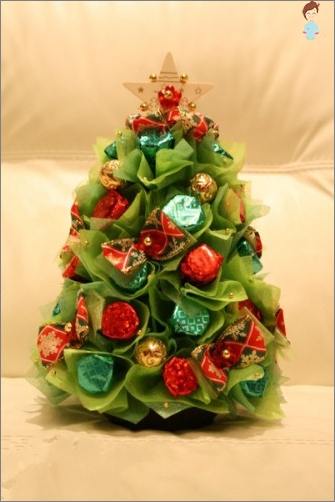 Best use quick-drying thermal. For a start forming the christmas tree. For this, the cardboard sheet is folded into the cone and glue it. Now, with the help of a pistol, fasten candy for cardboard base. Purchase the entire cone area from the bottom up. After that, wind the cardboard is rained, which symuts green needles. On top of it we decorate our beautiful garland. Now you can put decorative gifts.
You can make a Christmas tree on the same principle as pineapple using a bottle of champagne. Another option, especially the most appropriate if sweets are wrapped in candy-bows: Cardboard cone will overtake the rain, and hang on a thread, jokes to the base with needles.
As you can see, make various crafts from candy very simple and exciting. In addition, these are great gifts for any reason. For your birthday, you can make a cake, for the new year – the Christmas tree, at the party – Pineapple. And tasty bouquets will delight every girl, because better colors can only be sweets! You can make such crafts with children, they will probably like it very much.