How to make a chamomile or bouquet of tulips from balls for modeling
Learning to give joy: Make chamomile and tulips from balls for modeling with your own hands. Tips, recommendations and detailed instructions. How to make chamomile from sausage balls?
Figures from balls for modeling have long been popular among children and young people. Yes, and adults do not mind decorate their home with such interesting decorative elements. Make from air balloons – sausages you can anything – from colors, to the TAX Figurine. And today we will consider the original hand-made for beginners on the example of chamomile.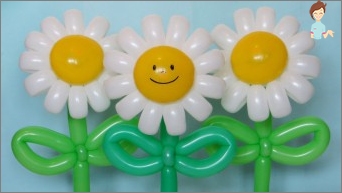 The manufacture of a flower is not a special difficulty, and even one who first took the figured material in their hands. In addition, it is a chamomile from balls is the most realistic imitation.
When you cope with one flower, you can create a real bouquet and pretend to be a close man for a birthday. And if the guy bring such a gift for a date for his girlfriend, she will be surprised much more and more pleasant than when taking a banal bouquet bought at the flower market.
In order for your flower to be the most harmonious, the corresponding colors of modeling balls should be selected. For stems, you must certainly select a green shade of material, and for petals – white, or any light that you like. For the product, you will also need a hand pump to pump balls in the simulation process.
We form a chamomile from the balls with your own hands
So, we have already figured out that you will need a hand pump and balls in two shades. For stem and leaves buy green material, for petals – balls of other color. If you plan to create a whole lush bouquet, we recommend that you stick to the single stylist for each flower. So they will look more harmonious and beautiful. Your chamomile will consist of six petals.
How to make chamomile from balls?
Fill the ball of white (or other selected) color air. Be sure to leave free space on the tip of sausages. Conditionally divide it on 6 parts and start twisting them so that there are equal segments. The seventh segment should remain arbitrary by its length;
First and sixth petals Connect each other. To do this, you will have to pierce an arbitrary segment and cut off everything too much;
Now bend each sausage in half, and fix in places of fastening with other segments;
Enter so with each segment, but the last two twist at the same time;
You have to get a beautiful and even flower of six petals;
Next, you should go to the formation of the corresponding stem. To do this you need a ball for modeling green. Fill it with air for the principle already known to you;
Be sure to leave the tip for about 3 cm;
At the edge of the resulting inflated bowl, the segment of about 4 cm. Carefully beg it and twist with the rest of the ball, so that the core of the flower is;
Now the most accurately sell this segment inside your «Flower» Billets. Thus, you should get a chamomile core;
Stem overgrow three times so that the segments lay parallel to each other;
Make a twist with both hands, but in opposite directions;
Now on your stem there are three uniform sheets. And your flower is completely ready!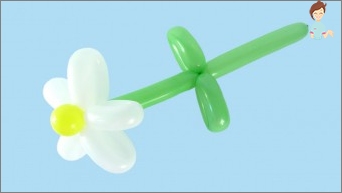 We figured out how to make a chamomile from balloons. Despite the fact that the task is quite simple, it should not be done directly on the eve of the celebration or a romantic meeting.
In order not to spoil a surprise, we advise you to practice a little on «Chernov» Modeling material.
Perhaps the greatest attention and caution will be required from you in the manufacture of petals. In this process, you must be extremely neat, so as not to spoil the whole flower at the stage of its origin.
Now you know how to make daisies from sausage balls. And you can improvise with them as you like your soul.  And you can learn more complex technology at which you can create truly exquisite and original compositions.
Tulip of balloons for modeling
If the chamomile seems to you too banal, try your hand in creating a tulip from the balls. To do this, you will need all the same tools as in the first case – green «Stem» And bright «Lepalic» ball. As well as the same hand pump.
Tulip also belongs to simple figures from the balls, however, the process of its creation may require great effort and skills.
Let's proceed:
First inflate the green ball with the pump. After it is filled with enough air, let it down approximately half. Red, pink, purple (or any other ball intended for building petals) also inflate, but let down even more thoroughly so that it becomes the maximum plastic;
Connect the stem and future petals among themselves with tails;
On a bright bowl, make a long bubble in a length of 10-15 cm, then a pair of revolutions form a short segment (bubbling with a diameter of 2-3 cm), release the balance of the ball and fold it along the first bubble;
The third bubble must correspond to the length of the first. Make a bubble and scroll «Lepalkovoy» The design is sunny, for good fixation;
After connecting all the petals, you have to stay a small segment that will help fix floral construction. However, if it turned out to be too big, you have two outputs – either to spin the ball and repeat all manipulations again, or carefully fix the tip, blow up too much and cut off with scissors;
When all the petals are collected, scroll through them twice;
Take up for the formation of a chashelistic. To do this, measure the length of the palm on the stem, clamp the segment, bend it in half and twist right at the base of the flower. Repeat this action three times, and you will have three cups with the barrel in the middle.
Bouquets of 5, 7 or 9 tulips are most attractive.  You also stay free in your fantasy relative to the colors of your colors. Some people prefer motley bouquets, others want complete harmony and compliance with classics. The choice is yours!
Let your gift be unexpected and very pleasant for the recipient!