We update the wardrobe without costs: how to give the second life of an old thing
How to make a t-shirt with slots. Versace Sweater with Floating Eligas. Transfer your old things for children. Boring ballet shoes turn into a trend pair of shoes
Great way to get a really exclusive thing – to make it with your own hands. Remake old things is not as difficult as it may seem. Try to update your wardrobe and your child: Our ideas are your inspiration! 
Creative from a simple T-shirt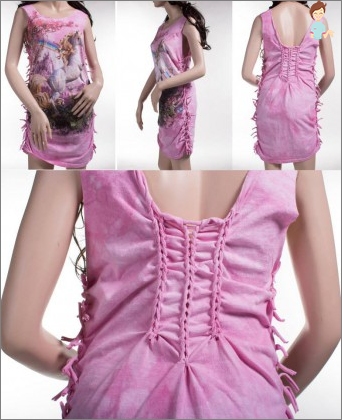 High-quality knitwear T-shirts gives huge opportunities to those who transform old things with their own hands. You just take a look at how the form, view and even the mood of these things are transformed!
From black or gray T-shirts, a very stylish top with slots. To do this, you will need only sharp scissors and half an hour of free time.
Note two lines that will be the edges of future slots. Cut the tissue between them on a strip of 1.5 cm wide. Stretch strips so that the knitwear twisted in the tube. Ready! With this simple equipment, you can return old broken t-shirts to life, because for punk style it is what you need. 
Make an open back in T-shirt – easier. While you are still learn to alter old things, stuff your hand on light versions that do not require special skills.
For example, make an incision on the back of the T-shirt, departing from the neck of 5 cm, and from the bottom edge – 5-15, depending on the length. Now take two identical horizontal cuts of the sinks of the back somewhere at the waist level, to connecting side seams. Grasp the corners of the fabric and glow from them a short harness, then fasten it with several stitches with lower corners. It turns out a very stylish top that you can not buy in the store. 
How to alter something else from old things? Try to turn a bright T-shirt in a scarf-sneem (in our opinion – clamp).
Cut the top of T-shirts along the line under the sleeves. Build the edge or stretch the knitwear to get a round roller. Cut the bottom T-shirt, freeing the future scene from the scar. Sharp scissors «Noodles» – 1,5 cm strips width. Stretch strips and tie them in a checker knot in 2-3 rows.
You can make so many different scenes as you find bright old T-shirts or Mains. 
We spend the skirt on fashionable cut
The usual maxi skirt looks completely uninteresting, but everything is in your hands!
Fold a skirt with bends in front and rear. Sewing shallow or simple soap piece draw a downward jail with a beautiful wave bend. Cut extra. Treat the edges of the cut, flexible thin material by 0.5 cm, and dense – by 1 cm. Decorate Waist with a bright belt – and rejoice unusual change! 
Stylish sweater decor with her own hands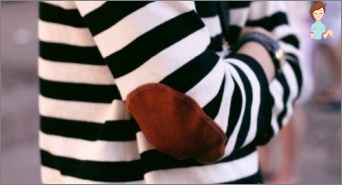 Want to decorate a boring jumper in Versace style? There is nothing easier!
Cut out from a suitable piece of black leather or leatherette elbar – two oval with sections 8 and 15 cm. Attach the Metal Golden Clamps for each sheath – 40-50 pcs depending on their size. Slow oval to the sleeves on the bending of the elbow. 
Transfer your old things for babies
Make your clothes to know very simple, because it does not need a lot of fabric, and the tidy and cute outfit is easy to create with ordinary threads and needles. 
Summer dress for girls from T-shirt
T-shirts made of natural cotton are perfectly suitable for children as a material on summer things. Pour a whole detail of a bright T-shirt from the back of a bright T-shirt, with a lifting by 10 cm exactly in the middle.
Build the rear seam, the tricks are thin straps on the strains of stretched knitwear strips, which are better cut from the fabric diagonally. Bottom dresses do not process, but make a fringe of 5 cm with scissors, stretch it «Visulki». If you wish, decorate before the soft applique. 
Warm overalls from the old sweater
If you have an unnecessary sweater made of soft wool, try to alter with a comfortable and warm jumpsuit to your baby for the winter.
Sleep the sleeves on the shoulder seam. Displays the side seam on each sleeve, leaving it untouched by a length corresponding to the length of the legs of the child. Top sleeves, i.e., rise, cut in the middle in the form of the letter V. Sisting both sleeves on a new V-shaped seamless seam or outward so as not to give. It turns out pants with two straps – front and rear.
Attach the shoulders straps, wash the edges of the cam seam, reinfeit the crochet or close the oblique baker.
Having stirring old things for children, remember that blades for kids must meet the minimum requirements: 
Use only natural cotton, gentle wool or knitwear;
fabric take a soft, without a pile, sequins and other spillable decorations;
Try to make the minimum of seams, do not leave large allowances on them, which can put pressure and crash into tender child skin;
Choose bright, cheerful colors of fabrics.

 
How to decorate ballet shoes with your own hands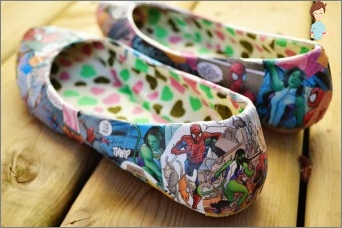 Ballet shoes – comfortable casual shoes that everyone loves. Make them more interesting and at the same time update shot down socks will help the usual paint. Even if you never painted shoes, you will succeed – so these ideas are easy to implement! 
You will need: Paints for shoes in a canister or can, brush and scotch. 
How to do
We glue on the sock of each shoe strip of tape for protection and even application. Spray paint on an open area (or score with a brush). When the paint is driving, we turn on the fantasy – we draw a feline ears and a muzzle. Exclusive ballet shoes are ready! 
If you have unnecessary clothes and shoes, do not rush to get rid of them. Alter and redo them – not only interesting and creative leisure, but also to save on buying things!