Wooden products: crafts for the whole family
Spiel trees, squigs and branches in which you breathe a second life by creating wooden crafts, give house a special charm. Please children with joint creating products from wood
A variety of trees from wood are not only beautiful, they are environmentally friendly. That is why pediatricians are often recommended to give preference to wooden toys: they are non-toxic and completely safe for children. For the same reason, the tree remains a favorite material for construction and decor.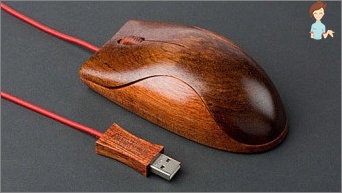 Let's learn how to create some variants of wood crafts for beginners who are simple and pleasant in the manufacture. We will also learn about the most interesting things created from wood by the famous masters.
Amazing world of wooden things
With the same enthusiasm, many belong to wooden things! It is not strange, because there is no more natural material than the one that is created by nature itself. On the healing properties of some trees do not even have to talk.
That global beauty connoisseurs did not resist and removed the tree, connecting a creative approach to creating simple things.
A computer mouse from a Chinese ash was done manually, but not the most interesting. Stunning is the type of thing – it reminds the planet Jupiter. Such a round mouse has a fairly solid weight (92 g).
Another unique creation from the tree can be called MP3 player in the form of a small camera. It is beautiful and compact, it looks like a suspension. There is such a pleasure about $ 43.
But it is also not the limit of a stormy fantasy of a person. In Portugal, a one-of-a-kind wooden scooter was created. It is not less original – «hornet».
Marley Romberg – Designer, opposing the use of plastic in the manufacture of household goods, decided to collect a wooden computer. Interestingly, not just a monitor, but even a mouse, and the keyboard in its PC is made of this natural material.
But Romberg is not the only person who pierced the idea «Wooden life». A mobile phone from a tree was created in Korea. Like any self-respecting phone, it has a touch button, in addition, the unit has a good chamber.
History confirms that the most diverse and unexpected things can be made from wood. The world is known for players, bicycles and cases for a laptop from this material. Therefore, taking into armsing several original ideas, you can create beautiful crafts from wood with your own hands.
What crafts are suitable for beginners
Consider more of the simplest options for the use of natural materials in the crafts.
Let's start with the manufacture of wooden LED watches.
What do you need: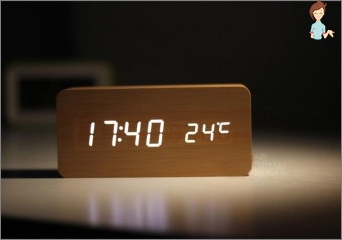 The window, through which we watches the time, make a balsa: cut out a rectangle size a little more hours. From plywood cutting 2 of the same rectangle and 2 squares size with width hours. Connect the walls superclay. Clock insert into the box, secure them with glue. Cut through the round hole on top to set the shutdown button that you do in advance. Looking for the button into the hole, glue it to the button on the clock.
For beginners, crafts from trees branches will be suitable. They are easy to manufacture, while looking very attractive. What can be done with conventional branches? There are really many options. Here are some of them.
Create a photo frame. We take 12 branches of the same length, distribute them into the bundles of 3 pieces (they will be the walls of the frame). We form a rectangle from the beams on the size of the photograph, link the joints of the beams with twine. Frame optionally can be lacquered.
Dreams of trees are often used to create hangers. To do this, take a smooth thick board and attach to it bolts hooks (knots).
But the beautiful curious, not too thick branch can be used as a cornice.
Branches – excellent material to create a picture. It is only worth choosing a suitable frame and glue thin twigs throughout its width.
Hosterans note: From thick short branches, you can make a kitchen stand under hot. To create such a product, cut the square from the cardboard, divide it conditionally into 4 parts. We prepare the branches in the regimental length, glit them by changing the direction in each of the parts of the square.
Wooden crafts on the wall, composed of large branches and. You can create, for example, the shape of the sea skate. We make a cardboard billet, drawing a pencil and cutting out the contours of the inhabitant of the sea depths, glue favor on her branches (across).
Light veils from wood crafts for children
Children – Large Lovers Mastery. It is only worth throwing them some ideas, and they will surprise you with their talent. Details can craft from sleeping wood. They are great for drawing paints, burning and creating panels.
Help the child Create a beautiful panel of drink birch.
To do this, prepare:
Cooked birch;
primer (acrylic);
texture paste;
napkin with beautiful scenery;
acrylic paints.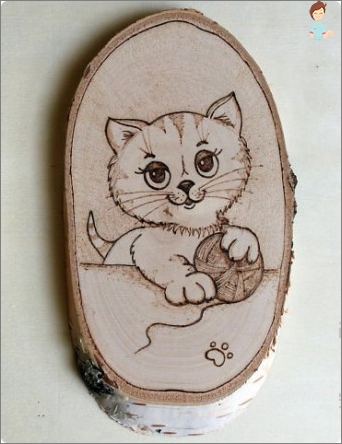 I slept with a soil, glue a napkin, give a landscape with a texture paste. We give the product well dry. Draw parts acrylic paints. Leave again for a while until complete drying. If there is a desire to hang the product on the wall, you need to attach the suspension on the reverse side.
You can also advise the child to make a wooden candlestick: smooth branches of the same length we glue a glass, install a candle.
An excellent craft for children, which they can be able to create on their own, is a postcard from tree branches. To create it, bend white cardboard format A4 in half. Putting it in front of him as a book, we form a cover from thin twigs form a tree.
You can take one branch of a bush of viburnum with a lot of branching. Fresh a future tree to a postcard with glue. Instead of leaf with glue grains of popcorn, degraded in free form.