Corks from wine bottles: use options
Many love to make crafts from girlish materials, because they do not need to be specifically acquired. Such materials include plugs from bottles, of which you can make a lot of useful things
Many people in different periods of their lives collect a wide variety of things, it can be magnets with cities emblems, beautiful wine glasses, figurines, etc. But sometimes we love to collect what is considered to be «garbage» and throw away immediately after use.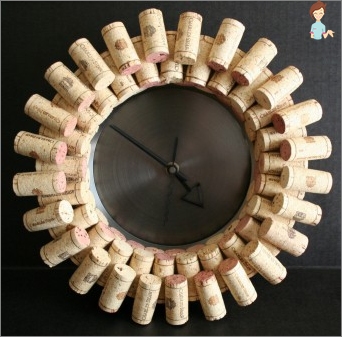 Corks from wine bottles fall into this category, of which, as it turns out, you can make it possible to make it very beautiful, unusual and necessary things in the farm, as well as with their help you can make a decor for any room. Crafts made of traffic jams made with their own hands will definitely decorate your home, bring the highlight to its interior and become excellent assistants in the farm.
If a lot of this accumulated in your house «garbage», There are some free time and a great desire to crash something, you can safely be done for the work!
Bathrobe: Required tools and materials
In order to make a convenient and practical bathroom rug. You will need the following materials and tools:
many plugs;
cutting board;
acute knife;
glue pistol;
Rubber mat for the base.

 
First, it is necessary to determine which dimensions will have your rug, and prepare the desired size of a segment of a rubber litter or any other non-slip water-repellent material. It is also important to calculate the required amount of traffic jams in advance so that the work itself does not turn out to be urgently to get an enon number of blanks somewhere.
It is very simple to produce such calculations: the most common cork from the wine bottle has a size of 2.0 * 3.5 cm, by simple arithmetic calculations, you can determine which number of items will be needed for the manufacture of a rug. So, on the rug of 40 * 60 cm you will need about 170 pieces. 
Bathrobe: Sequence of actions
After all the calculations are made, you can proceed to the preparation of traffic jams. They must be cut along in half using a sharp knife and cutting board, after which cuts to clean the sandpaper. They can be somewhat different, but it is not necessary to be afraid of it in the process of work will be possible if necessary «To fit». 
When all the blanks are already cut and cleaned you need to produce «Suitable» – Share one vertical and horizontal series of traffic jams on the edge to appreciate, whether they are well stacked in the specified dimensions of the future rug. If you all arranged you can proceed to sticking.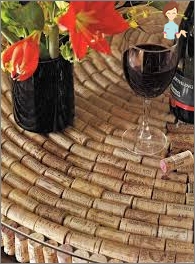 The fasteners of the cut blanks to the base must be started around the perimeter, it will create a smooth edge of the rug. Even if inside they are not perfect, you can always trim them. Apply the glue with a uniform layer on a flat part of the workpiece, lay it into place and press it tightly to the base. 
You can have a blank with smooth rows in one direction, and you can – perpendicular to each other – everything will depend on your imagination. When all the workpieces are laid, you can read the rug ready, only before its operation it is necessary to give a time to the glue finally dried. 
You can make a similar craft from the tubes from champagne only to cut the cork must be across in such a way that the resulting from it two different diameters were obtained, but the same mug. 
Craft box
Production of crafts from traffic jams with your own hands is the process of interesting and fascinating, the result of which the necessary and useful things can be, for example, jewelry casket.
In order to make a beautiful and practical casket, the following materials and tools will be needed:
Two tubes from champagne bottles and much from wine;
Cardboard box or two leaf of dense cardboard for its manufacture;
sackcloth;
gun for glue;
Acrylic varnish and brush.
You can use a ready-made box of small size, for example, from children's shoes, but it is better to make it yourself from the sheets of cardboard in such a way that the box itself and its cover are equal to the perimeter and closed «in the joke», but not «Vanosest». 
The box and the lid need to stick to the burlap on all sides and glue «in the joke» on one side so that it becomes like a casket. For pasting it is best to use PVA glue, it is not only perfectly gluits materials, but also make the box hard. Now the box, glued burlap, must be left for a while so that glue is completely dry. 
Meanwhile, you need to prepare traffic jams: cut them along in half and clean the locations of the cuts. The crumb formed during the cutting process must be collected – it is still useful. When the burlap on the box will completely dry, you can start by billets with the billets using an adhesive gun. Cut along traffic jams need to be punctured only by side of the boxes and covers, solid smooth horizontal rows.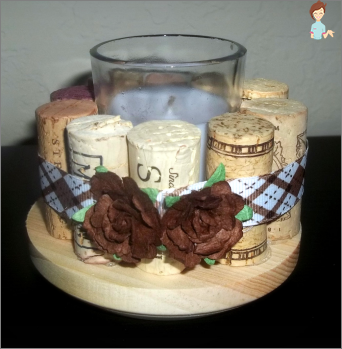 Bottom and box lid paste only around the perimeter. The surface inside this perimeter needs to be punctured by corks, sliced ​​circles. When the lid passes, you first need to put the corks from champagne in the center, which will serve as a casket handle, and then spread around them «Wine» Circles. The space remaining between them is a crumb. At the end of work, the entire surface of the box must be covered with acrylic varnish. 
In addition to the rug and caskets, you can make a variety of useful things. These can be crafts from wine plugs for children, such as ships, houses for dolls, toy furniture, etc. In addition, you can make such a desired craft from the tubes for the garden, like a comfortable chair in which you can relax with summer evenings. 
Factory, creative, use your talents and then you will have original and exclusive things! Enjoy your needlework!