Polymer clay crafts – and cute souvenirs that will decorate the interior, and a pleasant creative pastime. You can join this lesson by reading our advice
Today, the decorations made of polymer clay became almost the most fashionable accessory. And it is not surprising, because they are not only created from a unique material, but also done in one instance, in which the particle of the master's soul is introduced.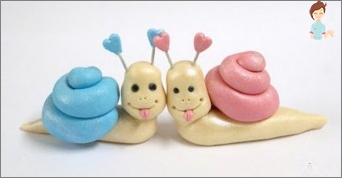 Probably, that is why more and more women are trying to understand how difficult all these are performed Polymer clay crafts, and how to overcome the complexity of the treatment of such material.
The craftsmen assure their sequences that such a hobby is given not only easily, but also brings incredible moral satisfaction, not to mention the financial benefit.
Polymer clay: what it represents?
The basic ingredient of this material is polyvinyl chloride, which in its external and tactile sensations resembles ordinary plasticine. From the latter it is distinguished by smaller lipidity and limit plasticity. Curvation of clay occurs by effect on it of very high temperatures, after which it acquires properties similar to plastic or ceramics.
Ready crafts from clay can be burned in an ordinary oven, heated to a temperature of 110-130 degrees.
Getting started to the process itself, you need to remember several rules:
Under any conditions do not make the temperature in the oven higher than is spelled out on the package. This provokes material for the release of poisoning substances;
It is forbidden to bake the finished products in that dish, which is used for cooking;
If you are inappropriately exceeded the temperature of the polymer drying, turn off and thoroughly wash the oven, and also ventilate the room.
What depends the choice of tool?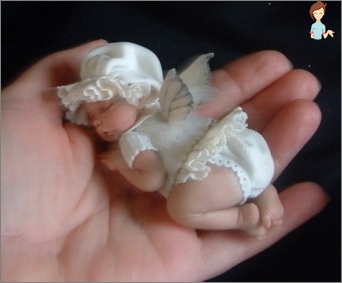 Initially, you need to navigate the brand of the clay used. Experienced craftsmen prefer to work with foreign production materials, which differ in greater degrees of softness, wide selection of color solutions and polymerization temperature.
Today, crafts are polymer clay do it yourself You can scam from plastic, which glows in ultraviolet and in darkness, matte or translucent, without sequins and with those with a pearl, stone or metallic effect. It is also possible to experience clay properties located in a liquid state or as rubber.
The polymer from domestic producers attracts its affordable pricing policy, but on this all its advantages end. The material is not very plastic, when the kneading turns into a crumb, and the finished crafts from such a polymer clay for children differ in brittleness and disadvantage.
What to cook for work?
Initially, you will need to equip the workplace. It can be any surface of glass or tiles, in the extreme case – from paper. It is important that the clay does not stick and it was convenient to contact her.
Next, go back to the next set of tool:
Thin and sharp blade (knife). It will be required for cutting pieces of material and give them the necessary abis. The accuracy and accuracy of the workpiece depends largely on the sharpness and thickness of the blade;
Special roller for rolling, which can be replaced by the tair from under the spirits or varnish;
Spirit cabinet and dishes for baking in the form of a plate or ordinary bench. Preferably in order to the oven was equipped with a thermometer. To make yours Hands Earrings or figures are not burned, the metal base for baking must be covered with paper or parchment;
Waterproof benchmarks with different graininess, which will need to remove roughness and irregularities;
Fabric for polishing. Suede or felt fit;
Specific varnish, which will give ready-made mirror shine decorations. This may be a deliberately manufactured substance, but for the beginning you can stay on the construction acrylic varnish on the basis of water;
Furnitura. She will come in handy if you want Naughty efforts to make decorations for sale and for your own use. All these twins, chains and pins can be purchased at any store for needlework or special sites.
How does the model itself?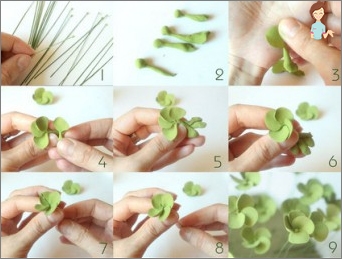 For beginners it is very important to remember that clay needs to be pretty it for quite a long time. These efforts will make the material soft, helped eliminate air bubbles from the plasticizer and contribute to the production of the product without tubercles.
Ditatened crafts from clay for experienced craftsmen and their beginner sequences can be made by different techniques. In any case, in this business can not do without creative thinking, developed fantasy and love for needlework. Well, if you attract it to this lesson and their Children, then cheerful, cognitive and unusual leisure will be guaranteed.
Newcomers can be advised to start with the manufacture of beads of different sizes and shapes. For this, plastic is enough to roll in the reservoir, cutting on identical squares, of which beads are rolling. This approach allows you to get the same items that are comfortable to bake on the toothpicks.
You can still try the stamping method when you need to use specific flexible plastic for removing the form. On plastic, the desired imprint is made, which is baked and is used as a form for subsequent products.