Crafts for children: what to take a child?
Do not know how to take your baby? Teach him to make crafts do it yourself! Such an occupation will not only be interesting, but also will help develop fantasy, motility and mental abilities
If you want to please your child, then teach it to make interesting crafts from paper. So you not only give him stunning memories of childhood, but also teach to creativity. And this is very important, because every person should be able to look at life non-standard. Why paper?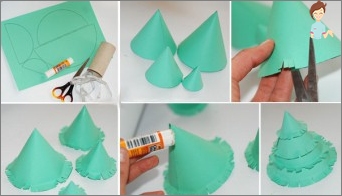 If only because this material is publicly available, and even if even the baby spoils several leaves, then nothing terrible will happen. 
We spend time fun and with benefit
In addition, making paper crafts with children, you can spend more time with them, which will definitely have a positive effect on your mutual relationships in the future. There will also be developed and the habit of doing all your tasks from the first time.
Therefore, even if you do not have the opportunity or time to drive a child in special pre-school mugs, you can give two to three hours a week to conventional applications or unpretentious origami. 
Let's start, perhaps, with applications. The simplest thing is to offer the baby do not draw, and cut out of colored paper some elements of the world around. For example, you can suggest creating an image of a forest or clouds. In general, you can cut everything that is just enough of your imagination. The main thing, do not let your kid cut green clouds or red grass.
Thus, it is possible to disrupt the integrity of the perception of the surrounding world. And this is not very good for mental development. 
Cut applications best of all colored paper. But, if so, it was not in your hand, you can cut different items, and then paint them with pencils or guasha. Then glue the elements on the sheet of paper.
Attention! Be sure to follow the way the child uses glue. In no case can the kid think that it can be drawn in his mouth. So before poisoning not far! 
Paper crafts for children: Materials
Before proceeding with joint creativity, you need to stock with your baby with everything you need.
What you need to create something interesting:
Paper. You can use both color and ordinary white;
Scissors. Something you need to cut the appliqué elements;
Paint or Color Pencils.
Well, of course, you need a desire. Because the child periodically may not understand what you want to do something like that, and not otherwise. But be patient, because even in such a kinderboard the creativity will be displayed in his opinion on life, but not your. 
Paper Napkins: What can I do from them
And even if you have only one small piece of paper and several napkins, you can make a completely stunning application. Here, for example, bunch of grapes. First explain to the baby as she looks. You can even show the picture, the benefit of modern technologies is not such a big problem. Then take a small piece of paper, bring the outline of the future applique. 
Now you need to paint the leaves and cuttings using conventional pencils or markers. Napkins you need color, there will be no white grapes on a white sheet. Create a drawing We will be as follows: Nature napkins for small pieces. Then each piece need to squeeze a little and glue the grape. And so the whole bunch.
Near, of course, it turns out not very carefully, but how much joy will be at your child when he sees that the result of his creativity is like a natural product. 
Exactly by the same principle you can do anything. The main thing, turn on the fantasy, and you will definitely get something original. 
Children's simple crafts from colored paper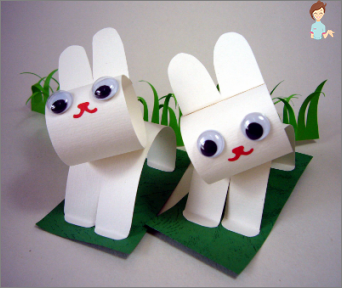 Let's start with the simplest. Take a sheet of colored paper and circle one palm by contour. Then carefully cut it out. From the colored paper of another color you need to cut a bow and skirt. If you want, you can decorate them by several more elements. For example, peas, as shown in the picture.
In general, after a few minutes of effort you have a pretty little octopus, which will definitely be able to please your child. 
Want some volume toy from paper? Then we bring to your attention the machine. All you need to do is print a picture and cut on a dotted line. Then bend the paper in the right places and glue the craft.
This is how you can create a completely stunning thing with children. And even if it succeeds not very beautiful, anyway – this trinket will ever become invaluable for you. After all, the same memory of your baby's childhood! 
New Year's crafts from paper children's hands
Children always want to take part in preparing for the celebration of the New Year. Cook salads or remove the apartment they, of course, will not, but here to make a few decorations it will be quite bye. If you have a small apartment and put a large tree, there is no physical opportunity, you can make it a paper version, attaching which can be kept to the closet or wall.
Let's start with the fact that you need a non-ferrous paper of several green shades. On each sheet you need to circulate the palm loop. You can make such a Christmas tree with the whole family, because the branches at the tree should be of different sizes. After the palms have already gathered quite a lot, carefully cut them out. 
Now you need a big piece of paper or cardboard. From him we will make the basis of our New Year tree. It must be triangular, because the real Christmas tree expands. At the resulting base, we stick the resulting twigs, giving the tree a form. So it turned out our Christmas tree. You can hang it anywhere, because it looks pretty decent! 
If you want, you can cut out of contrasting colored paper decorations for your paper Christmas tree. The main thing is that there are no too much, because the abundance of jewelry will not allow to consider the originality of the tree itself. 
You can also make a New Year's garland. With it you can perfectly decorate the doorway or furniture. It is necessary to make it as follows: Fold the harmonica a small piece of colored paper, and in such a way that a fan is obtained when flexing. Then, secure the middle of each place so that it is not flexing again into the harmonica, using the usual stationery glue. 
Such fans need to do quite a lot. After all, the more they are, the longer your garland will turn out. Preferably, if you compose it from multicolored elements, such as green and red.
The garland itself is very simple: you just need to glue all the fans one by one, applying my sides to each other, bottom to the top. The resulting decoration will perfectly decorate your home, giving it an additional festive atmosphere.
Children's crafts from paper: Learn the numbers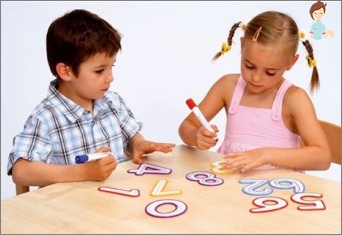 Making crafts with the child, you can not only develop a small motorcy, but also study.  For example, if you make a clock in the form of appliqué, then learning numbers for your child will be much easier. Yes, and nothing complicated in such a small craft.
You only need to cut a small circle of colored paper. And then paste the cut arrows and numbers on it. In any case, even if you talk a little, this time cannot be considered lost because it is so interesting, create something with your baby. 
As you can see, you can do something with my child and even useful. It turns out anyone, even the smallest handicrafts for children from colored paper brings a lot of pleasure to you and your chad. So stock patience and ideas! Good luck to you!