How to organize and hold a wedding celebration in the country
Currently, it has become fashionable to arrange a wedding outdoors. The celebration is celebrated in the park, on the ship, by the sea. And how do you wedding in the country? The idea is not new, but very creative
Mark the wedding fun and scope, collect all relatives and friends for one big beautifully covered table – this is the dream of many newlyweds. The idea to celebrate the open air celebration is not Nova, remember the beautiful vintage films: summer landscape, many colors playing music.
In the modern world, where most people are residents of cities, such fun can only be held in one place, in the country. How to organize a cheerful and memorable holiday than to surprise guests and please the newlyweds, you will learn from this article.
Selection of place and time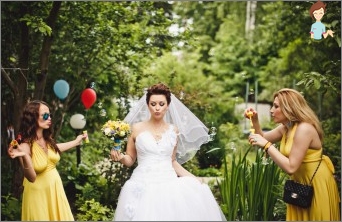 Organization of any holiday begins with the definition of the place and time of it. The best time for the holiday in the country, of course, will be summer. Only need to take into account that at this time of the year, heavy rains often happen. Therefore, in the cottage, it is nice to have a veranda, a tent or indoor canopy. These buildings will also be able to protect guests from the hot sun when the weather will prevent such a surprise. If you live in a region with a warm climate, the spring or early autumn will be a wonderful time in order to mark marriage in the country.
Choosing a place to arrange tables – the most responsible thing in the organization of a wedding celebration.
The place where the festive table will be, should meet the following requirements:
Be smooth and free from plants. There should be no herbs and shrubs. Try to notice a bed with rare colors nearby, otherwise you have to regret if the guests will accidentally come to your mom's favorite rose;
2. Be dry and not poured water if it rains. It is unpleasant when the aid of beautiful dresses are dumping, and under the legs of the guests rushes dirt;
3. To be well lit. Celebration will surely continue late. Set a good bright light over the table;
Be not far from the kitchen zone. During the feast it is necessary to constantly serve new dishes, remove from the table and so on. The kitchen should be nearby at a convenient and accessible location.
In addition to the organization of a convenient place for the table, you need to prepare:
Exit registration area, if such is assumed at your celebration;
The dance pad is comfortable, with solid sex, well lit;
Place for photographing: beautifully decorated gazebo, picturesque corner in garden, pond or fountain;
Place for kebab. Any holiday in the country, as a rule, does not cost without cooking this dish. Wedding is not an exception. Skewers can be fed on the second day in a relaxed friendly atmosphere;
Restrooms. Better if they are in the summer cottage, and not in the house.
Wedding in the country: there are ideas
After choosing a place to hold a celebration, decide on his idea. It needs to be done at the initial stage, when nothing else was bought and not done. It depends on the idea of ​​the holiday, its design, entertainment scenario, menu and even outfits.
Several ideas of dacha fun:
Wedding in rustic style. Total long table, white tablecloths. On the table bouquets of ASTR or other non-spare gardens. Dance floor is decorated with multi-colored garlands and balloons. Works dj j. Tamada – someone from relatives who knows all wedding customs capable Enter guests. Traditional games and entertainment. Riding mother-in-law on a wheelbarrow, wedding trash, jumping through the fire. To surprise and please guests, and, of course, newlyweds, you can organize riding on a beautifully harled horse stroller;
Ethnic or folklore. Can be made Cossack, Tatar, Ukrainian, Gypsy or any other wedding in ethnic style. Such a holiday scenario provides for the presence of national costumes and traditional dishes. Try to recreate the appropriate situation. Perfectly, real objects of life or national embroidery will look. Tamada at such a wedding should be a person who knows national traditions, who knows how to speak the language of the chosen people;
Holiday in retro style. Recreate the atmosphere of cottages of the 30-40s. Holiday Decoration – Live Flowers. Roses or field chamomile fit perfectly. No balls and flags. Arbors and a place for photographing you need to arrange a light, weightless cloth. For such a holiday, a great version will be live music. From entertainment: dance contests, launch of air coils. You can organize cycling or walking around the places meaningful for young. A wonderful surprise will be a trip around the vicinity on the RetroAutomobile.
It's better to do without a tomada. Guests will pronounce toasts according to a beautifully decorated holiday plan.
Here are only three options for holding a wedding celebration in the country. The best idea can be your own. Fantasize and do not be afraid to be original. After all, this is your day and he should become for all unforgettable.
How to make a wedding in the country?
The design of the holiday depends on the style you chose.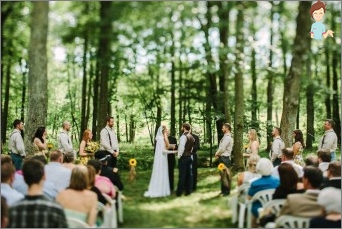 Try to strictly follow him. Do not allow «accidentally» hanged balls and posters. Everything should be thought out and withstanding according to your chosen idea. It depends on the impression that will leave the holiday.
To decorate the celebration, you can use satin ribbons and cuts of lightweight fabric, ornamental birds, butterflies and animals. Beautifully look Chinese lanterns or kerosene lamps.
---
With your own hands, you can make decorations from paper, original invitations, a map that disperts guests.
How to make a menu for a wedding in the country?
By making the menu for a cottage wedding, consider the following feature:
Celebration will be held in the summer in hot weather. So choose the lungs not
Perishable dishes. So that the food does not dreamed, a frequent change of dishes is needed. Better if there is 4-5 shifts of dishes;
Turn on the menu more cold snacks, vegetable dishes, fruits. Better if the food is served portion, and not on common plates. All kinds of cuts are laid out on common plates: meat, cheese, vegetable. There must be a portion of dishes and napkins;
Provide the table with a sufficient number of alcoholic and non-alcoholic beverages. Calculation of drinks is approximately: on 5 guests – 3 bottles of strong alcohol, 3 bottles of champagne or wine, 1-2 liters of juice and mineral water;
The menu must necessarily have a major hot dish. It can be baked goose or pig, stuffed fish. The main dish is beautifully drawn up and presented in a solemn atmosphere;
Important and traditional attributes are a loaf and cake. Capaway presented newlywed parents of the groom. From it begins a festive feast. Capaway – it is beautifully decorated bread, symbolizing the beginning of a marital life;
Cutting Cake Bright Celebration Fragment. The wedding orders a special option. It is usually multi-tiered and decorated with flowers and figures. Calculated the weight of the cake as follows: 1.5 kg per 10 guests.
The second day of the wedding in the country
The second day of the country's wedding is traditionally the day of contests, jokes, fun.
Cottage, as a wedding site, gives here a big space for fantasy. Entertainment can be the most different: from horseback riding to dance competitions and soap bubbles show.
You can stick to traditions and to spend familiar to all. Only when making a script or entertainment plan, decide which you like them, and in what you would not like to participate categorically. Avoid vulgar competitions, they are inappropriate at the wedding.
Games on the second day should hold professional leading. Do not ask for relatives or friends, they are so tired yesterday, embodying the idea of ​​a wedding in the country. In addition, not every guest can own and manage slightly relaxed audience. Deciding how to organize a wedding in the country, be sure to invite the photographer.
Happy, touching and funny moments of your holiday will be the basis for a family album.