Knit dresses on knitting needles for all occasions
To create a knitted knitted needle you need to have a special talent, a little practice is enough and everything will turn out. Detailed description and schemes can cope with this task
Knitted things for a long time are at the peak of popularity. They love not only housewives, and the world famous designers. Thanks to the enormous variety of threads and patterns today, you can create original things. Taking advantage of the proposed schemes, you can connect the dress for both an adult woman and for a child.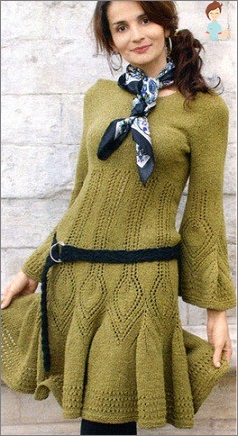 The benefits of such clothing include what you can independently adjust the length of the clothes, customize it under the figure, as well as choose the color, decorations, etc.NS. Changing the thickness of the thread can be associated with a winter and summer version. You do not need to worry if something has not happened, because at any time the product you can dissolve and correct errors.
Elegant knitted dress with knitting
The data will be indicated by 38. Depending on your parameters, you can add or subscribe loops. Change the yard in this scheme can also be associated and summer.
For this dress you need to take:
250 g of yarn, which consists of 70% mohair and 30% acrylic;
Circular Spokes No. 24;
Hook number 22;
Such a knitted dress with a scheme can even make a newcomer, since everything is quite simple and easy. To begin with, type 184 loops and knit in a circle, following the scheme. When you get a web for about 70 cm long, divide it equally on before and back.
Continue to work with each part separately. Let's start with your back. To form a loaf, we reduce on each side of 3 loops on each side – 1 time, then 1 time – 2 loops and 2 times 1 loop. When you reach a length of 75 cm to make the neck, you must close the average 10 loops.
Then, to get a round part on both sides, it is necessary to close in each 4th row on the 1st loop 4 times. Close the rest of the loop. The front part lies along the same scheme. Now let's go on the sleeve. Dial 68 loops and knit, following the scheme.
When the canvas reaches a length of about 20 cm, it is necessary to add 6 times on both sides to 1 loop every 4 rows. To make the OKAT sleeves, close and from that side 1 time 3 loops, 2 times 2 and 12 times 1. At the end, secure all the remaining loops.
Below will be the diagram of this knitted dresses. To get the end result, it remains to collect all the details. In the end with the help of a hook, tie the neck of st. B / N. 
Knitted baby dress knitting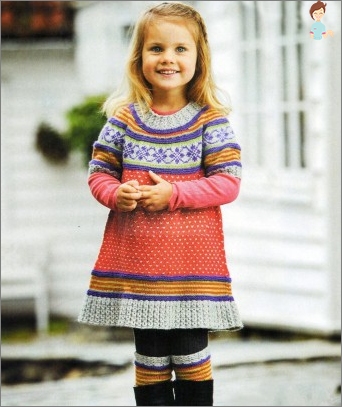 All parents want only the best for their child. Therefore, to choosing clothes for a small princess they are very responsible.
For a child, not only beauty, as well as its quality. More mammies are preferred to things that can be made with their own hands. To date, there are different schemes that will allow to create real masterpieces. This option is designed for a child up to 2 years, but the size can be enlarged.
For this dresses you will need:
200 g of yarn, which consists of 68% bamboo and 32% cotton;
Circular spokes №3.5-4;
Satin tape length 1.5 m.
To make an openwork pattern, you need to knit according to the scheme, taking advantage of the description. Start knit from hem. Take 288 loops and continue in a circle with a tent viscous and so 2 rows. Then go to the pattern, and in the 5th row repeat 12 loops of the Rapport 24 times, it is necessary to do it in width. Thus, take 5-12th row, then go to 1-12th and 1-4th row.
After knit facial stroke and in the first row evenly remove 72 loops. Knit like this: 2 persons. loops, 2 loops together. and so to the end. As a result, you will succeed 216 loops. When you check about 22 cm, you need to evenly remove 36 loops, and in the 1st row it turns out 180 loops.
After 11 cm Give 44 loops, you need to do it evenly. Then stick 2-4 row according to the scheme. Make holes intended for ribbons. Then let's knit the face and when the belt will be 4 cm. The canvas divide equally and knit individually.
Continue to knit a dress for girls and go back. 68 loops must be peeled, then straight, then reverse rows. Other loops postpone. To round the armor in each 2nd row close 3 times 2 loops, and 2 times 1.
As a result, you will receive only 52 loops. Continue to knit straight and when the distance from the belt will be 13 cm to make the opening for the throat, put on an extra needle 24 loops from the middle.
Then knit every part separately. To round the cutout in each 2nd row, fasten 2 times on the loop from the inside, and when the distance to the belt will be 14 cm, fasten 12 loops. Another part knit also, only symmetrically.
A detailed description of knitted knitted dresses with openwork inserts will help get a great result. Now the time has come. Return to the needles, postponed earlier than 68 loops, and like the back, check 52 for the arm. When will it work out 9 cm from the belt to make the neck, put the average 14 loops on the extra needle.
The resulting 2 parts need to knit separately. So that the neckline is round, on the inside in each 2nd row close 1 time 3 loops, 1 time 2 loops and 2 times on the loop. When the height to the belt is 14 cm at once close the remaining loops. Also check and another part, just do it symmetrically.
It remains to deal with the sleeves. Take 49 loops, 1 Pouring row need to knit facial loops. After that, go to the pattern using the scheme. From the 1st row to check 12 loops of the width 4 times. Tie 5-12 rows, and after 1-4 row. To make OKAT sleeves in each 2nd row Close 1 time 3 loops, 1 time 2, 11 times 1 loop and 2 times 2 loops. Do it need it on each side.
It remains to collect knitted knitted baby dress. First, walk the shoulders. Through the neck, type 74 loops, taking into account those that were on an extra needle. Check the handful of 3 rows and close the loop. After that, disappear the finished product. Now sewing sleeves, make 2 top-top. In the holes stretch the tape and make a bow. Ready dress will delight you for many years.
Knitted sundress dress for girls
This outfit is designed for a child whose growth range from 86 to 92 cm.
For this product you need to take:
100 g of yarn of 2 contrasting colors, in which 50% of the viscose and 50% acrylic;
Spokes №2,5;
Hook number 2;
The pattern must be knitting using the scheme. A rubber band with an elongated loop: in the 1st row – 1 facial and 1 wrong loop, and t.D. The second row to knit like this: 1 facial loop and 1 unprotected. Then repeat the first row and T scheme.D.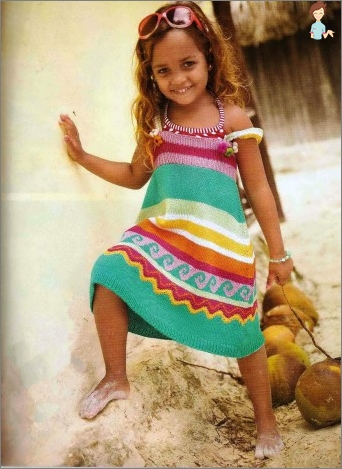 10×10 cm mating density will be 40 rows and 32 loops. We now turn to the main part. Type 100 loops and check the 16 rows discussed above. Then take another yarn and check the same way 12. Changing colors according to this scheme, take 64 rows.
Then lie a row without nakida, which will reduce the width by 1/3. As a result, 74 loops should remain on the needle. Through 20 rows to make the armor close the 8 loops and knit with a rubber band as described above. Through 34 rows from the armor, close 12 medium loops and continue to knit, having reduced both sides in each 2nd row 1 time 3 loops, 1 time 2 loops and 2 times on the loop.
The remaining 16 loops are still 18 rows. After that, all loops close. Back knit in the same way. Crochet Make a few flowers using a scheme 1 and 2, and after attaching them on the dress. It remains only to collect a dress and disappear it. Children's things can be remade at any time by adding loops. Thanks to this, the baby can wear a dress for several years.
Remember that if you made a mistake, you can always fix it, dissolve part of the product. In addition, when the dress becomes irrelevant, you can use the same yarn for the manufacture of another outfit. In knitting, as in another lesson, practice is important. Therefore – a little training, and you can create real masterpieces, as famous designers. Good luck!