We spend old jeans in the skirt
How to alpine old jeans skirt. Mini skirt, pencil skirt and direct jeans skirt with their own hands. Useful tips to craftsmen how to successfully alter old jeans
Almost every woman loves to engage in sewing and create all sorts of beautiful things. Make clothes for yourself at home is quite simple, it is important to find an idea and make a masterpiece with her own hands. Currently, on the Internet, you can find a lot of information about the sewing business, and even if you are not a professional, from our article you will quickly understand how jeans alter in the skirt.
What materials are needed?
In any business, you need tools and materials for work. Direct skirt made of denim tissue will require not only fabrics, scissors and cars, but also something for decoration.
You will need:
Jeans that will no longer be useful (usually sew from older);
Capron thread for better quality;
Sewing machine;
Meter;
Ruler;
Scissors;
Chalk to indicate the desired length or line;
Thermoapplication;
Lace;
Other decorations.
Master class: how jeans to go into the skirt without hassle
Try to dedicate a free evening sew and master simple techniques alterations. We offer you a choice of three types of styles.
Option of Cutting No. 1 (mini skirt)
On prepared jeans, it is necessary to note the required measurement, this can be done using a ruler or meter. If at home there is a pencil skirt that you like, you can attach it to jeans to pick up the desired length. The barcode is applied on the inside of jeans and another 5-10 cm is added to it. This is called the allowance.
It is it that is used in the future to binder Niza. Then you need to spread the inner seams in front and rear to the zipper. After the work done, you must impose one part to another and flash. Your mini-skirt is ready.
Option of Clearing No. 2 (Fashion Skirt)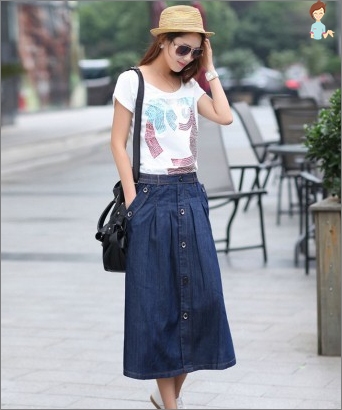 First you need to decide on the length of the future product. Then follows all the seams to zipper and turn out the material inside out. Next, we plan a stepper seam line and cut everything too much.
Cut denim material will be useful in further working with the skirt, the wedges will be made of it to insert in the product to increase the width. Triangles are made from the cut parts of the trumina.
Ready-made triangles are inserted into the skirt from the front and rear side, you can even do it, on the contrary, not the face, but the wrong. Then the color will turn out to be spectacular, and you will not regret that we have changed the skirt from Old jeans. Now all the seams are flashing and, if necessary, – overlocate. Optionally, you can decorate the workpiece with fringe or lace or glue thermoaplocation. It all depends on your imagination.
Useful Tip: Fashionable skirt will look even more interesting if used black jeans as a material.
Option of Clearing No. 3 (Pencil Skirt)
Pencil skirt is considered the most feminine style that emphasizes the main advantages
Figures of women. This strict cut is perfect for working in the office or to study.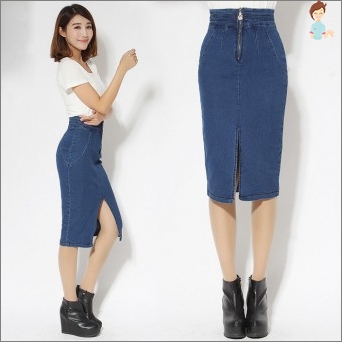 To alter your jeans in a pencil skirt, pick two suitable pairs. It is desirable that they were with an overwhelmed waist. Exactly laid off the pants on a flat surface, for example, on the table, it is necessary to cut the internal seams from the bottom to the motley.
Ready Materials need to be folded in half, and flash in the region of the former motley from beginning to end. Next, it is necessary to fold the pants together so that they formed a single matter, retreat from the edges of 1 cm and sew. If you need a skirt with a cut, sew the details not completely.
Now the workpiece turn inside out and flash the seams. If the skirt is big, extra material must be trimmed. Now we process the bottom and decorate the finished, the class skirt, which we managed to sew alone, without the help of the master.
Work on the sewing machine is not as hard as it seems. If the text is difficult to understand all the details and navigate, you can find suitable pictures with a pattern, which in the search engines a great set, or see the master class on video. And the advantage that will help you do everything right, will be your inspiration!
However, if you are a novice in this matter, you will be useful for several good tips:
Use only that material that is not a pity;
Remember more often by saying «7 times dead – one revenue»;
Do not hurry, sewing on the car is a difficult lesson, there is a patience and perfection;
Carefully remove the measurements, because to sew a direct skirt, you need to know exactly your shape parameters for sure;
Cut off extra details is not worth it in a large volume, perhaps this material is still useful, because you will not redone a small product, but you can still alter.
Be attentive and patient and everything will succeed. Good luck in the disclosure of talent!