Crafts from bottles: beauty or savings
You have made a rather large number of plastic bottles? Do not throw them away! It turns out that with their help, you can originally decorate your home and garden
Plastic bottles are score. We use them all the time, but no one thinks that each thrown out a piece of plastic lies in the ground, without decaying several centuries. But the ability to purchase expensive equipment for utilization of such industrial waste can afford not every country.
What to do in this case? Let's use plastic to decorate your homes!
Crafts do it yourself from bottles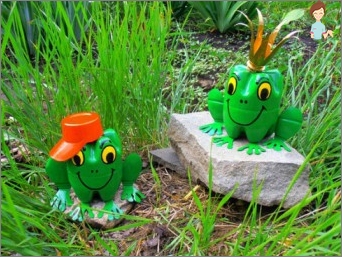 If you use a little imagination and time, you can create completely stunning crafts from unnecessary bottles. For example, you can use plastic container for watering plants. To do this, you will need to cut off the bottom of the bottle, and in the lid drill a few holes. Then insert the resulting design with a lid down and pour inside the water.
Attention! The volume of containers must fully correspond to the volume of the Earth. So if you decide to water the home plants in this way, then the optimal version will be two-segment bands. But if such a device can come in handy in your greenhouse, you can try to use five-liter containers.
It is possible to find the use of plastic containers in any field of life. For example, you want to help small birds, which are very difficult to find food in the winter season. In this case, you can make a small feeder from the bottle.
The main thing is that the edges of the feeders are carefully processed and the birds could not be injured. You can attract your children to the manufacture of such a feeder: they will definitely consider such a creative occupation.
Make the feeder will be as follows:
Take a liter bottle and make four cuts, in the form of resembling a cross. Then repeat this procedure is slightly higher. Attention! Upper cuts must be perpendicular to the bottom;
In each hole insert a wide wand or spoon;
Above one edge of sticks make a small hole in plastic. The hole must be wide enough so that the cereals be saturated from the bottle. But at the same time, the feed must be poured so that the birds have managed to eat it;
And the final touch of the manufacture of our feeder is the screwing of a screw in a cover. With it, you will be able to hang the made feeder on a tree or window sill.

 
Attention! It is not recommended to hang the feeder for the neck. First, when the rope stretches a bit, it can just jump. And secondly, a bottle suspended for the neck can just shift. And this will certainly lead to the rash cereals on the ground.
Crafts from bottles for garden and summer cottages
First of all, it is worth noting that as practice shows, almost everything can be made of plastic bottles. In history, even cases were taken at home from this material. The mechanism was very simple.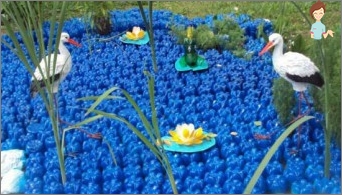 Workers Just as usually bred cement, but instead of bricks used plastic containers filled with sand. Of course, the residential building you do not stand so much, but for a small cottage hut such an option may come.
In the same way, you can decorate the house outside and from the inside. To do this, you need an idea and several plastic bottles. At that moment, the walls are built, you need to place in the fresh plastic concrete in such a way that the pattern you need or drawing.
Then, when the walls are already dried, take some paint and paint the elements of the created pattern in the corresponding color. So it turns out an interesting mosaic.
Undoubted advantage of creating such a mosaic with their own hands is that you can use bottles of any configuration. The main thing, do not forget to pour sand in them. Otherwise, quite a large weight of concrete and bricks will simply distribute an empty capacity.
What else can be done for a garden of plastic containers? Well, for example, fence. No, he, of course, will not be guarded, and the child can be rided out, but here is visually, he will look very elegant.
Just close the bottles between themselves with a net or wire from two sides. Edges can be painted in any color. And if you want, you can even create any beautiful drawing or ornament. In general, in the coloring process you need to rely solely on your imagination.
By the way, you can use plastic not only on crafts for cottage from bottles, but also to cover the roof. If you have the roof of the country house, you can link several bottles, cut in half and close the problem space.
Thus, you get a similarity of slate coating. So you can save ecology, and save money. Well, if you are an extravagant personality, then you can cover the whole roof.
Bottle Caps Crafts
If you still have to figure out with bottles, then where to give a lid – remains a mystery. But if you have already made them quite a lot, you can decorate the fence. You can stop your choice both on a beautiful ornament and for a whole picture. Here, for example, you can absolutely stunningly arrange a fence on the household plot using the covers as the elements of the mosaic.
The secret of this design is very simple: you need to decide on the picture and glue the lids in a strict sequence using the usual stationery glue. Of course, in order to create such a picture, a huge number of covers will need, but, in my opinion, the result is worth.
Crafts from glass bottles
From glass bottles You can make quite cute decor elements, the presence of which you have in the apartment will create a completely unusual atmosphere. And today, we will look at how to make a small decorative vase. To do this, we need a bottle from cognac and motok of multi-colored threads. Do not forget also about PVA glue.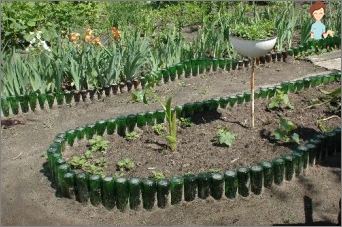 Now you need to wind up all the bottle. But it is necessary to do it so that the glasses can be seen. Start recommended with neck. Here you fasten the tip of the thread on glue and slowly begin to wind yarn on the glass.
As you wound, you can apply a small amount of glue in some places. Such precaution is needed in order to even with sharp moves, the threads firmly kept on the bottle. End of threads also need to fasten with glue.
Here and ready our vase! You can put artificial or dried flowers in it. But with alive, it is better not to risk, because pouring water, you can accidentally wet the place of the junction, and this is fraught with a full unwinding of threads.
As you can see, crafts from bottles can not only decorate our cottage or garden, but also help to save on building materials. The main thing is to believe that you will succeed!