Useful crafts from newspaper tubes: create comfort in the house!
Pile of magazines and newspapers, which your balcony is littered – this is not trash. Learn to see in it beautiful. Create magnificent crafts from newspaper tubes – We will tell you how!
You are tired of old newspapers that accumulated on the balcony and in the kitchen cabinet? Do not rush to throw out waste! She can serve excellent service and become decoration of the interior of your home. You can even give these newspapers. It seems too original and strange? Do not worry. Your present will like it, because newspapers will have an exquisite form.
Old Idea – New Crafts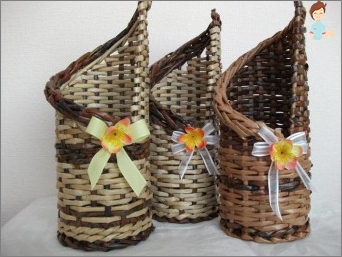 Most people looking at old newspapers, catalogs and magazines, see exclusively garbage, waste paper, from which it would be necessary to get rid of. But do not throw these sources of information. Create a masterpiece of them – a unique interior object. Use the ancient weaving techniques to create new beautiful crafts from ordinary newspaper tubes.
Such a direction, like making with your own hands of pretty crafts from newspapers, is becoming increasingly popular for three reasons. First of all, it is a good way to spend resources economically and just an excellent disposal method. Do not need to throw out paper products or search for receiving an admission of your journals.
The second reason – the wizard will not need specific skills to start creating. This is not knitting when you have to constantly count the loops for a beautiful pattern and the required size of the garment. And this is not embroidery, thanks to which exquisite interior objects are being created, but the occupation itself requires amazing, painstaking and ability to handle a needle and thread.
And the third reason why weaving from newspapers are like – low cost of consumables. If it used to use natural materials, bamboo, rattan, palm leaves, bamboo, rattan, palm leaves, yawa rods or vine, today, today you do not need to worry about how much harm you cause nature, or look for money for the purchase of consumables. You will bypass what you have. Weaving baskets with their own hands will be a wonderful way to spend time with benefit.
Craft with a thousand-year history for a new way
Weaving – one of the first types of crafts originated on the planet. The remains of wicker baskets were found in Egyptian pyramids. As soon as people have learned the simplest technique of combining together vines, herbs or rods, the craft of creating household belongings from a convenient, flexible and plastic material quickly spread throughout the world.
This method has become popular because it easily copes with both a man and a woman. To create a woven thing, you do not need to have special equipment and from the wizard does not require a rough power or super passion.  You can join the global trend of reuse of objects and develop the best original traditions of masters.
Where to begin?
What types of crafts from old newspapers most popular? This is a basket, a box, a vase, a lampshade and even a portrait. If you do not have weaving skills, start with simple – baskets. This type of product from the newspaper will be a good version of the crafts for beginners. You do not need special skills. And even a child will cope with this task.
Such lesson will be an excellent hobby for the whole family and an exciting alternative to computer games. Weaving is also also the fact that it develops fine motility hands. This is important both for children and for older people.
You will need:
Newspapers or magazines (paper should not be too dense, otherwise there will be difficulties with the formation of the tubes of the same form);
Glue (PVA or in the form of a pencil);
Scissors;
Thin wand or needle;
Clothespins;
A piece of cardboard for the base (bottom);
Frame for a frame (it can be a cardboard box if the basket is rectangular).
Instructions for creating a basket do it yourself
All elementary simply. First, the newspaper sheets should be folded in half, cut along, after which, proceed to cutting the strips. You should chop the newspaper on a strip of 10 cm wide and a length of 22 cm.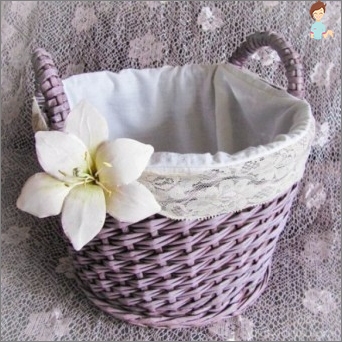 Put the edge or pencil on the edge, if you need a wide «vine», and wrap such a piece of cylindrical paper. Gently fold the sheet into the tube. The remaining edge attach to the basis of glue. Remove the needle and proceed to the next. In the same way, create 30-50 tubes.
When choosing a method of registration of the bottom You can prefer the usual piece of cardboard, plywood square or round shape. Another option – you can not use additional items. The bottom of the basket can be soaked in the same way as the side parts.
If you decide to take a support, the first tubes will need to be glued to a piece of cardboard at a distance of about 1.5-2 cm. For a basket with a wicker bottom just put two tubes on a flat surface.
Twist them in the third, placing one part of the tube for another, and then on top of it. Do the same with the fourth tube, only in reverse order. Gradually add tubes, expanding the bottom to the desired size.
For a beginner, this method may be complex. Therefore, for the first time, use the simple and convenient system for gluing the tubes on the cardboard circle. After the skeleton tubes (vertical) are attached, near their base at an angle of 45 degrees, glip the tubes that will be mashed out frame.
Make sure that the tubes are tightly fit to each other. When you get the desired diameter, the ends of the tubes are delivered perpendicular to the bottom. Holding each tube vertically, soak her other horizontally.
This is the simplest scheme called, «Rope». For homogeneous and thorough weaving, increasing the tube, sticking to it the following. You can also insert one «Lozu» in another. Ways to evan any product there are many. Choose suitable for you so that this work brings pleasure.
Video Tutorials will help. Look a couple before starting work to master the process. And at least a pair of wizard wizards will not make you a master of weaving, but will definitely help to master the process.
Useful advice
So that the design does not disintegrate at one glance only on it, use clothespins. As weaving, fasten each wall with clothespins, gradually moving them up. To simplify the work, it is recommended to take a vase, a bottle or a box of the desired shape to swell this object and thus create a symmetrical and stable design. Clothespins in this case will not be needed.
When the desired height is reached, wrap the edges of the sticking tubes inside the product and stick them to the walls of the basket. Your decor is almost ready. Passage glue inside and outside. Give it to dry, then paint the basket of acrylic paint on both sides. Choose a color that is most of all harmonize with the setting in your home. Virtually any atmosphere, baskets of natural tones perfectly look great «under the tree», as well as white.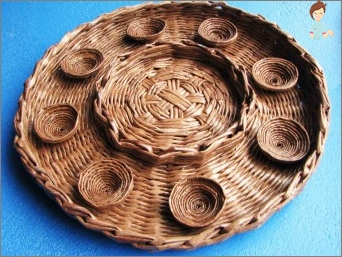 Ready painted basket Cover with transparent varnish. So it will last a long time and will be less susceptible to breaks and exposure to moisture. You can decorate your creation with a variety of elements. You can stick, for example, flowers or patterns. You can take ready-made products that are sold in flower shops – in the form of insects, the same flowers of diverse shape, animals.
There is nothing complicated in the implementation of your idea. Experiment, this is a fascinating process. When you master the basic technique, proceed to creating even more original items. Lampshades, bread beds, stands, wall clocks – all these interesting things for home you can make your own hands without spending almost no penny.
Wrap your creation of a beautiful crafted or other gift paper, decorate a stump rope bow. This hand-made souvenir will be a great gift for a loved one.