Interesting crafts for the garden
You have a lot of plastic bottles and old automotive tires? Don't throw them out! From our article you will learn how to use unnecessary things for the manufacture of garden crafts
You have a small garden, but besides fruit trees there is nothing more? In this case we advise you to decorate it. And, as it turned out, it is not necessary to spend money for this. Just a little patience, fantasy and a bit of improvised materials.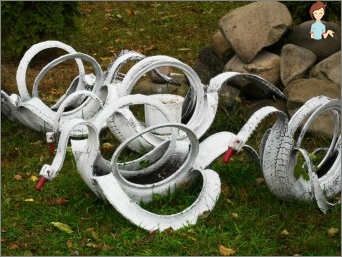 For example, you can put a beautiful wooden gazebo. But it is very expensive, you say you. Yes, sure. If you specifically call the masters who will buy materials to you and will all days to make a good factor, then you will have to spend a lot.
And even if you do it in all the rules, but on your own, then the impressive tissue will still drive you into depression.
What to do? We suggest you stay for a second, and look around. Are you going to change old wooden windows to metal-plastic? Do not throw out window frames. For the most part, they are not in very bad condition.
They need to sand and paint, and then fold the transparent wall of them for a gazebo. Such a wall will not only look beautiful, but also protects you from wind and rain in bad weather.
What are more good garden decorations made by their own hands? For example, the fact that you can decorate the territory in accordance with your taste, leaving a part in each corner of the garden with its bright individuality.
DIY for the garden do it yourself from automotive tires
What kind crafts can be done do it yourself for giving from the old car tire? Well, here you have and cards in your hands, it all depends on your imagination.
Although we will still give you a small list to you to know where to start:
Statues of a variety of animals and birds. What could be better than placing a few swans or bears. And you like and children have a holiday. What can be done, for example, a swan figure? From the usual old car tire. 

To do this, you need to take the tire, cut it on the selected scheme, which can be found on the Internet, and bend in the right places. The main thing, do not forget to paint the received masterpiece, and then you will have to explain to all guests why you have a gray swan at the cottage;

Original Pots and Flower Stands. Practically everyone has flowers in the country. And both on the flower beds and planted in pots. And if we talk about the design of the flower, then we will share the idea how to decorate a pot with a flower right now. To do this, you also need a tire. It will need to be cut and twist so that it turns out a bowl on the leg. Color the resulting stand and plant flowers in it;
More from tires you can make a swing. And it will not go here about the usual round wheel hung on a tree with a rope. It turns out that the swing can be made a very interesting way. Today we offer you to please your kids swing in the form … Horses. To do this, take the old wheel and give it the same shape as in the picture. Then fasten «face» and «tail» With the help of ropes on a tree or special installation for swing. And that's all, that turned out to be excellent swings, which will definitely like your children.
As you can see, you should not hurry to throw away even those things that at first glance will not be needed. Because of them may turn out to be stunning crafts for the garden with their own hands, most importantly, it wanted to do something beautiful!
Crafts from plastic bottles for garden
What else can you make a decoration? And, for example, from plastic bottles. So something, and this good is a lot in any house. After all, at least once a week buy drinking water, and if you have children, then without sweet carbonate drinks, too, do not come around. And what are you doing with tara? Throw out!
But you can make such beauty:
If you have already made a gazebo of old wooden windows, then why not decorate it with the original curtain. The only disadvantage of such ideas can be considered a long time for collecting materials, as you will have a huge amount of bottles on a similar thing. To create such a curtain you need bottomsheko bottles and wire. Rounds need to be very good to cut so that they look like flower. And then, make all the resulting elements with wire. Attention! Before fastening, you need to process every flower with sandpaper or a little bit. Then the edges will not cut. This decoration will refresh your garden, giving him notes of originality. And so be sure that your neighbors hardly come to mind!
Want to make birds flying to your site? Make a feeder for them. To do this, you need to take two bottles. Just rinse well, dry and pour seed into it. And from the second you will need only bottom. In it and you need to put a second bottle so that the seeds eat, they constantly shovel. A kind of autocorus. And it is possible to fix this design using a wire;
Would you like to save on Metlah? Yes Easy! Take a few bottles, cut the bottom from them and secure on a cutlets, which remained from the old broom. Previously do not forget to cut the bottles in the fringe. Such a broom will not only help in the farm, but will also become an indispensable element of the decor;
Also plastic bottles can also be used to decorate entrance doors. For example, for Christmas, you can hang on them a very original wreath. For its manufacture you will need pieces of twenty-thirty bottoms from bottles. It is desirable that they were multicolored. In our case, this is a combination of white and green, but you can choose any colors. So, we ride all the snacks on thick wire, and the top can be decorated with a bell or any other decorative element. And so, our festive wreath is ready!
You can also make a bell for cottage. To do this, take a plastic bottle and cut off the bottom. Yes yes, it is the bottom, because our bell tower will do from the top. The edge of the upper part can be cut a little fringe, which you can then twist as you want. Do not throw the plug, but we leave exactly where it should be. Then engage the wire for the neck and hang on any tree you liked. Inside our improvised bell can hang real. And then after any impulse of the wind you will hear a quiet ringing.
Today we offered you only five kinds of crafts from plastic bottles for the garden. But if you turn on your imagination, then such interesting things can make a huge amount. But the most important thing is to enjoy the creation of such, it would seem simple, but very cute things!
Other types of crafts for garden and summer cottages
Let's come back again to our gazebo. Here we have already built her, the curtain hang out, the table was set. And it would seem, everything is fine, but something is still lacking…. And let's decorate it also inside. For example, we can spend a few angels figures. For their manufacture you need a regular wire.
Watching her pliers in the direction you need, you can literally for an hour you can create several completely stunning jewelry. Cheese them on a gazebo. You can even decorate the yard with their help. Now look around … Better, it's not true?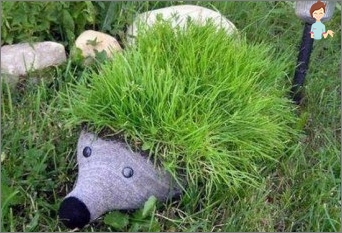 Another way to make your garden more cozy can be considered … Hedgehogs. Not real, of course, but quite cute. And they can be made even from the ground, herbs and moss. To begin with, you need to form a small bunch of land so that it visually resembles a hedgehog. Now put on it on top of moss.
If you wish, moss can only put the facet, and put flowers or ordinary grass on the torso. But for the nose, the usual cap from the bottle will fit. And now, half an hour of work, and such a cute result. Make some such hedgehogs all over the garden, and you will automatically improve the mood at the moment when you see this creation of your hands.
So, as you can see, crafts for the garden – this is exactly what you need to give your dacha atmosphere of a special coziness.
And what is not used for the manufacture of such jewelry: and plastic bottles for garden crafts, and old car tires, and unnecessary wire and much more. The main thing is to be patient and turn on fantasy!