Gift packaging is very important if the person who is designed to be important to you! Whatever exquisite is a gift, the absence of original packaging will spoil his addressee
How many joy and dynamization bring gifts to people! Their colorfulness, originality and diversity causes delight not only in children, but also in adults. They help express their attitude to a person, demonstrate their own style and extend the sweet aftertaste of any holiday.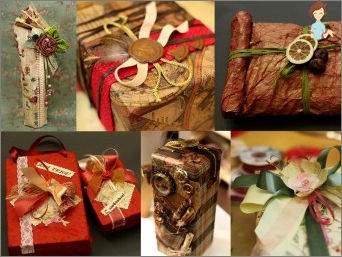 The originality of the chosen or your own gift of a gift is unconditional, and you are sure that it is perfectly suited to the addressee, then it remains to solve another small task: how to adequately present this beauty?
How not to spoil the first impression and «squeeze» all positive emotions with a person she is intended? The answer is obvious – only with the help of stylish and non-standard packaging.
Since it is beautiful to pack a gift that the idle corresponds to the contents and answered the temperament of the person who will receive it?
To begin, it is necessary to clearly determine who the thing is: friend, familiar, relative, boss or employee and other.
Do not, for example, choose too little and bright coloring, if the present is intended to a unconscious person or boss. And vice versa, if the holiday has a close friend, then experiments are always welcome.
Recommendations when choosing a package option:
Male gift wrapping dark tones into paper, female – in brighter and light tones;
take into account the topics of the holiday (new year – we are packaged in drawings with Christmas trees, snowflakes, and so on, St. Valentine – in hearts). This is not necessarily, but this option of registration will undoubtedly support the festive spirit;
We experiment with the presentation of the present for loved ones (attach homemade pieces of decor: paper clips, cones, lollipops, sequins, buttons, etc.) depending on their personal preferences, hobbies or character traits;
For unfamiliar persons, employees or business partners, choose a discreet design, muted colors, minimalism in the design, that is, keep the course for elegance.
So, with a tightened etiquette, we figured out, moving to the main thing – how to pack a gift.
Basic Packaging Boxes Methods
If the task is to design the box, then, oddly enough, it is not very good here. Options for this case are not so much. Often the essence of all methods is repeated, and the differences are only the direction of the paper bending in the field of the box ends. So make a thinking you will just.
Of course, for the first time it may not work out exactly exactly, but to master the technique and bring it to automatism will be possible with practice quite quickly. But still, if you strongly concerns the threat to spoil the wrapper most liked, then you can practice on ordinary sheets A4. And if necessary, increase the area, just gluing several sheets together.
So, let's begin. Take, for example, boxes with small household appliances as the most frequently donors (kettles, hair dryers, mixers, etc.). Wrappers we need less than 1m? (70/100).
Put the material in the middle of the box and wrap. At the same time, we look, whether all the girth is grabbed in width, and in height we carry out whether a fold on 2/3 of the end.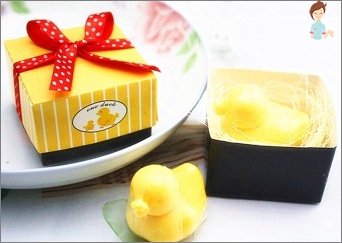 To fix glue a piece of scotch in the middle of one edge of paper in the center and glue it to the box. At that time, the other edge is bending a few centimeters for aesthetic species, as it will lie on top, and also attach a scotch over the already attached edge.
Go to the design of the ends. The most convenient will be the option of the conversion: omit the upper part, align the sides and also lay them to the middle. Next, raise the resulting triangle. Fresh triangular last part to the rest on tape.
Here everything seems simple, but sometimes it is extremely necessary to decorate non-standard boxes. As pacify, if he, for example, round?
Candy or cookies, cakes, massive sets and even tea are often placed in a round-box. Let's see what can be done in this case.
For a round gift, it is better to take a thin material that can easily take the desired form. Ideal will be the use of color film like the one that flashes flowers.
To begin with a square piece of film, in the midst of which is our round item, bend one side, the box is upwards. Hold the result with hand and bend in a circle neatly all in folds upstairs. Must get a kind of sweetie. We associate the beauty with a ribbon, a bow or what is there who soul.
Than original what inside, the more interesting you want to present it. Therefore, consider also some options for designing gifts without boxes.
Several tips how to pack a gift without a box
Very often we have to give bottles: on anniversaries, professional holidays or just joking for a while at visit. You can arrange a glass bottle in different ways: by placing in a woolen sock, having painted with paints, placing multicolored sparkles – fantasy in this issue is sometimes limitless.
But recently is very popular to double laying bottles. It is well suited, for example, if you wish to congratulate a married couple with a wedding anniversary.
For such decoration, we take an elastic and sufficiently soft packaging paper of square shape. Its width should be no less than 2 bottles. Put the material by Kut to yourself and place the bottles on it with episms to each other.
Sorry at the same time look at Kutam. Cover the angle from ourselves and the container and not shifting it, gently tighten your shawl along with the contents. Next, we put the bottles on the bottom, and the top we draw up a bow or link the shoe. You can make such a design with various fabrics.
Always more pleasant to pack a gift with your own hands. From this he becomes more native and mental. Here are some more ways to make registration with original and memorable.
Take a small thing in «candy». Corrugated paper is suitable for this. Everything is quite simple. Need to be placed in the center of a soft bright film of a square or rectangular form item, wind it (it turns out something like a cone), and side edges tie with ribbons or bows. The main thing here is brightness, sweetie is still!
If a donible subject of very small sizes, it can be placed in an envelope created by your own hands.
Methods of packaging today is invented a lot, but no less large selection and material of the design itself.
Variety of wrapping paper
Very fashionable and beautiful is papyrus paper (sewing). It has a thin structure, gentle and beautiful outwardly. Make a severity of sulphate cellulose, whined piecewise. The same cellulose is obtained from wood coniferous trees of a separate type.
Another interesting material is Kraft. It is created specifically for the festive design of things. Kraft slightly ribbed and has embossed across. Usually sold with rolls of five meters.
Glossy sheet paper of various colors – the most common version of the design of souvenirs and boxes. It is strong enough and practical in use.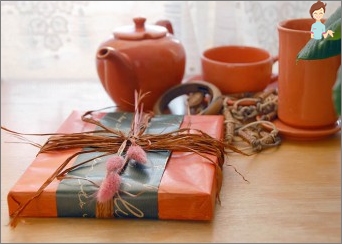 Polysilk for its structure resembles a film. But still he is a little stretching, which helps a lot when wrapping the objects of non-standard sizes and forms.
Malbury – Interesting handmade paper Rod from Thailand. It is represented in the market in the extensive range of colors, ornaments and drawings. Now Malbury is rapidly gaining popularity from designers and florists.
About corrugated paper, probably know everything. A rough structure, various color schemes, practicality in use and a relatively small price made it one of the leaders in the frequency of acquisition.
How with a highlight to present a gift to the holiday, which materials for this can be chosen, you already know. It remains only to connect fantasy and enjoy the process of creating original packaging design.