Traditional wedding bouquet in original performance
So I want to keep memorable accessories and souvenirs forever. Bridal bouquet from polymer clay will long remind of pleasant moments
Bridal bouquet of polymer clay chooses a woman who dreams of keeping the memory of this beautiful day for a long time.Talented masters are so accurately copying natural flowers, which in appearance to guess imitation difficult. Wedding bouquet of polymer clay can be made from plants that have never met in nature.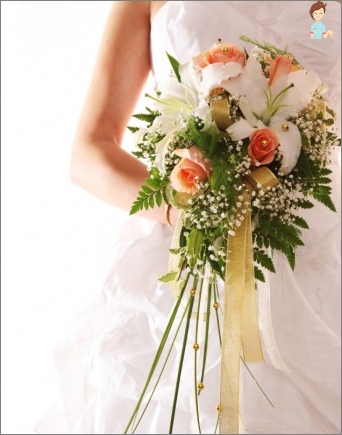 In some cases, in the manufacture of the accessory include fantasy, and guests begin to ask the bride, from which tropical countries they brought this wonderful thing to her? 
Make a bouquet is not so hard. This requires patience, perfection, fantasy and necessary material. 
Choosing a non-traditional accessory, its pros and cons
When choosing an accessory, pay attention to its weight, the number of colors, and the presence of sharp parts. No sharp stems and imitation of the barns, even if the bouquet is composed of «rose». The bride should be convenient. Color is selected on their own taste under the dress. 
Bouquets of polymer clay have advantages compared to accessories made up of living colors:
They are not wither;
During the holiday, it is not necessary to worry that the flowers fade and in the photo in the hands of the bride will be something that does not match the festive mood;
Such decorations look sometimes more attractive than classic. Paints are brighter, flowers, of which they are made, original. Selecting the range of flower shop Compilers of bouquets are not limited. 
Disadvantage of polymer clay for flowers bouquets is that it is quite fragile material. If accessory drop, it will not be able to raise it. 
But how can the traditional bouquet of the bride? Provider brides about this rite care in advance, acquiring a bouquet easier, but from living plants. But in the photo in the hands of the bride there is a miracle bouquet. 
Production of flowers from polymer clay
Some believe that the artificial accessory at the wedding is bad sign. Long-term Flowers – Eternal Memory Symbol. At the wedding they are not a place. Who thinks so – bows natural flowers.
It is not necessary to make a bouquet of scarlet or white roses from polymer clay and keep them in their hands during a solemn event. These flowers will be more appropriate to look at the car's hood.
Fashion for the decoration of the vehicle does not change many years. By the way, the cabs of the bride of England were decorated with clay plants in the XII century. 
Master class for making roses
Such materials must be prepared:
polymer clay;
stationery knife;
stack;
Rubber gloves fitting hands;
toothpick or thin knitting needles;
Smooth wooden plank, such a stand under hot.
Without a flat stand, sculpt will be impossible.  Not everyone gets to feel the material in gloves.
If you are not afraid to blur the hands, you can not sculpt not putting on protective equipment:
To begin with, the ball is separated from the material of this size so that it is labeled for a petal. The amount of clay depends on the future of the flower size;
The ball is rolling, warming in his hand, then knead so that it turns out thin flat and even – if possible – oval;
The plate twisted into a loose tube diagonally, giving it a shape of a pink oblong petal. It will be the core of the future rose;
Like the core of pink buds put on toothpick. 
The rest of the petals are made in the same way as the first, only dimensions change – every next petal is a bit more than the previous one. All petals are customized to each other, tight overlapping one on another. The circle should be smooth. 
Corners are formed on the external petals, so more accurate imitation of roses is achieved. Now it is necessary to cut off a cup of and several pink leaves. 
Act is required by the already known order:
Cut a small ball;
Create an oval from it, rolling into a thin plate;
The end of the toothpick apply embossed veins on the leaf;
Casting to get a cup to get «like alive». 
Then the winged leaflets are imposed on the bud, closing the bottom of the ready-made inflorescence. 
The process will have to repeat 4-5 times, precisely so much in the real rose of cups. 
Then the polymer material is then thin, the toothpicks are soldered – the stem is obtained.  Leafs formed by the described algorithm are attached to it. 
If white clay was used for colors, then they need to paint acrylic paint. In this process, without gloves can no longer do. Paint products after drying material. 
Choose those kolas that you want. Optionally adhere to traditional «Pink» Coloring. However, now the flower products learned how to grow roses of all colors and shades: ultramarine, green, even black. On average, 1 flower must be spent about an hour. 
Tender peonies
For manufacture uses polymer claycraft claycraft clay from DecoClay. Bouquets in the master class are made up of small colors.
It is necessary to prepare, except for the main material:
acrylic shape;
PVA glue;
nippers;
tapes;
Floristic Teip-tape;
floristic wire;
Portnovo pins. It is desirable that they have transparent heads. 
So many balls are formed as then there will be petals in a flower. Flat drop is formed from each ball. It is rolled on the palm, fingers in thick part creating a characteristic deepening. The resulting petals impose one on another, slightly shifting the painter. 
Petals glue with concave sides – as folded spoons. The resulting fan is folded in spirals. Then form several large petals and they finish compliance. 
CHASELISTICS AND LISTICS are shaking according to the famous scheme. It is easier to do that if there is an acrylic form with a leaf pattern applied on it. No need to draw every veil. It is enough to attach a rolled blank to acrylic form.
The form creates cupboats of buds and leaves of the plant. 
As a stem, a floral wire is used – it is wrapped with a floristic teep-ribbon and attached to the obtained leaf leaf – higher to the flower. 
In order for the color of the imitation corresponded to the present plant, the polymer clay of different colors must be mixed. Pale green will come from white and green, pink – from red and white. 
For the final similarity with a lively plant to peony, you need to add bud. It is done very simple:
The clay of white and red colors is mixed so that divorces remain on the surface;
Smooth ball rolled;
2-3 cups are glued on it. 
If a bouquet is wrapped like a real, in decorative paper, a teip tape may not be needed.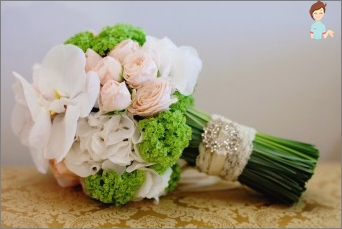 What company choose clay for modeling – no matter. It is desirable that the material does not have to bake. The most famous manufacturers of applied material are: Thai Clay, Cernit, Pardo, Fimo. But beginners «Florists» Better to start with FIMO Soft or Sculpey. These materials have a big plus – they are soft, and when a detected error has the ability to reform the product. 
From polymer clay you can create a variety of accessories: flowers, parts for jewelry, frames for paintings and photos. 
It is advisable to work with polymer clay to attract children. The material is more plastic than plasticine, the results of labor are retained for a long time, which is an additional incentive of children's creativity. In addition, such a work is developing a small motorcy, which is very important for preschoolers and younger students.