Journey to the New Year 2017 - where to celebrate New 2017 Year of the Rooster?
Where to go for a vacation to a new 2017? Read on lady-magazine.com interesting travel options for New Year 2017. Plan a trip to the New Year 2017 see travel prices in different countries
What sense to spend New Year's vacation home,if you can make a trip to the New Year in any country in the world? A trip to the New Year gives a normal winter day, and gives a sense of the magic of such positive emotions that will last for 365 days!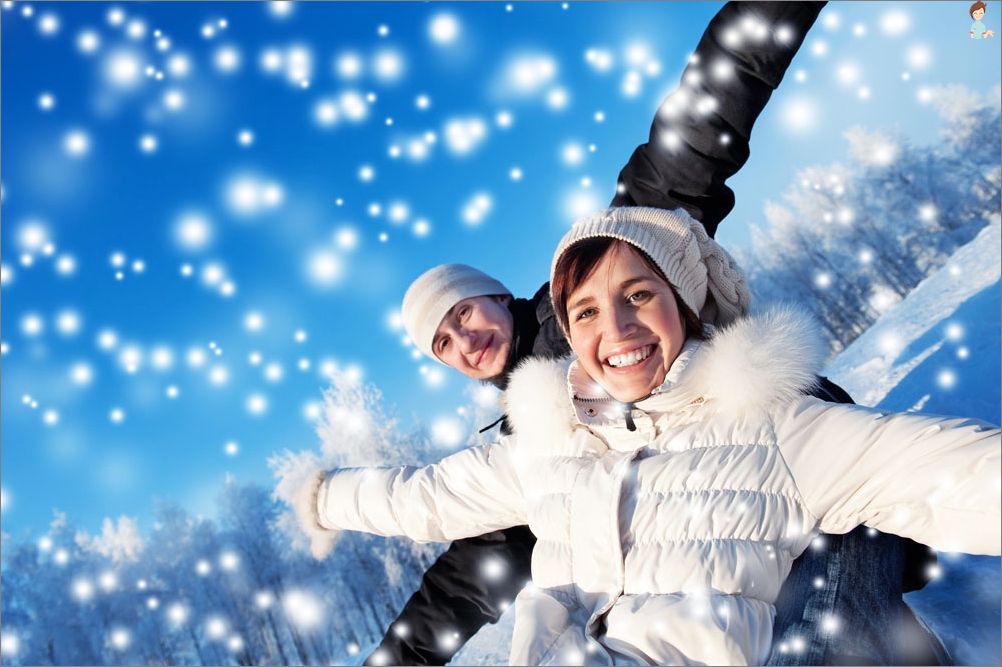 Undoubtedly, New Year's preference among travelers vary: some are flying in warm countriesTo bask in the sun, others choose active toursSaturated with all sorts of excursionsAnd still others are not New Year without snow, and therefore go to the mountains skiing. In any case, no one remains vivid impressions and colorful photos.
Vibrant carnival night in Spain
Colourful street carnivals and processions with songs anddancing, colorful fireworks and champagne - if you close it, go to Spain for an unforgettable night of fun festivals. By the way, shortly before the New Year December 28, Spaniards celebrate Fools Day - our analogue on 1 April. A New Year's Eve under the chiming clock you can make a wish and it will come true under the old Spanish legend, if you eat 12 grapes.

On average, for a journey to the new 2017 you have to spend about 104 thousand. rubles.

Christmas in Bollywood
In the winter months the weather in central and southernIndia is particularly suitable for the study of the country. Therefore, in the New Year you will get with useful knowledge about ayyurvedicheskih traditions and practices of the Eastern India. Despite the dissimilarity of Europe, there is also love and celebrate Christmas and New Year as a result of long British origin.

Behind 105 thousand. Rubles You will be able to fully relax in a 3 * hotel with breakfast 7 days.

Christmas in the Middle Ages
If you want to feel the spirit of the old cozy Christmas - Poisons in Prague, To cobblestone streets, Christmastorches, mulled wine and spiced with ginger biscuits. Here, pre-holiday fuss begins on 5 December and lasts until December 24. New Year's Eve on the Charles Bridge queue of people to touch the statue and make a wish for the coming year. In Karlovy Vary you can visit the thermal spring, in which, even in severe frosts can swim.

Christmas in the Czech Republic do about 88 thousand. Rubles with breakfast for 7 days.

Christmas on the sandy beach
Going to rest on New Year's Eve in Turkey - meansto escape from the monotony of everyday life in the winter the warm beaches of the Mediterranean and enjoy the summer atmosphere of warmth and bright colors. Seasoned travelers are advised to take "his" champagne, because the Turkish prices for this traditional New Year element may reach $ 100.

The minimum cost of trips to Turkey - 72 thousand. For two in a 4 * hotel in the last 7 days.

Exotic Christmas
If you are bored with the traditional celebration, andYou do not know where to go on New Year's Eve 2017 - then just can not go wrong if you choose Thailand. Just keep in mind that the European Thais celebrate the New Year, and national accounts in April.

Inexpensive option 3 * hotel with breakfast cost 116 thousand. Rubles.

Solemn Christmas
Austria is famous for its Christmas balls,which attract tourists from all over the world. In addition to Viennese waltzes, romantic streets with night lights in Austria are great fair, where you can buy unique items at the best prices.

Christmas week in Vienna and stay in a 3 * hotel with breakfast will cost not less than 100 thousand. rubles.

Magical Christmas
To experience the magical atmosphere, it is possible toNew Year to go to Finland. Enjoying her unforgettable arctic scenery and cozy northern hotels, you will feel the familiar sense of childhood "in anticipation of the holiday." It is here you will find a real Finnish sauna with a dip in the snow and delicious Lappish lunch. And, of course, you can visit the Santa Claus Village and Santa Park.

The minimum cost of such a trip in the new year 2017 begins from 100 thousand. rubles a week with breakfast.

Active Christmas skiing
In Bulgaria, you can feel like home. In addition to the marvelous snowy landscape of ancient towns, there are all conditions for skiing. The modern system of ski slopes and lifts, plenty of gentle slopes allow safe feel comfortable both beginners and professionals. By the way, in Bansko you can go down through a unique ski run at 16 km in the forest and take a ride on the virgin snow.

Week in 3 * hotel in the resort of Borovets will cost about 140 thousand. rubles. one week stay with breakfast.

Christmas paradise for shoppers - Dubai
In addition to traditional tours on camels andquad biking in the desert in the winter here goes shopping festival that will surprise even the most seasoned shopper. If you like to ski, and there is no problem. Erected in the heart of Dubai's chic ski center like many different slopes and lifts.

7-day ticket to the 5 * hotel with breakfast will cost about 126 thousand. rubles.
And where to go to meet the new 2017 you?