Do you want to celebrate New Year in Egypt? We will tell all the secrets - where to go and what to see!
Celebrating New Year in Egypt: where to go and what to see. Recommendations seasoned travelers.
New Year in Egypt goes everywhere, so you can go wherever you want. For you to open all the variety of spas, safaris, beaches and even the seabed for extremists.
Where usually go to the New Year in Egypt?
The vast majority of riding or wants to gocelebrate the New Year in the heart of the country - in Sharm el-Sheikh. There are plenty of upscale hotels, restaurants and clubs with interesting offers. During your stay you can spend New Year's Eve on a yacht or a ship that is to carry out a sea voyage, and even get to the coral island. For a more active lifestyle can choose a jeep safari or scuba dive. Party people will be able to spend New Year's Eve under the best music surrounded by his fellow associates.
Hurghadagive all interested amazing vacation. This is a great place for windsurfing and diving, quad safaris. This resort offers a New Year's Eve to enjoy the best theatrical productions at the famed Palace of "A Thousand and One Nights." Spend time only in his own pleasure.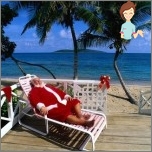 All other spa centers, for example, Safaga,El Gouna Dahab, Makadi Bay is also preparing to overhaul the long-awaited action. It also goes a lot of tourists who want to diversify their lives. In large areas are installed throughout concert halls, ice rinks, Christmas decorations: Christmas trees, reindeer, Santas and more.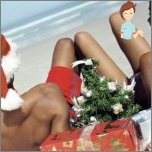 Very warm and malovetreno winter in Egypt, especially in the Bay of Naama Bay in Sharm El Sheikh.
The period from 1 to December 20 is considered hereoff-season when prices are very favorable, hotels are empty seats. At the same time the sea still warm, and the air temperature reaches 28 degrees. In winter it is best to go for a vacation to Egypt at this time. Starting from 20 December, the excitement begins, hotels are filled to come here on Christmas Day Europeans. New Year holidays and at all different in high demand, to join the Europeans and even Russians. More and more people prefer to come to rest on 2 January, because now it is very scarce tours. Despite the high cost, in all places of popular hotels booked for the month.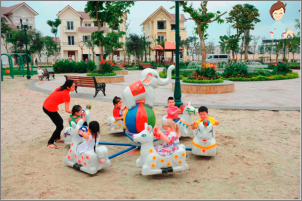 Cheaper tours from 10 January. The sea is still warm - the average sea temperature is 22 degrees. The air warms up to 25 degrees. In short, a nice tan and a great vacation all guaranteed! A couple of years ago, tourists at this time was a little bit, but today is not looking to take more and more expensive.
Thus, in the New Year Egypt gives all visitors a pleasant mood, festive atmosphere and an unusually fabulous entertainment.
The most popular place to meet in Egypt New Year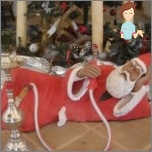 Well, of course, plenty of seating, and each ofin its own way is fine, but for someone it may be not acceptable. Because here's the top five hotels in Egypt to celebrate the New Year, but the choice is yours!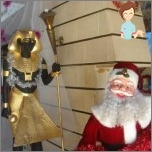 Aqua Blu Resort 4 *. Hotel Aqua Blue Resort in Sharm El Sheikh - Is a hotel chain. Absolutely brand new hotel offers the best all-inclusive system for its guests. New Year's Eve is always held on the "cheers" and no unpleasant surprises and surprises. Everyone is very interesting and exciting. Here you and a restaurant, and a disco, and a water park, and lots more. You can find a lot of recommendations for the meeting here is the New Year. For example, here's what Olga told about his holiday in the Aqua Blu:
We arrived in the company of 10 people! We waited for what will celebrate exclusively in the circle. But it is interesting and unobtrusive animations built leading done their job - dating has been a huge amount! With food and drink is also okay - no one was poisoned, everyone felt fine and swagger continued the next day! And about entertainment and say nothing - for every taste there is a solution! In general - we recommend all ten men!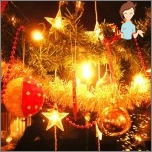 Club Azur 4 *

. Hotel Club Azur in Hurghada It has long been the most popular. They come here to rest, not only Russian, but also Europeans. Best New Year food, performances of our platform, charming rooms and a lot of pleasant surprises waiting here for every tourist. Respect for Russian tourists is guaranteed. After a stormy night fashionable relax in the sauna, feeling almost at home. By the new year in the Club Azur all decorated with taste, which gives a great New Year's present mood.
Every year, here comes the mass of tourists and all comments can be combined into one:
This hotel is different from the other - heretruly appreciate every guest. We - Milena said - were really surprised! Naturally, we pay tables, animation and entertainment, but on such a scale, to be honest, did not expect, after all know that the New Year in Egypt, as a rule, not celebrated. We left satisfied, like elephants! The following year, we waited for disappointment when they tried to book a room - everything was already taken, so we came back here only a year - everything remained still good and luxurious!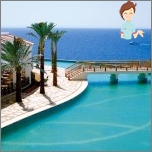 Movenpick Resort Taba 5 *

. Hotel Movenpick Resort Taba It suggests, in fact, the same comfortable stay. Why, just this winter holiday is a little different from the usual all year. New Year's Eve here is very interesting. Rooms are decoration, corridors, halls, a restaurant and everything is decorated with Christmas garlands, Christmas trees and other attributes. A complement the beauty of the best animators to individual programs. By the new year, the water is still not time to cool down, so that you will be able zanyrnut several times and even a little tan. But do not expect ardent heat, otherwise you will be disappointed.
Conducted with his wife and son alone in a new yearThis property - says Alexander - so we planned. At night, we sat on the beach (it was not cold) looked fabulous fireworks, drank champagne, ate delicious food, and the next day, having fun with the other travelers and holiday organizers. But in general, as we have heard, all were very happy New Year programs.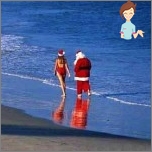 Among the other most popular hotels in Egypt for the best New Year celebration Hilton Waterfalls 5 * (Hilton Voterfols) and Savoy 5 * (Savoy) in Sharm El Sheikh Dana Beach Resort 5 * (Dana Beach) in Hurghada and many others.
The recommendations of those who have already celebrated the New Year in Egypt
Those who have already celebrated the New Year in hotels in Egypt, left a lot of tips on how and where to celebrate this grand celebration.
Firstly, if you have decided to celebrate the New Yearin Egypt, take care of booking in advance. Otherwise you will have to choose from what will, and it is unlikely to meet promises a fun holiday!
Many are advised to take warm clothes, becausethe weather is unpredictable thing, and sometimes in the evenings can be cool. Because of this, you can meet a lot of negative reviews about the meeting of the new year in Egypt! Yet in Egypt are very rare cloudy days in winter, so most likely you will return home tanned and rested enough.

Celebrate the New Year often travelcompanies offer in the hotel restaurant or a nightclub. Both are interesting, especially when on site a nightclub. Selection is done on the basis of the preferences and wishes.

Very highly tourists have already visited the New Year in Egypt, estimated banquet tables. They are usually a lot of all yummy, lacking only the eggs - even though sometimes it is available.
Lots of advice we met about alcohol, namely champagne - its cost is very high in the New Year's Eve, so it pays to take care in advance about his presence in the room!
Only positive responses are characterized by live entertainment. Unobtrusive animation and funny guys-lead, with well-chosen numbers, leave a lasting impression.
And finally say that the New Year in Egypt - it is interesting and informative. Give your family and friends a wonderful opportunity to enjoy the winter sun and the sea.
If you liked our article and you have any thoughts about it, share with us! For us it is very important to know your opinion!