Bodyflex for pregnant, postpartum Bodyflex
Can I have Bodyflex during pregnancy; osobennno bozhdifleksom employment after childbirth; recommendations, tips, video tutorial Bodyflex after childbirth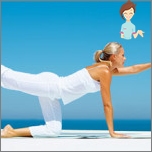 Many women who are interested in? or are already actively engaged in a unique gymnastics Bodyflex are interested in - whether it is possible to perform these exercises during pregnancy, during the preparation of the body for pregnancy, as well as - after giving birth? Can Bodyflex engaged in nursing mother, and after some time after delivery you can start gymnastics? These and many other questions we will answer in this article.
See also: Breathing exercises oksisayz for weight loss - whether it will suit you?
Is it possible to do gymnastics Bodyflex pregnant women?
First, it must be said that during pregnancy - from the time when a woman is planning to conceive a child or satisfied as pregnancy and until the baby is born, gymnastics Bodyflex absolutely can not - It approves and founder of this direction, Greer Childers and her follower - Marina Korpan. But this has a hard limitation of the amendment - pregnant women can engage by a special technique Oxycise (Oksisayz), which is similar to Bodyflex, because it is the basis of all the same rules specific breathing, but - without breath delayWhich may harm the baby.
Pregnant women should not hold their breath (andbreath is the most important moment in Bodyflex), because the tissues and organs of the pregnant woman will collect carbon dioxide and other toxic substances, which is unacceptable and harmful to the child. However, pregnant women who are already engaged before pregnancy Bodyflex may continue to perform some stretching exercises out of this gym, which do not give the load to the pelvis and do not require breath.
Planning Pregnancy and gymnastics Bodyflex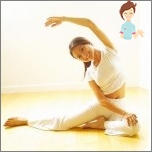 When a woman only planning a pregnancy and it is in a period of preparation for it, it maygymnastics Bodyflex to prepare your body for the stress that she will, tighten your abdominal muscles and pelvic. Especially useful Bodyflex women who want to have a baby soon, which have excess weight - They have an excellent opportunity not only totighten the muscular system of the body, but also to get rid of a few extra kilos, which does not need to be during pregnancy. Bodyflex undoubted advantage is the fact that the classes in the system tighten the skin, Improve its tone and elasticity - and this means that Bodyflex during preparation is excellent for pregnancy prevention of possible future extensions on the chest and hips, the abdomen, and the subsequent "sagging" of the skin. During the lessons Bodyflex in preparation for pregnancy a woman must be pretty sure that she is not pregnant.
See also: Just three exercises breathing exercises Tszyanfey slimming.
Bodyflex after childbirth: the useful exercises, when to start classes
Almost every woman after the birth of a child feels that gained weight, lost a little old form. Many women have a problem - flabby and saggy bellyWhich for a long time notreturns to its original position, and sometimes - he never returned. The postpartum period can be a completely different - and rather easy, without any consequences, and severe, complications and long recovery of physical and moral strength.
How useful Bodyflex gymnastics after birth?
Lifting of the rectus abdominis muscleWhich greatly expands and loses its tone during pregnancy.
It restores the elasticity of the muscles, as well as the correct position of the pelvic floor musclesWhich are most actively involved in childbirth.
Getting rid of fat and loose extra kilosThat accumulated over the entire period of gestation of the child.
Increase and preservation of normal lactation breast-feeding a baby.
Troubleshoot problems with the spine, Getting rid of the pain when lifting and carrying of an infant in her arms.
Troubleshoot problems with the nervous system, normalization of sleep, Prevention of the effects of postpartum syndrome.
Normalization of hormonal by raising the general tone of the body.
Normalization of appetite Momma by "massaging" internal organs during exercise.
Normalization of stool, bowel.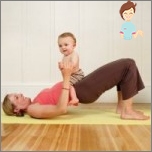 A definite plus Bodyflex for women in the period after birth that gymnastics can be practiced all 15-20 minutes dailyAnd it's easy to find the time when the baby is sleeping or playing in his playpen. Exercises can be performed in the same room - my mother in no way disturb the sleeping child.
When, after the birth of a child can do gymnastics Bodyflex?
Since Bodyflex - a very powerful toolbody sculpting and restoration of body tone, abused its use is not necessary. After the birth of the child the woman must be guided, first and foremost, on own stateAs well as the recommendation of the attending obstetrician, leading her postpartum period. The process of birth is completely different, and each woman should have its own, individual approach to trainingIt focused only on its individual characteristics and needs.
If a young mother was engaged before pregnancyBodyflex, she will feel when she was unable to perform certain exercises. It should be noted that the gymnastics exercise Bodyflex, like any other exercise, you need to start slowly, With an increasing volume of time and amplitude classes. Since the tone of all muscles of the body in a woman during pregnancy and childbirth almost will be reduced, it will be necessary to pay primary attention restoration of the pelvic floor muscles and the rectus abdominis muscle.
If a woman is before pregnancy was not involved Bodyflex, the beginning of classes after the birth to perform better away from home, and under the guidance of an experienced coachWhich will dispense the load and instructcorrect the exercises. If you find a trainer for women is not possible, the starting date must be after Bodyflex full postnatal examination, as well as affirmative decision of the attending physician on the admissibility of physical exertion of the woman.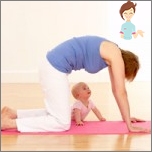 In normal past generations and the absence of complications, bleeding, Bodyflex training can begin approximately 4-6 weeks after birth. Up to this point a woman can performsimple exercise, lying in bed, trying to breath on the diaphragm oksisayz. If, during childbirth or in the postpartum period, the woman had a strong blood loss, the training must be to push for 2 months, and with diaphragmatic breathing during this period should also be postponed. Start training for women with previously unfamiliar Bodyflex necessary a mining rate of correct breathing - This period should take a week.
See also: Which is better for weight loss - or oksisayz Bodyflex, how to choose?
Women who have had perineal tearsNot recommended stretching exercises, which can damage the seams at the crotch, until complete wound healing and to allow the physician training.
Reviews of the women gymnastics Bodyflex after childbirth:
Larissa:
Before the birth I was engaged Bodyflex two years inthe time took off more than 10 kilograms. During pregnancy, I did not provoke problems and Bodyflex postponed for the future, but continued to do the exercises of fitness, Pilates, yoga. The main thing that mommy is not feeling any physical discomfort of exercise, and the kind of exercises and duration of employment - an individual matter.

Natalia:
The fact that I have always been a breachcycle - it could level a little only by Bodyflex and weight loss. But doing Bodyflex I month did not feel pregnant, because she thought it was another violation of the cycle. Thank God for the child is not affected - I grow a healthy baby girl. But women who are not protected should always think about the possible pregnancy.

Anna:
My friend could not stop watching and Bodyflexduring pregnancy. I think her behavior is simply inexcusable carelessness towards her child. Still, you need to listen to the views of experts in the field, and as far as I know, she Marina Korpan warns that Bodyflex during pregnancy just is contraindicated, and no other opinion.

Maria:
I started six months later Bodyflexafter childbirth - just I felt that now I just needed exercise. Before giving birth, I was trying to deal with Bodyflex, but somehow it happened regularly. And after birth, this gymnastics literally saved my figure - I quickly regained muscle, stomach and took the former form, as I did not have pregnancy and childbirth. At first, I paid a month working out the basic exercises, and then you - breathing and complexes.

Marina:
What is very good - you must Bodyflextakes only 15-20 minutes per day, it fits me very well! I have two years ago, twins were born, the scale of the disaster with my figure can imagine! Within two months of training (he started practicing after 9 months postpartum) went belly - I just did not find it, and my husband said that I did not give birth. Like this! Kilograms and fat on the sides, too, were gone, and in a good mood and tone are always with me now, I would recommend!

Inna:
For some reason I was afraid Bodyflex, because it is associated with apnea. After birth, I tried all kinds of gymnastics, to return a figure, and helped me only Bodyflex. Just super, I recommend!