A hike is a fascinating journey full of adventures and emotions. To emotions were positive, you need to properly get together in the campaign. We present the list of things necessary in the hike
When we are going on vacation at sea orStay with relatives, we just put things in a bag, and calm ourselves with the thought that, they say, not on the edge of the world we go. In which case, we will buy everything on the spot. And how to be when you have to go on a trip to where there are no signs of any civilization at all? Here, you already need to prepare thoroughly and try to think in advance of all possible risks.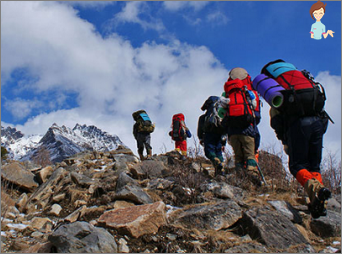 Clothes, food, water, medicines. This is not a complete list of necessary things in the campaign. So, since the upcoming event will mainly be on foot, the list of what to take in the trek should be as practical and concise as possible. Let's try to figure out what things should be with you during this period necessarily.
Backpack
This item must be maximized.Roomy and convenient to carry. A small backpack is not a solution to a problem. All your things are guaranteed to be inside the backpack, so you will not lose them.
Rug, which is so beautiful in the storeIs located on the top of the luggage, it is also better to hide it inwards or purchase a special cover for it in order to avoid its caking and soaking. For men, the optimal loading is 80 liters, for women 60 liters.
Tent
If you already have a tent, then take it. But if you are just going to make an acquisition, the first thing you should pay attention to is the conditions under which you are going to use it. Modern tents are distinguished not only by their modification, but also by price policy.
If you, say, are going to spend a couple of summerEvenings in the bosom of nature, it is not necessary to buy a tent for wintering. Remember, the easier the tent is, the better! The average weight of a double tent should not exceed 3-3.5 kg.
Sleeping bag
Each person has a comfortable temperature regime. When choosing a sleeping bag, pay attention to his "Comfort temperature". Summer sleeping bag is lighter than winter one for one kilogram.
Carimate
Cheap and angry. The most practical, in my opinion, option. Considering that they are still inflatable, super-light and without exaggeration with the thermos effect. Karimat has long received a well-deserved recognition among outdoor enthusiasts.
Trekking sticks
Very popular recently, designed to partially remove the load from the feet. If you want, you can manage with one stick. But to be honest - better without them at all.
Storm clothing
If bad weather caught on the way how to dress in order to keep warm and not catch a cold?
One hundred percent option is:
Jacket-windbreaker should be made of membrane fabrics. Must have a hood;
Waterproof pants, also made of membrane fabrics.
Raincoat
Polyethylene cloak is the most budget option. If you decide to stay on it, buy a few at once, as they break very quickly. The raincoat-poncho will allow you to save, since it covers not only the person, but also the backpack. In bad weather, this is important.
Footwear
I will say this: You can spend the night in a leaking tent, carry an unbearable backpack, but if your shoes bring your legs to the state of bloody calluses - the way to Calvary is provided for you. For a hike, give preference to leather trekking boots. They hold the ankle well and their sole does not slip. Tip: bring light slippers, after a day's hike, so it's nice to change shoes.
Pants
Synthetic pants and lining "Setochka". Very light, quickly dry. Jeans are taboo! Impractical, if wet, become heavy and dry for a long time.
T-shirt
Thermo T-shirt - this is the thing in which you will feel dry and comfortable throughout the trip. The number of t-shirts should be equal to the number of days in the campaign.
Warm clothes
Even if your hike is scheduled for a warm season,Do not neglect warm things. The weather is changeable and in the evenings or at dawn it can be cool. Just in case, take the jacket on a fleece lining or a light sweater. Depending on the conditions of the hike and height, be sure to put a warm hat and gloves in the backpack. A lot of space they will not occupy, and if it gets cold it will be very useful.
Socks
Special camp socks are of two types:
Ordinary - made of cotton fabric;
Warm - cotton plus wool.
They also have no seams and repel moisture. That reduces the risk of ear blisters. They are decent, but they will serve you very long.
Swimwear, swimsuit, Panama
Which campaign can do without theseAccessories? Is that a trip to the North Pole. Under the influence of ultraviolet ears, nose and, of course, the head needs protection. Panama or cap will perfectly cope with this task.
Towel
Terry and bath houses are left at home. You will be quite a compact towel if possible out of microfiber. They dry quickly and absorb 6 times more moisture than normal.
products
If on your way you will meet populatedPoints or shops - this radically simplifies the task for you. But what if you go to travel around the non-populated area? What kind of food to take in the campaign?
I suggest such options:
Sublimated meat is a worthy analogue of preserves. The product has a long enough storage life and maximum light weight. Although they are more expensive;
Powdered mashed potatoes;
Dried vegetables and fruits;
Biscuits, crackers and waffles take in the form of packs. So they can be more efficiently placed in a backpack. Do not take lightly crumbling foods;
Products enriched with glucose: halva, chocolate, sugar;
The refrigerator is not included in the camp equipment. Thus, give preference to smoked sausage, hard cheese, melted butter;
Buckwheat porridge, lentil beans are simple and nutritious.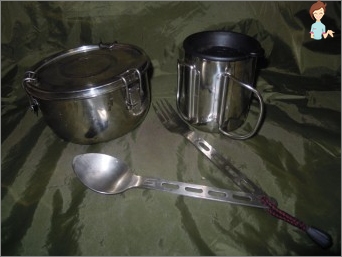 Do not forget about such necessary trifles as matches and ax.
KLMN
Do not be surprised, it's very simple. KLMN is a mug, a spoon, a bowl, a knife. Taboo on ceramic and cast-iron products. The dishes should be light and strong. Disposable tableware also does not fit. It has nowhere to be thrown away, and carrying a garbage bag along with it is too much!
Water
Without water, a person can live much less,Than without food. An intensive pace of walking promotes active perspiration. To effectively replenish the water balance in the body, you need to take 1-2 sips every 30 minutes.
For this you need a plastic bottleCapacity of 1-1.5 liters. Since you are on foot travelers and you have to carry everything on yourself, take care of the route in advance. It should run through the terrain, where there are villages, villages, well, or clean springs.
Flashlight and batteries to it
We take and we do not doubt. Away from civilization, this ray of light in the literal sense will lead you along. Conventional models absorb a large amount of energy, and a set of LEDs will last you at least 100 hours without recharging.
medicine
Here is an approximate list of the medicines needed in the campaign:
The bandage is sterile and not sterile, elastic just in case;
Bactericidal plaster;
Burn;
Iodine, peroxide, zelenka;
potassium permanganate;
Sophrax;
Panthenol;
Validol;
Analgin;
Citramone;
Burden-na;
Suprastin;
Small scissors.
If you have any illness, take care of the drugs for them. Do not forget about anesthetic ointment and sunscreen.
Hygiene products
Here everything is extremely simple: Toothbrush and paste, wet wipes. Liquid soap and shampoo pour into small bottles, so you will save space in your backpack and will not carry excess weight. But it is better to take toilet paper with a margin, you are on the nature, you never know.
Local map
A travel card, it is better to take in several copies, as it can quickly come into disrepair, tear or get lost.
Equipment for water trekking
This is a separate list, which can consist of the following:
Shorts or breeches, they will not get wet at landing and landing in a boat or kayak;
Light shirt or turtleneck with a long sleeve. When rowing, hands burn faster, it will help them to protect themselves;
Panama at the outset. She will not fly off your head and securely protect your neck from the sun;
Not accustomed to rowing, the hands quickly become blistered, take two pairs of sports gloves;
Sports Sandals. They are light in them easy to swim and thanks to the straps you will not lose them;
Hermetic packaging for things. You still rest on the water. Mobile phone, documents and money should be packed carefully.
I wish you pleasant journeys and bright emotions!