There are many ways to arrange a pleasant surprise for your beloved. Connect fantasy, spend a little time - and a touching gift to be remembered for life
On the nose of your spouse's birthday,Valentine's Day, or just a desire to make a surprise for a loved one. Only the banal ideas come to mind? Romantic ways to celebrate the anniversary of the wedding or another significant event for the couple is mass.
You just need to connect your fantasy and tryGuess what a surprise it will be nice to get loved. You can do it yourself. Then, most likely, it will be more touching and will remain in the memory of a man for life. But you can always find other creative options.
Look for ideas for HIM, not for YOURSELF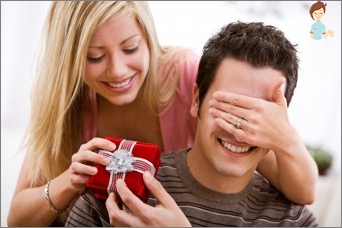 The main thing is that your idea corresponds to the hobbies and nature of the partner. Do not give what you would like to get yourself. On the one hand, let's admit - this approach is not entirely honest.
And on the other hand, such a surprise for a loved one or organized on another occasion will not reach its main goal - to please, create a romantic atmosphere, strengthen relations.
Your man loves to drink beer?
Give him a pack of your favorite drink. Such attention will be highly appreciated. To add a twist and festive color, choose a beautiful paper and pack your gift, having it on top with hearts, ribbons or other ornaments.
Chosen likes the music of a popular rock band? Get two, and preferably 3 tickets for a concert, planned for the near future. Let the man decide with whom he will go. Often the best friends of the guy are fans of the same music bands as himself. One gift you can kill two birds with one stone - make a wonderful surprise for a loved one and win a favorable attitude and gratitude of his best friend.
Here are some more ideas of a romantic surprise for a loved one:
Cookies with their own hands in the shape of heart;
Lunch, lovingly collected for work;
Evening by candlelight with love games in the final.
Delicious and beautiful
It's no secret that the way to the heart of a man lies throughHis stomach. Any sufficiently complex and tasty dish, prepared by a woman independently from A to Z, can already become an excellent surprise for a loved one on the anniversary of the wedding or on Valentine's Day.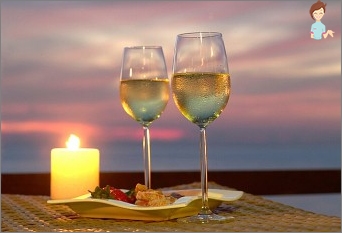 Most of all men love meat and sweets. Cook a juicy steak or bake a chicken. And for dessert, serve a fragrant cookie in the form of a heart - the main symbol of romantic relationships.
Add cinnamon, ginger, nutmeg and honey to the dough. This combination of spices stirs up passion and fires blood.
Cookies can be packed in a small beautiful box, come up with an ornament and present as a sign of love and tenderness.
You can develop the idea of ​​"sweet tooth" and collectA set of chocolate sweets cooked independently, cookies with wishes inside, a bottle of excellent wine and a disc with a cheerful romantic comedy.
Think about what else to complement a nice set. There are no rules, including fantasy - and your surprise made by yourself will become an unforgettable pleasure for your loved one.
Attention and care is so important!
Developing the topic of searching for ideas for the organizationRomantic surprise to a beloved man, it must be said that not only a holiday or an anniversary can serve as a basis for gesturing attention to a partner. Deliver even more pleasure is capable of a gift, presented simply for no reason.
It turns out that it is easy to diversify everyday life and it's easy to surprise a man, if you make a luncheon for your beloved's work with love and imagination. To give an unexpected surprise to a partner is easy.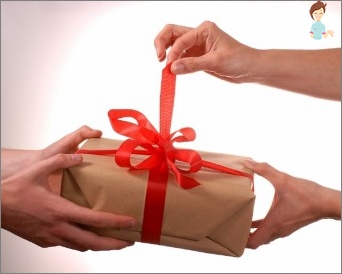 Take beautiful paper and glue it in smallHearts. Pack in it those foods that can easily be eaten during lunch (for example, a homemade hamburger, a salmon sandwich or vegetables with garnish and meat in a special bowl). It is very important to pay attention to the aesthetics of lunch, as well as packaging.
It will be great if you attach to a package of foodA small note. In the postcard, wish the guy a pleasant appetite and a successful working day. It is not superfluous to write a few words about how you love and appreciate it.
---
Believe me, you will deliver a lot of positive emotions to your partner!
The evening of passion
Which guy will refuse a romantic dinner withSweetheart tete-a-tete? Imagine an ideal setting: a candlelight evening, aromas of roses, jasmine and sandalwood, exciting blood, delicious dishes on the table, spiced with aphrodisiac spices. What could be better than this alluring end of the day?
If you want to enhance the sense of romance,Add the appropriate decor elements. Creative approach to the issue of serving dishes, decorate curtains, sofas and carpets in the Cupid style, actively use the red color in the whole atmosphere.
But remember that the details should be in moderation. Overdo it - and instead of the desired romance, you find yourself in a vulgar, awkward situation.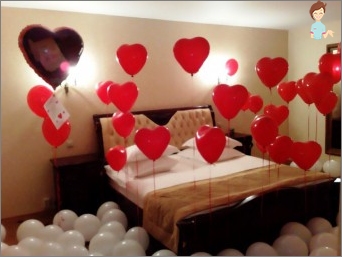 Pay attention to your appearance and skin condition. Lay your hair, choose a beautiful dress that emphasizes your dignity and will correspond to the moment, do not forget about manicure.
Before a romantic meeting, take an invigoratingShower, use fragrant cosmetics for the body, which can make the skin soft and silky. After all, most likely, you expect to continue the evening in the bedroom, to enjoy the gentle embrace of the beloved. You need to be on top!
Want to surprise for real?
What is the best time for a loved one to surprise him with his originality and really remember?
The most unexpected ideas:
Bold decision - change the appearance (for example, turn from a burning brunette to a blonde or a red beast);
Recognition of feelings on every product from the refrigerator or household appliance (will want to eat or turn on the coffee machine - learn how much you love him);
A large heart of balls, beads, photographs or other material that can be accurately hung over the joint bed;
A bed or a sofa in the form of a heart can replace outdated furniture (you will have to save up money and think about how a new bed of love will fit in the interior of the apartment);
A thing from childhood will certainly raise the mood of a man: a disc with your favorite music, a collection of stamps or an album with children's photos secretly obtained from mother-in-law and much more;
Rent a balloon (a joint flight among the clouds - what could be more romantic?);
Meeting with the "star" with the opportunity to get an autograph and chat, so to speak, behind the scenes;
A treat in the form of a glass of coconut beer (heard about this?);
Ticket for the Super Final in your favorite sport, be it football, basketball, hockey or tennis;
Unusual socks (a banal gift can be diversified by choosing pairs of different colors - for each day of the week its shade);
Note-recognition: write on small pieces of paper exactly 100 reasons why you are in love with your chosen one;
Picture-puzzle: after the partner has tried and folded the puzzle picture, he will see your photo together;
A disc on which the most tender romantic melodies will be recorded;
A certificate for attending a course of therapeutic or relaxing massages is a real concern for the health of a loved one;
Practical modern technology: stylish tablet, ultra-thin laptop, comfortable smartphone will please anyone;
Bound hand-warm scarf made of soft, pleasant to touch threads;
Drawing with coffee can be made very interesting by dipping your fingertips into the coffee grounds (romantic and beautiful);
Oil painting can be born as a result of the master class you attended, decorate the interior of your apartment and remind the partner what a talented companion is next to him.
Give gifts and make romanticSurprises are very interesting and pleasant for both partners. After all, when you see sincere joy, surprise and, at the same time, gratitude on the face of the faithful, you yourself are ready to fly with happiness.
It is necessary to include all your imagination to find a unique idea, which in your particular case will give a hit in the top ten.
Of course, you will have to make an effort and try a little. But the result will be worth the effort and time!