Go-go is more than a dance. This is the magic of club life, the embodiment of which is the dancer - the sorceress of the scene, is capable of making everyone dance
Popular Disco Direction in the 60sGave the world a bright phenomenon - dancers go-go. Although the rhythms have long accelerated, and the melodies have become more diverse, across all continents beautiful bodies continue to move in time with the music and light the crowd.
What is go-go?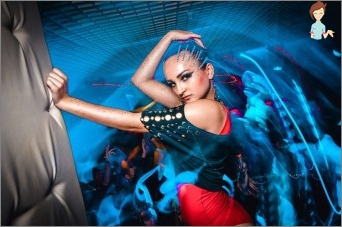 "In abundance"- this is his literal translation of the French word, not related to music. An analogue can be the Russian adverb "Many". However, it is precisely "Go-go"Became synonymous with the diversity and abundance of dancers in clubs.
The first dancer Carol Doda started her career inClub Condor. She arranged on stage theatrical performances, danced topless and lured crowds of visitors, than deserved a promotion - an invitation to the Hollywood club "Whiskey A Go Go".
Since 1965, beautiful dancers in the cages of steelThe norm in club life around the world. Demand for dancers grew, but also spread to the region of burlesque and striptease, which facilitated the opening of go-go-bars. The phenomenon spread throughout Asia, and now Vietnam and Thailand attract tourists with the motley go-go industry.
The main differences between go-go and striptease
Many believe that the look of a half-naked girl inNightclub is designed to excite the sexual appetites of men. Of course, half-naked bodies can cause such a reaction, but the main role of girls and guys is to make the crowd move instead of sitting in their bar.
Go-go girls wear bras with a push-up effect to enlarge their breasts from A to C size, but they will never tear them from themselves in front of the visitor.
This is what distinguishes the real herls from the go-go movement from strippers:
Dancers do not give private dances, but, most likely, they will be dismissed for any attempt to take payment for such a service;
Dancers do not take off their clothes, although for a successful career, go-go must look sexually attractive;
Dancers have experience, and at other times can engage in ballet, hip-hop and even teach children folk dances;
Dancers go-go work in clubs, casinos, concert venues and bars, but not in strip clubs.
The science of dance
Sometimes for the performance of sexual dance you only need to turn on the music, and ...
There are several skills that a go-go dancer should have without any training:
Move seductively, and it really isGoes by nature: the ability to passionately throw back your hair, smoothly move your hips, make waves with your whole body - professionals are able to become a conductor of the dance floor with one stroke of their hand;
Love music, know its features, rhythm,Use melody, vocals, sound transitions for illustrations by movements. The ability to easily adapt to any dance style is necessary for every dancer, because the music for go-go can include elements of disco, R & B, trance or house dance;
To be able to control your own body: dancers know in what position the hands and feet are, and the slightest movement makes up the overall composition of the dance;
Radiate self-confidence and charge peopleEnergy - the crowd will follow a man whose every movement is full of determination to wake up the dance floor, because dancing in cages does not fit shy and bored natures;
Observe sobriety - for a dancer, night clubs become work, and one can not indulge in general alcoholic fun, which will affect the coordination of movements.
It can be concluded that not every girl who studies the science of dance go-go with the help of lessons can easily find a job and make a career in clubs.
Appearance or talent?
Sometimes it seems that any slender platinum blonde with a lush breasts can perform dances go-go and get a lot of money.
Appearance is important, but it concerns onlyA scenic image of the leader of the dancefloor - a human-flare that causes other bodies to move. Any club owner will give preference to an ordinary girl with natural talent, a good sense of rhythm and the ability to build a show instead of a beauty with ideal forms.
It is important to remember several rules that apply to the appearance of club dancers:
Dress openly and with imagination, adding brilliance, bright colors and emphasizing all the best that is in the body. What for? To become a magical impersonation of club culture: freedom, beauty, relaxedness;
Maintain the ideal look of makeup,Accessories: skilfully hide the problem areas and demonstrate strengths, while not forgetting that cosmetics and hairstyle must withstand heavy loads;
Adhere to the dress code: neon wigs, radiant bras, leather, latex, mesh, silk, fur - all the costumes and attributes to them come from burlesque.
How is the go-go dancer's day?
If night work at the club is basic, thenThe girl, most likely, wakes up late - after noon. After that, breakfast, doing household chores and going to the gym. Dancers need to maintain a good shape to attract the crowd with an ideal kind of legs, buttocks, chest.
After 1-2 hours of training, she can goIn stores to find new outfits - the image is quite expensive, and it needs to be supported. On the day when you do not need to attend the gym, dance lessons usually take place, as professionalism needs to be maintained and improved in order to surprise promoters on casting.
Search for a new job is necessary from time to time,Because it is worth updating the repertoire with new dance compositions and movements. Usually the promoter gives each candidate for a vacancy only five minutes to demonstrate skills.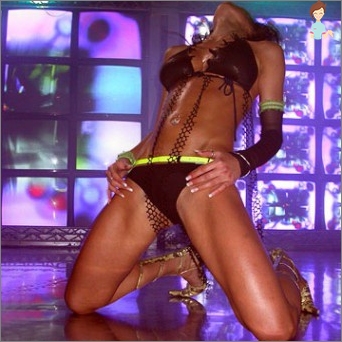 After auditions, castings and purchasesA dancer can go to a SPA-club or visit a cosmetologist. In the evening, she needs to find time for a one-hour sleep, which will give energy and freshness for a night's performance.
Go-go training can last for years, and there will always be room for improvement. From the first training it becomes clear that this work is far from easy.
After a vigorous warm-up, the girls beginLearn dance combinations that can be distinguished by both simple and complex choreography. It is important to serve yourself on the stage: every movement should be done in one breath, beautifully and with a confident submission of yourself.
Years of training are reflected in twenty minutes of speech. Usually each dancer goes to the club on stage four times, changing outfits, image and repertoire for the joy of the public.