Where to go for a vacation pregnant?
Where and how to relax the pregnant woman? Precautions, tips, reviews.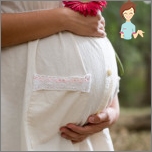 Dear future moms, probably in front of you oftenthe question arises, where is best to spend time and relax comfortably during pregnancy. Indeed, so eager to get as much positive emotions can bask in the sun and pampered and future baby fruits and vegetables, delicious meals in restaurants. The question is difficult and delicate. Now we will try to help you to choose destinations.
Can you fly a plane pregnant?
First of all, even before the trip planning,you definitely need to consult with your doctor. If the pregnancy is proceeding normally, and no threats and no contraindications, you can easily prepare for the journey.
Complications may include:
Violations of the formation of the placenta. In that case, if the placenta is low (the region of the internal cervical os), even the minimum load increases the risk of bleeding and create the possibility of miscarriage.
Toxicosis in the second half of pregnancy. In this case, a pregnant woman to appear edemahands and feet, puffiness of the face, increased blood pressure. it is not recommended to go on vacation in this situation. It is necessary to go to the hospital for treatment.
Exacerbation of allergic reactions and chronic diseases
The existence of threatened abortion.
The best period to travel on vacation -the first and second trimesters of pregnancy. If you have no contraindications, no difficulty at this term should arise. However, if the term of your pregnancy exceeds 30 weeks, the doctors recommend not to take risks and leave the thought of the long vacation. Even with small complications long trips are not allowed.
But even if you do and there is a problem, do not despair. Wonderful place to relax pregnant women are motels, doubly well, if they are specialized for pregnant women.
It would be nice if your chosen resortIt was not far from the hospital and your home. Go somewhere to the south, or in distant lands is not necessarily. The main condition of rest - it is clean air and peaceful and favorable environment.
Remember that whatever term you are, do not remain unattended. Near you have to be a person capable of rendering first aid if necessary.
In addition, it must be remembered that in the sanatorium accept women up to 32 weeks of pregnancy. Incidentally, in Russia many resorts that treat infertility.
Where to go on a journey pregnant?
And if (hooray!) The doctor allowed to go somewhere far away from home? Where to go? On what? Where is the best? What to bring?
Stop. Now you need to concentrate and think carefully about all the details of travel, then to enjoy it to the full.
So.
It should be immediately to exclude mountain areas and areas. Why? At high altitudes the air is rarefied much that could make you a lack of oxygen. In addition, we must remember that pregnant women are very sensitive to the change of time zones and climate, so the period of habituation to the new conditions is sufficiently long.
Try plan your trip than the height of the holiday season! This time is not particularly suitable for recreation of the futureMom's prestigious resorts. During this period, the hotel is usually full. Everywhere music rattles. In the streets and quays roam the noisy crowds of tourists and vacationers frequent flight delays, the airport itself to lose yourself. Moreover, if you decide to go to the south, in the midst of the holiday season, the heat is unbearable here. Hence, the off season is beneficial not only to a decrease in the number of tourists, but also reduced prices. Therefore, you can easily afford a high level hotel.
Take care of choosing residence in advanceSo you do not have to go the extra few tens of kilometers from the airport to the hotel. Why do you need the extra time on the road?
When choosing a vacation spot need a clear understanding of where absolutely not option goSo it is in a bus tour. So rosy dream of Rome, Venice, Paris and set aside for later.
According to climatic conditions most favorable for rest moms considered Europe and Asia. The main advantage of such a trip -short flight, and, consequently, a small load for you and your baby. It would be better if you choose a place at a distance of no more than three or four hours of flight. Do not tear the countries with subtropical and tropical climates. To exit to need special immunizations that are contraindicated for pregnant women. And the aggressive sun you will not benefit. Therefore, it is best you will rest in countries with climatic conditions similar to ours, and in countries with a mild continental climate. Here is a list of places and countries that are most suitable for a relaxing break expectant mothers:
Bulgaria
Croatia
Spain
Switzerland
Crimea
The Mediterranean coast
Turkey
Cyprus
Greece
Dry climate Crimea much more favorable for expectant mothers, than toexample, the humid climate of the Caucasus. Here you can always find a quiet and comfortable place to rest. We advise you to also pay attention to the Mediterranean Sea. Its coast come to rest so many expectant mothers from Europe. You, too, no doubt, like walking on the beach, fresh air, salubrious climate, and the availability of the hotel.
coast Turkey, Cyprus, Greece and its numerous islands as wellperfect for traveling pregnant. It is worth noting that even in the winter in Cyprus blooming orange trees, the temperature reaches 25 degrees, and tables just bursting with an abundance of fruits, vegetables and dairy products.
Comments from the forums of pregnant women made the trip:
We think you will be interested to learn about the experiences of young mothers from such trips:
Vera:

If your doctor allows, I would really advise you to Croatia or Montenegro. Firstly, there is very short flight, and secondly, there is the sea, and sand, and pine ... Air - it's a miracle!

Anastasia:

Report: on the weekend returned from vacation. I went to Yevpatoria in Crimea. Rested from 18 to 20 weeks of pregnancy. Sunbathing under a parasol, bathing, was eating the fruit, in general, feel great! We spent a great time and returned home tanned, rested and happy!

Marina:

Recently, the whole family went to the Crimea, rest nearwith Yalta. That's cool! My condition at first was not very good - morning sickness, swollen feet, crushed depression ... and on vacation all this forgotten. Before lunch did not get out of the sea, and in the afternoon until late at night walking. At night, I slept like a log. In the morning I am feeling great. Pregnancy does not feel his. Only the baby did not let itself be forgotten. In general, I am delighted. Although the ride was very afraid because the car went. But even this move has transferred very well.

Anna:

In Crimea, an excellent health resort for expectant mothers - inYevpatoriya, Yalta. There and gymnastics for pregnant women, and psychological training and much more. In Evpatoria, of course, affordable prices, in Yalta - will be more expensive.

Elena:

Turkey - is the best option. You just need to choose the quiet family hotel with good service. There are plenty of beautiful hotels, a lot of greens, swimming pools, good food and service in hotels.

Olga:

Much depends on the duration of pregnancy and your condition. In September, we rested in northern Greece. A remarkable journey - a mild climate, warm sea and very welcoming and friendly people.

Alexandra:

I fly to Turkey from 21 to 22 per week. The trip was well endured, rest - it is unforgettable! I do not want to impose their views, but if the pregnancy proceeds without any complications, you should not cheat yourself negative thoughts. I'm home now Ryazan region feel more suffering to the local smog. And I probably overload, more in urban buses suffered, than in an airplane.
Vehicles during pregnancy
So, you have decided on a place of rest. On what to take a trip? At this point, note the following important points:
Ride the best by car or fly in an airplaneThat the trip was not too long andtiring. Railroad, certainly not the best option. Travel by train is not always beneficial to the health of expectant mothers: the constant shaking, long duration of the path.

If you decide to go by car, Try to make regular stops forTo walk, to stretch their legs in the fresh air and eat - this will reduce your stress from moving. Think carefully about travel time, and in the event that night finds you on the road, then pre-select a hotel or a hotel, where you can stop and spend the night quietly.

If you do decide to go by train, Be sure to provide yourself the bottom shelf and a comfortable bed. Under no circumstances can not risk the health of the future baby and climb to the top bunk. It is dangerous at any stage of pregnancy.
However, if you are a lover of quiet and peaceful holiday, you do not have to go somewhere, race and fly. As practice shows, a lot of future moms prefer quiet and comfortable stay in the country or in the country.
Comments from the forums on the future mothers:
Alyona:

Almost all the time on the sixth, seventh and eighthmonth of pregnancy, I spent my parents out of town and on the river. There I finally learned how to swim and loved since I pre-pregnancy I had turned bad and a belly in the water was somehow easier. By the way, when I swam, swam, too, the baby in the belly with me - gently moved arms and legs. So the choice of vacation spots, I think it depends on the condition and mood.

Kate:

Maybe I'm a coward, but somewhere far away from the nativeHouse during pregnancy would not venture to go. Especially for all sorts of sea-beaches, where there is a risk of catching any infection (during pregnancy increases the likelihood of such), or overheat in the sun. Personally, I prefer to stay at home: go to the pool, walk in the park, go to the theater, museums, go on courses for pregnant women. In general, I always find things to do!
What do I need to take a vacation in the expectant mother?
Let us dwell more on another importantmoment. Regardless of where you vacation, be sure to take care of is to take all that you need and, more importantly, medicine.
If you must be:
insurance policy;
passport;
medical card, or a copy or extract on the health status and characteristics of the flow of your pregnancy;
exchange card with the results of ultrasound and analyzes all records and specialists;
birth certificate.
Assemble a first aid kit. If you are taking medication prescribed by a doctor to cancel, even on vacation you can not cancel their admission, so they have to be with them.
In addition, you can come in handy the following medications:
medicines for colds;
antihistamines (anti-allergy);
drugs against gastric and intestinal disorders and infections;
something hearty (especially if you have heart problems);
preparations for improving digestion;
wool, bandages and all what is necessary to treat a wound or abrasion.
Remember that all medicines should be allowed to receive and use pregnant!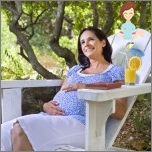 Expectant mothers often experience from the appearance of age spots on the skin. So go out, after inflicting sunscreens. Do not forget to bring them along!
Take a clothing made of natural fabrics - In her body to breathe. Let the clothes will be free, while blood circulation is not disturbed. Take comfortable shoes on a low heel and a stable and better - without him.
Take care of yourself and remember that perezabotitsya about yourself and your child is not possible. So let your vacation and relaxation of your baby will be most comfortable and full of positive emotions and pleasant experiences!
If you have been to travel during pregnancy, share your experience! It is very important to know your opinion!