Recommendations fasting days for pregnant women
Fasting days are very useful for pregnant women. But they need to be carried out in consultation with a doctor. Then you will be able to achieve the right effect, select one of the fasting days
During pregnancy, the expectant mother necessarily gaining weight. This is normal. But if the weight gain is higher than normal, you should still think about it.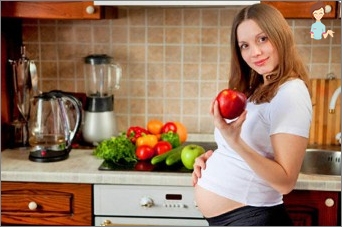 Fasting days for pregnant women - it is not uncommon. Doctors prescribe them to those girls who recover strongly during pregnancy or suffer from swelling and preeclampsia. But if you have not seen these symptoms, then you discharge during pregnancy contraindicated.
The main thing to remember - this is whatfasting day during pregnancy should appoint a doctor. Some do it by yourself, but it is better to avoid this option. Even if you decide to arrange a discharge, it can be done in moderation and only after 28 weeks. By this time the baby is already formed all the internal organs.
Any doctor will tell you that unloading is permissiblespend no more than once every 10 days. To saturate your body with different nutrients, fasting days for pregnant women should also be diverse.
Usually fasting days menu for pregnant women consists of certain products, which are divided into 5 portions. They need to have a little during the day. Chew your food thoroughly, do not rush.
As during normal fasting days, pregnant women should drink at least 2 liters of water a day. In case of irresistible hunger can be included in your menu a glass of kefir or yogurt.
It is best if fasting days pregnant will occur in the same day of the week, such as Saturday. So the body will get used to, and it would be better to carry "hungry" days.
Menu fasting days for pregnant women
The most useful fasting days for pregnant women -those that saturate the body with vitamins. For example, you can drink juice all day, eat vegetables, fruit or make a pregnant woman apple fasting days and beyond.
Apple menu of the day. The only apples can be eaten throughout the day. For one day of their discharge Apple may use no more than 2 kg. If you do not want to eat the whole fruit, you can make apple salad, seasoned it herbs and butter;
Watermelon Day. During the day you can eat 1.5 kg of watermelon pulp, and drink water;
fruit of the day menu. During the day, eat any fruit, but it will not let the apple and watermelon, if you use them for other fasting days. Avoid grapes and bananas;
Fresh or stewed fruit. When fresh fruits and vegetables, from which you can make a fresh, out of season, it does not matter. You can arrange Compote days. Boil half a liter of fruit compote, adding to a number not more than three spoons of sugar, and drink the whole day;
Vegetables. It is best if made of vegetables do you prefer pumpkin, cucumbers or squash. Salads of fresh vegetables with oil or refuel cook steamed vegetables;
Menu of the day of fermented milk. On this day, you can drink only milk products with a low percentage of fat. In addition to beverage products can add curd in a ratio of 1.5 liters - to 600 grams of cottage cheese.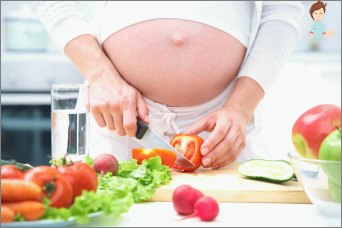 But if you seriously carry a meager menu, it's worth thinking about how to choose something more satisfying for the fasting days. Do not forget that you are pregnant.
You can give preference to meat days, choosing lean meats. Meat can be supplemented with vegetables. Lovers of fish, enjoy a day at the perch, bream or cod.
From the side dishes you can spend the day on potatoes or rice. And if you can not say goodbye to the desserts, then spend fasting days on cottage cheese and fruit.
If, during the fasting day you suddenly feel unwell, then immediately throw "unload"And consult a doctor. Such days may be contraindicated in each case.
Regular fasting days
Pregnant women are not standing in front of the unloading load, especially at night, citing the fact that all will drop tomorrow. Dinner should be light, as well as breakfast the following day after discharge.
Choose the product for the dietary intake, which is love, that your days of light eating habits were happy.
Remember that pregnant women need to take a variety of vitamins that your doctor prescribes.
When you are doing your body a fasting days, do not need to plan anything tedious. Let this day will be held for you quietly, reading books, walks in the park.
Is it possible during pregnancy to arrange fasting day
Typically, expectant mothers rarely think about what they need fasting days, alone. They are often proposes to the doctor. But they need not all.
If you scored 10-12 kg, it means that all of them will drop after giving birth, and do not worry. Fasting days are needed in order to pregnant women who gained more than this figure.
In any case, these days do not bring the desiredeffects from once. You will take about 1 kg of water, but they may come back if you start eating again vigorously. The desired effect is only visible after 3-4 months.
Fasting days can be held and after childbirth, even if you are a nursing mother. They will not cause a reduction in breast milk. Just give preference to those who are "hearty".