Weight gain during pregnancy or how not to gain too much
Healthy eating and physical activity can help during pregnancy is not overweight. The main thing is to properly combine all of this, and the extra weight you will not be afraid!
Look slimmer, toned and beautiful - a dreamthough not all, but most women. Ladies are ready to make a lot of effort to waist was thin, and her seductive curves. But in life there comes a moment when the roundness of the figure: tummy, thighs and other parts of the body - the most beautiful thing in the world.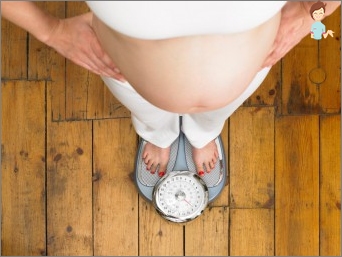 And this period - 9 months of pregnancy. Magic time for many women is overshadowed by rapid weight gain. you can not do anything about, crumb grows, his needs increase and weight of your body, too.
However, there are certain sets of ruleskilogram during gestation baby. And if future mom does not go beyond the established framework, then there is no reason to worry. But if growth is too fast, kilograms growing steadily, it is alarming bell for women. Therefore I'd like to talk about how to get better at not too pregnant without torturing yourself with hunger, and without causing harm to your body and health of the crumbs.
What are the rules of weight gain during child-bearing?
The main weight of the pregnant woman starts to gainonly in the second trimester. In the early stages, on the other hand, many future moms sometimes weight loss observed. This is due to strong toxicity, lack of appetite and a change in eating habits.
But in the second and third trimesters of the picture changes: the body gradually got used to the changes, appetite returns, and growing baby needs more "goodies"And nutrients. Number kilogram scales which show, respectively, starts to increase.
Daily gain of approximately 50 grams. In total, the woman of medium build during pregnancy can recover 10-12 kg. These rates are the norm.
Just before the birth weight of the expectant mother develops of its own weight before conception and the following indicators:
Child - 3300 g (average);
Anatomical liquid - 900 g;
Tissue fluid - 2700 g;
Uterus - 900 g;
Placenta - 400g;
Mammary glands - 500 g;
Blood volume - 1200 g;
Adipose tissue - 2700 g (average).
Of course, you need to understand that the figures,above - the relative values. And for each woman, they will depend on various factors. For example, in multiple pregnancies ladies will gain more weight.
Weight gain during gestation babywill depend on the way of life of the future mother. Those representatives of the fair sex, who led an active life, doing the usual chores, but not unnecessarily loaded yourself gain weight slightly.
But the ladies, who prefer to lie in bed and eat sweets while noticed that they strongly recovered feet during "reclining"Pregnancy.
One reason for the rapid weight gain may be a violation of the daily routine. Often in pregnant strays mode: they sleep during the day and stay awake at night. Accordingly, the appetite "waking up"In the dark. Naturally, women are going to eat.
But nature has a way that the body needs to rest at night and everything eaten after 18.00 is deposited as a reserve. Motor activity in humans is reduced, and therefore energy is not consumed.
How to eat during pregnancy, not to recover?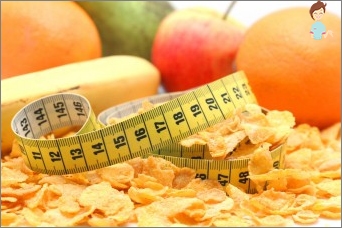 So, what is there in the period of gestation baby, so you do not say "Oh, how much I gained during pregnancy, but it's the hormones!". And you need to eat properly. Food expectant mothers should be healthy and balanced.
To the menu was varied, it is recommendedbe it daily. Food should satisfy the hunger, but do not be too fatty and high-calorie. For products with a high energy value can be attributed pastry, butter and sunflower oil.
But just abandon these products is not necessary. You just need to reduce their use. But on fast food, chips, soda, and other harmful "goodies"During pregnancy should forget. They not only "help"To recover, but also can harm the health of unborn baby.
Fear of gaining extra weight during thecarrying a child is at all women. But that is not much better, it is recommended to eat: eat several times a day, but do not overeat. Every day, eat fruits and vegetables. These foods are rich in fiber and also contain the amount of vitamins that you want pregnant during this period.
Cooking a meal is recommended cooking method,baking or steaming. From oily and spicy, and fried foods should be abandoned. They can trigger heartburn, bloating, digestive problems, as well as the impact on weight gain.
How to maintain weight during pregnancy?
Reply to a question on how many kg recover a pregnant woman for nine months is very difficult. But to give expectant mothers a few tips on how to maintain your weight and not gain too much - it is possible.
The first representative of the fairfloor must understand that pregnancy - is not a disease. And lying in bed, if it is, of course, is not medical advice, it is not necessary. During pregnancy, a woman may well be engaged in special gymnastics and hiking. Of course, much to overload itself is not necessary, but the move is necessary.
If the gynecologist does not prohibit the physicalActivity, you can sign up for yoga for pregnant women or to the pool. At these sessions will not only learn a lot of useful information, but also to communicate with the same pregnant women, to find new friends.
Why do so many during the gestation of the child do not attend such groups - is unclear. By the way, in many cities at antenatal clinics there are free classes for young mothers.
It should be noted that some womenrecover due to psychological moments. They are so afraid to gain too much, that the struggle for harmony and trim silhouette becomes their obsession. Such an approach may harm the normal development of the fetus, therefore, ladies, eat well, and balanced, but in any case not starve.
if you always want sweet or any harmful products and to restrain themselvesit is very difficult, then just do not buy this food. Warn your friends and relatives not to bring cakes and ice cream. If relatives want to make you happy, then let them buy fruit.
Denying yourself of harmful products, you can after the birth of the baby to quickly return to the usual weight, legs, thighs and abdomen in a few months will look great.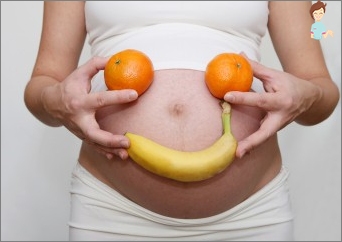 So, why women during pregnancy recover, gaining extra kilos? The answer is simple: poor diet, the idea that there should be "for two"Sedentary lifestyle and unwillingness to work on themselves.
In conclusion, I want to say that, asadditional kilogram pick one or another of the fair sex during pregnancy is difficult to guess. And even if you are very fragile physique, you should not let it go and not follow the addition of.
If after all your weight during gestation crumbsincreased, do not panic, do not starve yourself and your baby. After the baby is born, you prefer to figure and introduce yourself in shape. The main thing is to believe in the success and go to his purpose. Light your birth and slim figure!