10 of the most comfortable ways to get rid of autumn blues
10 of the most comfortable ways to get rid of autumn blues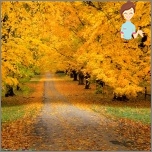 You overcomes the reluctance to answer phonecalls, everything that happens around enraged, and in the morning you hardly told herself to get out of bed? Yes, provided that the window began to dominate the red and yellow tones combined with the cloudy weather - surely you have fallen victim to autumn depression. Calm down! Do not panic! If it's not too hard, then we can deal with it on their own.
10 ways to combat the autumn depression:
Everything is fine. There is a reasonable belief that bridging orders inapartment (or anywhere else), you clean up the head. As a result, we get the cleanliness of the apartment and ordering of thoughts. It is not necessary to carry out general cleaning of the whole apartment - can be limited by the order in the closet.
Communication. It is possible (and even desirable) - not in the literal senseof the word. Just write a letter to someone from relatives or friends. Set out in it all that disturbs you. Pass all the accumulated negative paper. You will definitely become easier. To consolidate the results - send this message ... yourself! And try to answer it as if it is you ask for advice. Be as objective as possible and in a good mood, do not take long.
Cooking. Prepare your signature dish or trymaster a new exotic recipe via the Internet or television broadcast - better if it would be vegetarian cuisine because it is not necessary to lean on calories.
Shopping. Well, what else can so elevate mood as abuying dresses perfectly sitting on a figure or incredibly sexy shoes. Excess reminder that you are beautiful - be sure to lift your spirits. So treat yourself to your favorite!
Planning. Do not worry - it is not necessary to scribblethe annual plan. It will be enough to plan a couple of cases in the next few days - for example, the day attributed to the dry cleaners jacket, and tomorrow to put in repair for a long time the failed clock. Such small victories will encourage you to address more global issues.

A party.

And not necessarily for no reason - rummage inInternet and find a holiday on any day. Call friends, bought goodies, if you wish, you can buy beautiful dishes and give guests a festive hats. You can go ahead and come up with some fun contests for your event - will cheer up not only themselves but also others.
Sports. Join a group of yogis or sailin the pool. Sports - a great way to strengthen the overall health and get rid of autumn depression in particular. The endorphins (happy hormones) produced during exercise and be sure to cause a surge of good mood. "A side" effect of group sessions can become new friends - do not miss the chance!
Nature. Join the company of friends travelingthe nature or organize a hike in the woods themselves - by this beautiful autumn day. Once "away" from Mother Nature - appreciate the riot of colors and the beauty of the autumn forest - you will love this time of year, if you look at it through different eyes! In addition, you can get a beautiful bouquet of dry and freshen up your interior.
Lighting. Replace bulbs in lighting fixtures of the apartment, on the more powerful. Bright light makes the day to enjoy!

Ration.

In fact, we should always keep your foodunder control. But, unfortunately, it does not always work. Becoming a prisoner autumn blues - think about what you eat and when you do it. Add to your diet more vitamin-containing foods - fruits and vegetables. At the same time organize the schedule of his day, determining the time of meals and other events.
Thus, by taking a few simple steps, you can not only get rid of autumn depression of his life, but also significantly improve the quality! Go ahead and you will succeed !!!
If you know more ways on how to overcome the autumn blues, share with us! We need to know your opinion!