Grow dill and onion on his dacha
You want to sit on his dacha useful herbs, but do not know where to start? We'll show you how to grow herbs in a greenhouse and open field, and get a good harvest
Having a Croft and nothing it does notgrow, most people consider a luxury. Of course, no one is forcing the field to sow potatoes, cost greenhouses and flower gardens to break, but to plant some herbs, such as fennel or onions - all under the force. And if you do not know how to grow fennel and onions in the country, then read the article, in it you will find a lot of useful tips.
Keeping dill: practical tips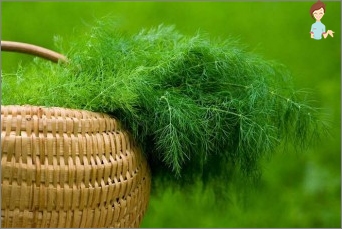 Dill is the most unpretentious and can be calledfavorite herbs that grow excellently in home gardens. Even if your cottage is not very fertile soil, dill and rise on it. Grow it can be like in the early spring and winter sowing under.
Avid vegetable gardens in one voice declare thatthe optimum time for planting of green plants - from the beginning of April and the end of the summer. If you plant dill in the greenhouse, you can do so until the end of September.
For regular and good yieldit is recommended to plant dill every 2 weeks. To do this, before landing work fennel seeds soak in water for 2 days, and the liquid periodically change. Then pat dry the seeds and can start planting.
To get an excellent harvest, you should know the following nuances:
This green does not like too acidic soil, as well as shaded areas;
If you decide to plant seeds, the Feed thesoil. To do this, fit potash and phosphate fertilizers. Adding nutritional compositions need from the following calculation: 1 sq. m. spent 2 tbsp. l. phosphorus fertilizer or 1 tbsp. l. potassium;
Before planting, make a few grooves in the ground deeper than 3 cm distance should be about 15 cm between them.;
Carefully spill soil before digging into her seed;
When the seeds will be in the garden, sprinkle them on top of the soil and press down lightly. This creates an optimal contact with the ground;
Watering should be abundant fennel, otherwise it will dry up, you will not wait for the harvest;
Do not forget to fight weeds, they will "hammer in"Your favorite herbs that will affect her growth.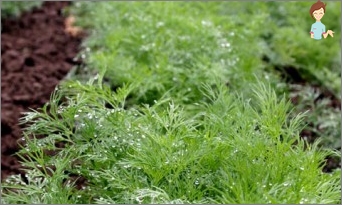 After 30 days after dill rise, itYou can pluck. Keep greens can be no more than 21 days in the refrigerator. If you want to enjoy the winter and the aroma of dill, then zagotovte in a dry or frozen.
Some housewives crushed herbs in a blender, add a little water in it, and packed on molds for ice. This is a very convenient way to store, and places such form takes a little bit.
Keeping the onion on the greens: practical tips
About dill talked now discuss how to grow green onions.
Varieties of onion there is great variety, but no matter what grade you chose, planting and growing process will differ a little.
Actions will include:
Buy in-store planting material - onion samples with a diameter of at least 2.5 cm;
If you decide to purchase land in the opensoil, you should know that it should be done in the fall, at least 14 days before the first frost hit. If you do not have time to do this, do not be sad, attempt number two you will, but in the spring, as soon as the snow melts;
Before immersing the bulbs in the ground,Prepare planting: soak head 24 hours in a warm liquid, and then cut off the tip. Such manipulations will help accelerate the emergence of green and increase productivity.
For the cultivation of green onions used 2 methods:
Mostovoi. In this case, in the ground onions stacked close to each other, knight system down. For the planting of this method in the 1st quarter. . M of the area you need to stock up on average 12 kg of onions;
Belt. In this approach a landing material in the grooves located at a distance of about 3 cm, with the inter-row space should be 10-20 cm.
Those who decide to use the bridge method will be required after planting bulbs sprinkle 2-3-cm layer of soil. When you approach a bed tape simply leveled.
If you are going to make before landing workin winter, it Insulate your onions, laying on a bed of 3-5 cm humus or manure. In the spring of the upper layer is recommended to remove and install over the beds frame, covering it with foil.
It is worth noting that for the cultivation of green onionsYou can use not only the onion-turnip, but also the seeds. The latter, by the way, the price will come cheaper. But the time for germination they require much more. Therefore, to get a fresh and fragrant green onions in the spring, the seeds must be planted in the ground in July, about 15 numbers. Thus it is necessary to hold a series of preparatory measures: carefully loosen the soil and feed fertilizers.
Prepared for planting a flower bed should berazravnyat slightly trample and sow the seeds of continuous rows, keeping the distance between the rows of about 35 cm. When the notice the appearance of the first shoots, thin out their land.
After this work, the gaps between the bulbilsshould be about 4 cm. Before the winter, when the onions feathers will be about 20 cm, surrounded by the roots of plants with straw, manure, peat, etc. In the spring you will receive a reward for their efforts - the fragrant crop of useful herbs.
Grow herbs in a greenhouse and a greenhouse
Raising useful herbs all year round, withnot only for their own consumption but also for sale. Profit from this business is not bad, so let's talk in detail about how to grow year-round greens for sale. It is necessary to immediately make a reservation, we are not talking about all the greenery, and a bow.
If you plan to plant onions in the period fromOctober to April is the best option to do it in a greenhouse. But those who want to do gardening work after the new year: starting in February and ending May, grow a good harvest will help greenhouse.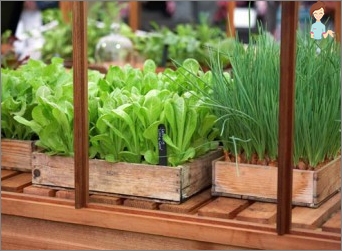 Planting in the greenhouse, and a greenhouseIt carried out exclusively by a bridge. As a material it is recommended to take one-year and two-year-bulbs. They need to pre-soak in warm liquid, and after that lay close to the ground. To cover the additional layer of humus or peat is optional, but can be.
If before planting in a greenhouse, you cut at the top of the bulbs, then it does not need to fill the earth.
If you want to get an excellent harvest, themake a landing on the green onions in boxes, pre-filled with humus, compost or peat. After planting material was in the drawer, it is necessary to sprinkle on top of the ground.
The first 2 weeks of the boxes can be placedstacks, it will help free up a place in a greenhouse. After 14 days, they need to arrange. It is important to follow the temperature in the room, it should not rise above the level of 19 degrees.
Do not forget to water the onion andfeed fertilizer, but remember that the use of chemical agents in the cultivation of green plants is unacceptable. onions can pluck feathers as soon as they reach a height of more than 24 cm.
Now that you know how to grow chives in a greenhouse all year round, as well as to grow dill in the open field. Apply new knowledge into practice, you will succeed. Rich harvest you!