When choosing an induction plate, you need to take into account a number of parameters: size, design, functionality. Learn how to choose an induction cooker, saving money
Induction plates slowly but surely conquerLove of consumers. And this is no wonder, because they are very economical, productive and safe. The principle of their work is based on the phenomenon of electromagnetic induction.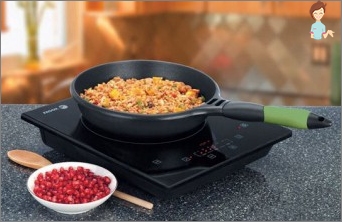 Unlike conventional electrical surfaces,The induction hob does not heat up, and the heat is transferred directly to the bottom of the cookware. Due to this induction consumes less energy and does not heat the surrounding air, which has a beneficial effect on the microclimate of the kitchen.
In a room with an induction cooker, it's not so hot, especially for cafes and restaurants, where a lot of appliances work simultaneously.
Advantages of induction are many, about suchPlate can only dream of. However, because of the high cost, not all the hostesses have acquired this wonderful assistant yet. But if you still have the means to purchase it, you need to know how to choose an induction cooker before buying.
Criterias of choice
First you need to determine which model is needed: Built-in or freestanding, one should choose a place for a stove in the kitchen, it should stay away from other equipment, as it can cause interruptions in the work of the latter.
It is also important to understand what functionalOpportunities are induction, whether you need a lot of bells and whistles or a fairly basic set of functions, this determines the price of equipment. Design, size and shape are chosen according to individual preferences and in accordance with the interior of the kitchen.
The choice of separately standing inductors is small, but built-in induction plates are much more common. Individuals have one important advantage, installing them is much simpler.
Built-in panels have to be mounted in the countertop, it's a little more complicated, but not problematic.
As for the shapes and sizes, the inductionPanels are presented in a wide range. They are square, rectangular, hexagonal, small about 30-30 cm or huge more than a meter in width.
Color gamma induction is not very diverse, most often on sale there are black and silver models. Some manufacturers produce panels with a special design, for example, floral.
Here everyone decides what is best for him: Classic single-color model or with multi-colored print. A significant role in the choice of the design of the slab is played by the kitchen interior, it is necessary that the panel harmoniously fit into the situation.
But the most important criterion, which is worth paying the most attention, is the functionality, which will be discussed later.
Functionality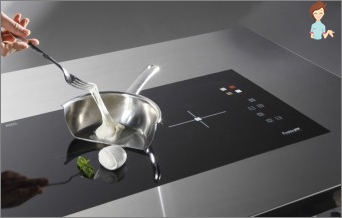 Induction cookers, in contrast to electricalOr gas, are equipped with much greater capabilities. When choosing induction, you should pay attention to the number of burners, there may be two, three, four, five.
They can be round or oval, sometimes on the panel there are no designations of burners, this means that you can cook food all over the surface.
It is also important to consider the size and power of the burners. If small dishes are often used for cooking, you need to buy a panel with at least one small cooking zone.
If the family has children, do not interfere with the function of locking the control panel, which will not allow the child to turn on the stove independently.
Many induction batteries are equipped with a timer, which is very convenient. You can leave the dishes and do your own business, at the set time, the panel itself will turn off and say about it with a special signal.
Despite the fact that when preparing food shouldOnly cookware can be heated, it can also heat the hob, so the indicator of residual heat is a very necessary thing, which will show that the stove has completely cooled down.
Many inductions have the ability to control the power, which allows cooking dishes at different temperatures. In addition, some models may include a "Boost", Thanks to which the power from one burner is transferred to another, in order to increase the temperature.
This function is optional, but very useful for those who like to cook oriental cuisine.
If you do not want to give up the usual plates,But also the induction burner attracts, it is possible to purchase a combined model in which, together with electric or gas, there will be an induction surface.
That is, two burners, for example, can beTENovymi, and two - induction. Also, it is convenient for those who do not want to change pots and pans, because for an induction cooker does not fit all the dishes, but only possessing ferromagnetic properties.
It's easy to check: if a magnet sticks to the bottom of a pot or pans, it means it is suitable for an induction panel.
If you want the food to stay warm longer, the heat-keeping function will not interfere, thanks to it you do not have to warm up the food.
The pause function is not the right option, but if you have to often leave, for example, a small child, then you should choose a model with this function.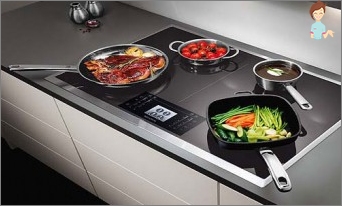 Induction plates have many more possibilities, this isReducing energy consumption, and maintaining temperature parameters and so on, they are all useful and attractive, but not always necessary, and if they are available, the cost of technology increases.
A professional induction cooker must have a lot of options, home can do without bells and whistles.
What else do you need to know?
It is believed that when using inductionPlates from them emanates radiation that can cause harm to health. In fact, this is not proven, in addition, there are international and national hygienic standards for electromagnetic radiation, which must be observed by manufacturers of equipment.
However, it is worth noting that if one of the family members has a pacemaker, then it can jam near the operating plate.
The greatest harm from the induction plate is obtainedRefrigerator, freezer, oven and other household appliances, standing closer than 30 cm from induction. To protect kitchen appliances it is just to put them away from the stove. Enjoy your choice and successful purchases!