How to choose the kitchen correctly
Do not unimportant role is played by ergonomics and practicality of the kitchen units. Ideal for every kitchen has its own
How much time we spend in the kitchen!? The question of course is rhetorical, because it is a place apart from the dressing-room, the most visited in the house. For the modern woman it is very important that in her "kingdom" was cozy, nice, and certainly comfortable.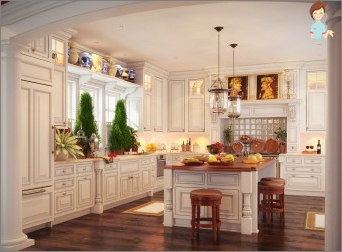 Do not unimportant role is played by ergonomics andpracticality of the kitchen units. The ideal kitchen for everyone. How to choose the kitchen that she brought joy and be comfortable? Modern technology today allows to find an individual approach. Choose exactly the image we want to see.
Ask the technological component, which is convenient for us to use. Now the materials and components are so diverse that the kitchens of options simply do not count.
In contrast to the deficit of Soviet times, today provides us with a wide range of domestic and foreign production of kitchen furniture.
Facades can be seen as a fine from the naturalsolid wood and bright, practical, made of polymeric materials. As for the food filling, it is also very diverse. Style cuisine ranges from unchanged classics to modern practical.
How not to get lost in all of this diversity, andchoose what you like for you !? What kind of cuisine to choose to solve certainly to you, but in order to understand a little bit in this broad spectrum, try to give a brief description of modern materials, which will help.
How to choose the materials of the body of kitchen units
Corps called all the invisible part of the headset(All parts except the facades). Basically, the role of the body is used LDSP- laminated chipboard. Chipboard is divided into classes depending on the content of formaldehyde. The most eco-friendly E1 and E2.
Materials facades
Facade is called the visible part of the headset. Unlike the housing for facades different materials. But still, a facade to choose for the kitchen? Let's see what they look like.
What Is an Array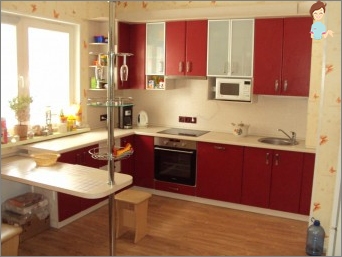 Facades from a natural solid wood the most environmentally friendly production. basic rocks
use of trees: pine, oak, birch, beech, cherry, sweet cherry. Some manufacturers use for their facades, even tulip tree and an array of elm.
Facades of this wood more durable, moreresistant to changes in temperature and humidity, but the price will be much more expensive. As for the design of facades of the array, then there is also a huge range of decorating the exterior trim.
In today's enterprise use patenirovanie, coloring, and other various techniques of decoration.
What is MDF
Medium Density Fiberboard. Made by dry-pressing fine wood chips at high pressure and temperature. Suffice it to harmless material that is very popular for the production of facades for kitchens. Unlike wood considerably easier and less susceptible to humidity. Price range below the massif and veneer.
This material allows for facades notonly straight, but also bent. The outer lining may be different. For example, films and plastics. Applied to the surface under high pressure, providing a snug fit to the web, eliminating air entrapment. Possible imitation of natural materials, stone, wood. As for the decoration of facades from MDF applied acrylic and enamel. Different textures, stencil drawings.
What is veneer
Thin sheet of wood obtained by a peeling. It is applied to the canvas MDF or chipboard. Veneered facades retain the texture of wood, thereby greatly facilitate weight, and price.
The facades in aluminum frame
Very modern and stylish facades, made in aluminum frame. Framed by the material is so varied. As an insert can be used: plastic, glass, MDF, particle board, parapan, plexiglass.
Material countertops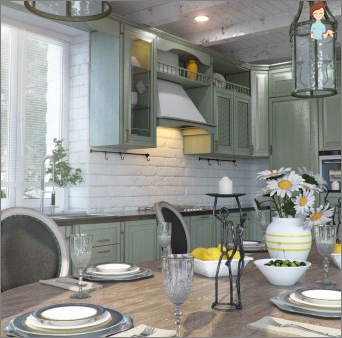 Stoleshnitsa- is a work area that is constantly exposed. It must possess a number of physical qualities, in order to serve for a long time and not lose appearance.
Worktop materials are also used different. To help you decide what kind of countertop for the kitchen to choose, I will describe the most popular.
A natural stone
This polished web of natural stone. granite and marble is used most often. Color and texture are varied solutions. This countertop will last you a very long time. It is scratch resistant to temperature changes, and most importantly to moisture.
The only thing that is afraid of it targeted killings ina result of which, you may have cleavage. Tabletops made of natural stone looks very elegant. For the general composition of the kitchen is not uncommon in identical stone sills and perform.
Fake diamond
Mineral composite acrylic, imitatinga natural stone. According to the external data is not inferior to natural. As the stone is not afraid of water, but is more susceptible to scratching. Doubtless advantage of artificial stone is that it lends itself to restoration. Scratches on the surface can be easily removed by polishing. Color scheme is very diverse. There is also a different artistic edging edges of a countertop.
Moisture-proof plastic lined chipboard
DSP has a special impregnation, which protectspainting from moisture, preventing swelling. Plastic is applied under high pressure and high temperature providing a snug fit that protects against moisture and air. These countertops are much cheaper. Color scheme is very diverse.
To cuisine served for many years and pleasedEye, do not rush to do this. Think about the overall design of the room, decide what you would like to see in your headset. I hope that our article has helped you solve the question of which is better to choose the kitchen.