How many towels should be in a good housewife? How to choose a good towel?
How many towels should be in the economy? Find out: what better towels to buy, how to assess the quality of the towels, which towels need to have in the house? How many towels should be in the economy? How often should I change the towels when using them?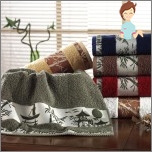 The aesthetics of the house and the art of homemakingfarm known firsthand any woman - every one of us is committed to her house was not only beautiful, but also rationally organized, convenient for its residents. Simple at first glance, the question - how many towels you need to have in the house? What you need to buy towels? - Can cause difficulties for young, inexperienced housewives, and so today we will deal with the issues of data thoroughly.
Which towels should be kept in the house? make a list
Towel - a universal thing, in every home, there should be enough. As is known, the towels in his large group divided into subgroup:
Towels for the shower, saunas, baths - This is a very large bath towels, dimensionsapproximately 100x150 cm 70h140 cm, made from cotton yarn, having good absorbency. Narrower towels are convenient to use after a bath or shower, wide - in the bath and sauna.

Towels for the beach - Large thin terry or velor towelsmedium size 100h180 cm, which are used to spread on the deck chairs or sand. Beach towels are not recommended for use as a bath, they are less durable and practical, have bright colors on the surface.

terry sheets - 150x200 cm 150h250 cm, 160x200 cm, see 175h200, 175h250 cm, they can be used after a bath, a sauna, a massage and take refuge on hot days instead of blankets.

Towels for face, hands, feet - Terry cloth or dense, very softtowels are medium in size 50x100 cm, 40x80 cm, 30x50 cm. These towels have to be customized for each family member (hand towel, you can have an overview).

Towel for foot pad after a bath - Terry towel size 50x70 cm, on the one hand is rubberized, slip on the wet tiles.
Free wipes - Towels small size - 30x30 cm, 30x50 cm, very soft, used as towels for personal hygiene, such as towels can be used for wiping of hands in the kitchen.
Kitchen towels - Linen, cotton, linen towels, very soft and

light, are "waffle". These towels are universal - they are used to dry hands, are the same - to wipe the dishes, for vegetables and fruits, covering dishes.

children towels - Terry soft towels the size of 34h76 cm, with bright colors or applications.
How many towels should have every woman in the house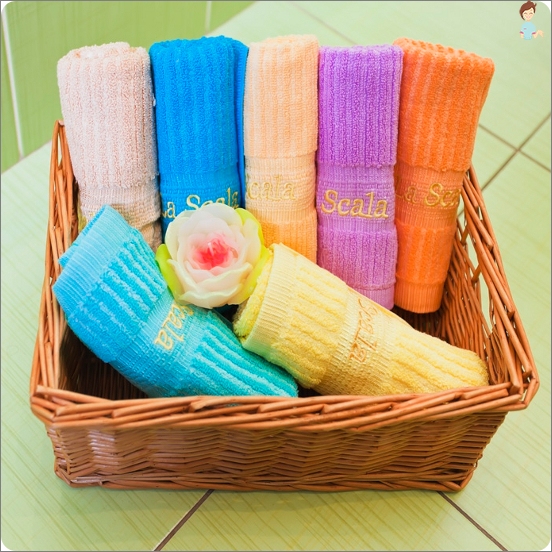 Towel - this is the thing which does not happen much. We will try to determine how many towels you must have to a minimum in the family of three people (Parents and child) - and the maximum number of towels every woman will determine, based on their needs.
Bath towels - 6 pcs.
Towels for face - 6 pcs.
Hand Towels - 4 pcs.
Towels for feet - 6 pcs.
Towels for personal hygiene - 6 pcs.
medium-sized towels for guests - 2-3 pcs.
Kitchen Towels - 6-7 pcs.
kitchen towels or terry cloth - 6-7 pcs.
Beach towels - 3 pieces.
Terry sheets - 3 pieces.
This amount of towels we expected, given the need to change, wash towels - 2 per person change.
How often should I change the towels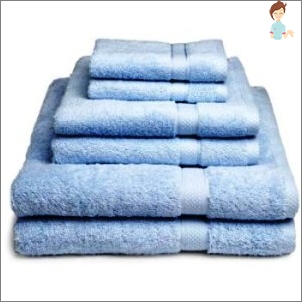 Currently, no sane personwill not use one towel for all needs, and even for the whole family. A good hostess always sets itself towels wash cycle in the family - and really, this thing should be erased - the more the better (by the way, all the towels after washing is necessary iron with a hot ironFor more disinfecting; very fluffy bath towels iron well-disinfected through Iron - steamer). Here rules change towels in various kinds of building:
Towels for face - a change in a day.
Towel for intimate hygiene - change daily.
Towel Foot - in 2-3 days.
Hand towel - changed every 1-2 days.
Bath towels - changed every 2-3 days.
Kitchen towels, dish - daily change.
Kitchen towels - changed daily.
Helpful advice: to reduce the number of washing, the wise housewives are increasingly using disposable paper towelsWhich are very convenient and hygienic for drying hands in the kitchen, after washing the face, intimate hygiene.
Factors to consider when buying towels
Here we present the most tipsThat may be needed when buying a quality hostesses and comfortable towels.
Good towel is made of cotton or flax yarn,

cotton cloth

. Today you can find towels made microfiber - They are soft, absorb moisture well, very beautiful and light, but not as durable as towels made of natural materials. The worldwide recognition received cotton fibers from Egypt - Towels out of it are the best.
Do not buy towels from mixed fabrics having in its composition up to 50% synthetic fiber. These towels are very pleasant to the touch,beautiful and bright, well keep their shape, lightweight, dries quickly. But wiping they do not absorb moisture, "squeak" through the body, leaving the unpleasant sensations. In addition, these low-quality towels are very much shedding.
If you buy towels for travel - Stop your choice is not on the terry towels, and wafer. These towels are significantly lighter and smaller in volume, but they wipe the moisture very well, besides - are easily erased.
Quality towels (terry sheets and terry robes) were evaluated for their density. Towels with a density below 320gr per m2 not absorb much moisture as they meet withhigher density, faster they become wet, lose shape, fade, wear. If you buy the towels for the bath or shower, bath or sauna, choose samples with a density not less per m2 470gr. Tighter towels more stronger, but they are harder to wash and dry.
Pile from towels (as well as terry robes) may also be different in height. Too short pile towels from 3.5 mmIt makes with the time it is quite hard, it wears out faster. Very high pile terry towels - from 8.7 mm and more, Confuses hair, pulled loops, clings to everything, respectively - are quickly losing its fluffy beautiful appearance. the most optimal length of pile terry towels - From 4 mm to 5 mm.
For use in the kitchen is better not to buy terry and wafer or linen towels - they are easier to wash and dry quickly, are easy to iron, they last longer maintain the look, absorb moisture well, wipe the dishes without leaving lint on it.
If a family has young children, or people with very sensitive skin, allergy, dermatological

diseases, fungus, inflammation of the skin, peeling, etc., for them it will be better to buy towels made of bamboo fiber. Bamboo does not rot itself, it is a naturalan antibacterial agent, which inhibits all the pathogens, which fell on its surface. In addition, bamboo is completely non-allergenic. Bamboo fiber retains its properties after repeated washings. When wet towel bamboo gets a little rough, but it again fluffy and soft when dry. With bamboo fiber is also necessary to buy other products in the house - such as bed linen with bamboo, bamboo cushion.

When you purchase carefully look at the labeling of the product. If it says "100% cotton (M)', It is - the product with the inclusion of synthetic fibers in the cotton. When the marking indicates (PC) - In the product include synthetic fibers poliesterkotton.
When you purchase, carefully inspect the product - it should be uniformly colored, And - on both sides, have a silky surface. pay attention to the smell of the product - OK, quality towel should not smell like chemicals.
After spending over the surface of the product by hand, take a look at his hand - whether it was painted dyes, members of the towels. If the seller allows, on the surface of the towel is best to hold a white cloth - a low-quality color is "there" immediately.
If you see the composition of towels soy fiber ( «SPF», soybean protein fibre), Then

you can safely buy this product. This type of fiber was developed in South Korea, it contains a substance resulting from the processing of soybean proteins. This fiber is faster than cotton, dries, it significantly absorbs moisture better. Products made of soybean fiber can not be confused with any other - they are very soft and pleasant to the touch, similar to cashmere or silk. Wash these items must be at a temperature no higher than 60 degrees, and then they are a very long time do not lose their shape and their remarkable properties. Soy fiber is a means that prevents inflammation of the skin and aging of the skin.

Currently popular terry products that are composed of special fibers - lyocell (Lenzing Lyocell Micro). This fiber is made from wood treeeucalyptus, it absorbs moisture better, much faster than cotton, dry, does not acquire any odors not "absorb" a dust particle. Towels with lyocell fiber is very soft to the touch, reminiscent of silk cloth. Erased are towels at not higher than 60 ° C.