Collect first aid kit for a child on vacation
What medicines and drugs may need to your child, the child during the holidays? Tips to collect kits on vacation. Reviews moms - that was useful to them.
And now it's time for a vacation. You have the right to make lists of things to do not forget to take all the important and necessary. And like a swimsuit in the trunk, and all beach accessories, too, cosmetics, not to burn in the sun, the camera.
It remains the case for small, to collect the first aid kit. After all, the road can happen, and acclimatization can take place is not so easy for you. But you kind of figured with your medicines. But what to take for your child? For kids, especially small, not all funds are suitable. Let's understand this thoroughly.
Pharmaceutical kit for kids on vacation
Funds from the burns to the child on vacation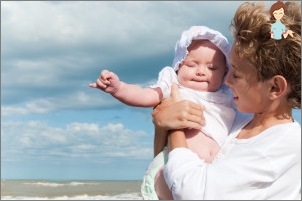 The most sick leave is the right topica tan. If possible, should protect themselves as much as possible from the burns, and the child itself, too. Therefore, in the first aid kit is required to take the children's sunblock, as well as funds from burns well suited Panthenol or Olozol ointment Dermazin.
The best remedies for insect bites for children
Be sure to bring insect repellent and a balm or gel after biting.
dressings
Bandages, wipes, cotton wool, adhesive tape. What should be in the medicine cabinet at all times. Be sure to bring more and antiseptics, hydrogen peroxide, this will be very good. It is very convenient to take with you for the treatment of abrasions and scratches Zelenka in the form of a pencil (Lecer).
Laxative
Constipation very often happen in otherclimatic conditions, especially if you do not eat habitual food, and you have the case of long journeys. In this case, no harm will be to bring along one of these means: Regulaks, bisacodyl, Duphalac.
Sorbents
But not more than for the treatment of diarrhea will takeactivated charcoal, smectite or Enterosgel. And you can take with them drugs to counteract the formation of pathogenic bacteria in the gut: Baktisubtil, Probifor, Enterol.
antiallergic agent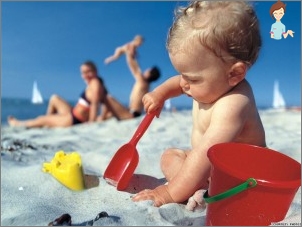 Such funds should take with them, even ifyour child is not allergic, other media may be unfamiliar environment and allergens. Therefore, please bring something to this: Suprastin, Claritin, Tavegil.
Antipyretics and analgesics for children
For children it is best to use the funds on the basis of paracetamol and ibuprofen: Panadol, Kalpol, Efferalgan, Nurofen. And also do not forget to take a thermometer.
Funds from a sore throat
Suit a variety of sprays and mouthwashes (Stopangin, Tantum Verde), lozenges and pastilles (Septolete, Strepsils, Sebedin).
Nasal drops
Suit vasoconstrictor to facilitate breathing(Galazolin, Nazevin, Tizin). Blow and medical drops of oil-based, such as Pinasola. Kalpi vasoconstrictor is not desirable to use more than 2-3 times per day and no more than five days.
Eye drops
It is necessary to have in case of conjunctivitis. Levomitsetinovye drops sulfacetamide. Even if only one eye is red, it is necessary to drip two.
Funds from motion sickness on vacation
If you plan to fly in an airplane with a childor a long way by car, do not be amiss to take a motion sickness funds, is well suited Dramina, if she is not at hand, you can give the child a mint or vitamin B6.
If your child has a chronic illnessThen be sure to take a first aid kit in the road means to prevent the possible exacerbation of the disease.
What you need to remember to take for children younger than 3 years?
If your child is not yet 3 years old, in addition to the above remedies that will not harm your baby, you should still take some drugs.
From the common cold should be taken Nazivin 0.01%. This is a special dosage for children under one year, it has long-term effect that will allow your child to sleep peacefully throughout the night and eat normally.
Paracetamol as a suspension or rectal suppositories. This is the best antipyretic for young children. But if the temperature rises above 38 degrees, you should seek immediate medical attention.
Take a or a series daisyThey have anibakteritsidnym action and is very useful for the baby bathing.
Do not forget about baby cream on diaper rash and irritation and baby powder.
This article is a recommendation-not forget to consult a doctor before using these or other devices!