To travelers diarrhea did not spoil the trip - the causes, treatment and prevention of diarrhea tourist
What factors caused by diarrheaTraveller? It is important to know the causes of traveler's diarrhea to rest, to prevent the disease. Treatment and prevention of diarrhea in a traveler's journey - visit lady-magazine.com
The term "travelers' diarrhea" acceptedcall today a disease peculiar to travelers visiting the unusual climatic zones. This form of the disease is different from the usual diarrhea "natives": for its occurrence fact of poisoning is not necessary - sometimes enough simply changing eating habits.
What you should know about the disease tour: Preparing for the trip in advance!
Reasons for traveler's diarrhea - what caused the disease?
The disease occurs mainly in travelers developing countriesAnd it affects mainly young adults.
The most common reason that causes the disease - colon bacillus. It accounts for up to 72% of cases in most regions.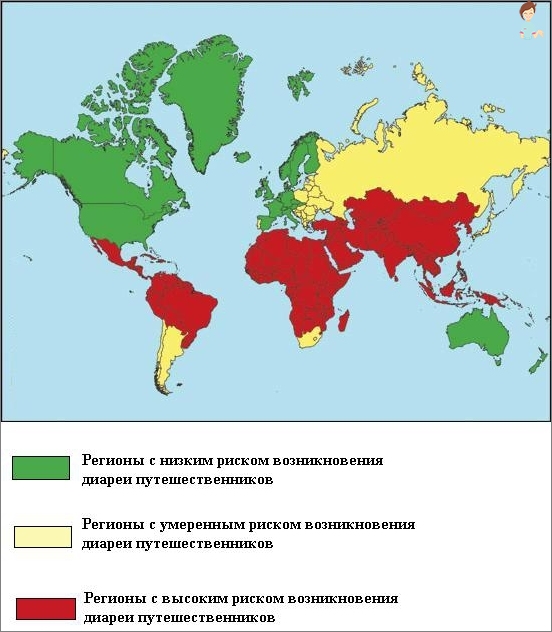 Thus, the main causes are:
E. coli and Giardia and rotavirus and agents of dysentery.
Change your usual diet stomach.
Changing drinking water.
Stress for the body, resulting in moving (change of climate and time zone, the height above sea level and other features).
Violation of the rules of hygiene (irregular or poor handwashing).
The abundance of fruit (many of which are "weak").
If the diarrhea associated with the new food and water, as well as climate change, it takes place quite quickly, diarrhea due to E. coli, on the other hand, may be delayed and significantly spoil the holiday.
More often than not a tourist "picks up" the causative agent of intestinal infection ...
In restaurants and cafes - a poorly processed foods, with poorly washed dishes, with ice in the glass, and even the waiters hands.
On the street "fast" food.
With unwashed fruit.
With his own hands dirty.
With water from dubious springs.
With water from the tap.
With saltwater on crowded beaches, which enters the mouth, along with E. coli.
The most risky foods for the traveler - it's ...
Seafood.
Raw meat, meat with the blood.
Unpasteurized dairy products.
Fruit.
Leafy vegetables (and their homes should wash quality, and only for the tourists are unlikely to try harder).
Water.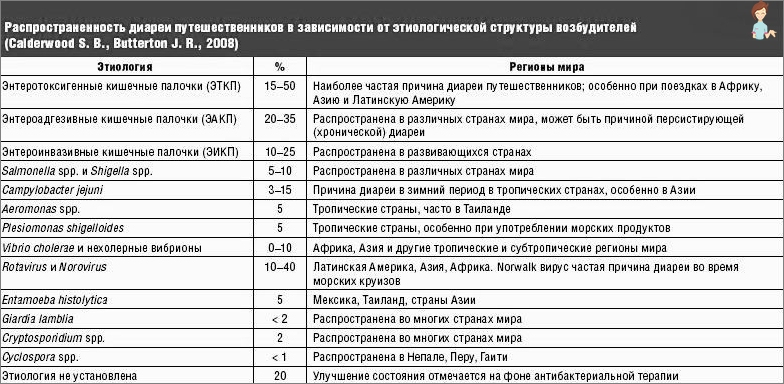 The symptoms of traveler's diarrhea - how to distinguish from other diseases?
It is developing the disease, of course, not as soon as you set foot in a foreign country with a ladder.
It makes itself felt within 2-5 days and can appear suddenly at the end of a holiday or even after returning home.
Although, as a rule, if within 10-14 days of the "surprise" does not happen, the risk is reduced to meet a multiple of it.
The main symptoms are ...
Loose stools several times a day.
Unsharp colic.
Transient fever (note -. 70% of all cases).
Vomiting / nausea and vomiting, short-term rise in temperature (approx -. 76% of cases).
When to see a doctor if diarrhea children or adults?
Definitely should call a doctor, an ambulance, or contact the clinic listed on your insurance if diarrhea in the expectant mother or infant.
And if it is accompanied by ...
Admixture blood, mucus (or worm) in the stool.
Heat or continuous vomiting.
Central / severe dehydration (thirst, dizziness, dry mouth and lack of urination).
Severe headache.
And also - if ...
Diarrhea persists for more than 3 days.
There is no way to make up the lost fluid reserves in the body.
No improvement after taking the drugs purchased independently.
It happens fainting.
First aid for traveler's diarrhea - how to alleviate the condition?
Of course, the first thing you should do - is consult a doctor. Especially, if the disease is caught up with your child.
Yet until the meeting with the doctor can take action on their own and:
Most importantly - drink plenty of fluids. That is, fill the salt balance and the deficitwith sickness in the body fluid via a glucose-saline solutions. The amount of liquid - according to the situation: 1 kg weight - 30-70 ml liquid (every 15 minutes - 100-150 ml). Should drink slowly and in small sips, so as not to provoke vomiting. You can use Regidron or touring.
If these drugs are not available, it is possible to prepare a solution on their own. To 1 liter of boiling water - 1 hr / liter soda +? Art / l of salt. It will be great to add to the solution a glass of orange juice (instead of potassium chloride).
Do not forget about enterosorbents: Smectite (applied at any age), activated charcoal, enteros-gel enterol, as well as probiotics (Linex, etc.).
As for the "loperamide" - In some cases, it becomes not that useless, and even harmful, so it is better to exclude from the list of drugs for the treatment.
Also on day 1 of the disease it is recommended to drink fruit juice, diluted with waterHot soup, a variety of coolness / caffeinated beverages.
In the food use is permitted only soft foodsWithout aggravating the condition: dried bread and biscuits, bananas, rice and chicken soup, applesauce, cereal, crackers. To return to normal diet can be 2-3 days, if the condition has stabilized.
Not recommended: black bread and fresh vegetables / fruits, coffee and spices, salty / spicy food and dairy products, juices, sweet and fatty food.
When viral diarrhea apply the relevant preparations - of course, prescribed by a doctor (Arbidol + immunostimulatory drugs).
Concerning antibioticsTheir self-appointed - is not a harmless event.
Yes, the risk of complications are significantly reduced if you have diarrhea, but these drugs as well ...
Able to make the situation worse, if chosen incorrectly or in the wrong dosage.
May themselves induce diarrhea.
They have a lot of side effects.
Useless when viral diarrhea.
Take medicines only on prescription!
On a note:
At the pharmacy you can buy Test Strips "acetone"Which is lowered into the urine indicate the level of toxins in the body. A very useful thing, "just in case".
Treatment of traveler's diarrhea - which may appoint a doctor?
Severe diarrhea, as we have already said above, requires mandatory consultation with a specialist. Therefore, consult your doctor or the hotel to the hospital, said in insurance.
In most cases (unless accompanied by severe diarrhea symptoms no) hospital treatment is not required and enough for full recovery 3-7 days.
In severe cases, of course, need hospitalization, and treatment period depends on the situation.
What treatment is usually carried out?
Diet (ie, the most gentle food) + constant copious drinking (Or dropper with the appropriate solutions when severe vomiting and other severe conditions under which a person can not drink).
Acceptance of antibacterial drugs. For example, Rifaximin, Ciprofloxacin, Makmiror, Tinidazole, etc.
Admission sorbents (They are necessary for the elimination of toxins and fixing chairs). For example, Enterosgel, Smecta or Polisorb, Enterodez or Polyphepan, Filtrum and others.
Receiving saline solutions: Touring or Regidron described above Tsitroglyukosalan or touring and so on.
Polifermenty without bile / acids (For easy digestion of food). For example, pantsitrat or Creon, Panzinorm H or Mikrazim, Ermital and others.
Probiotics (Note - to restore the microbial / balance in the digestive tract.): Enterol or Probifor, Atsipol or Baktisubtil, etc. bifiform.
Drugs with antidiarrhoeal effect: Desmol or ventrisol, Smecta and others.
Laboratory researchIt is definitely needed. Be sure to pass stool cultures "parasites."
In some cases it may be necessary gastric lavage on admission to the hospital.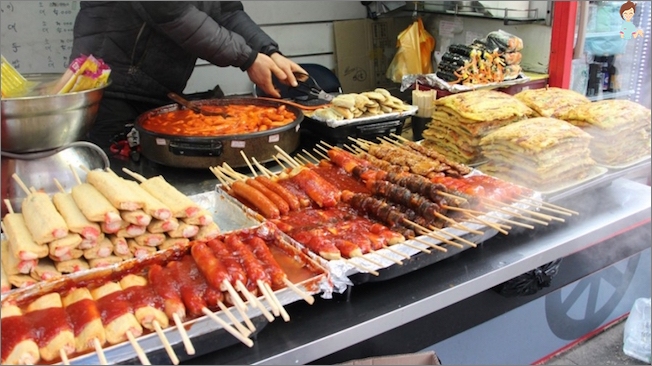 Measures of prevention tourist diarrhea - it does not spoil your vacation?
Spoiled vacation, which you hoarded for a year - what could be worse?
To sit in a hotel toilet and do not lie with the temperature along the beach, the sea and entertainment, take measures in advance!
And - do not break the rules, which every traveler should know:
Always wash your hands before you start eating. Even if it is an apple, pre-washed and put in a bag in a bag. Hands-it is still dirty!
If you have nowhere to wash your hands - use antibacterial wipes (Always carry a pack with me!), Or buy a bottle of water at the store.
Fruits and vegetables washing required! And best of yourself - in the room, rinsing them with water is not tap water, and boiled or bottled. It is advisable to pour the fruit of boiling water, and for the kids at all - cut from the fruit peel.
Do not rush immediately to the "alien" kitchen. Yes, I want to try. But if you - a man unaccustomed to various dishes in their diet, the diarrhea you will be provided even if the E. coli bypass your side - just from the new food.
Do not eat too much fruit. Many of them cause bowel relief in itself. For example, the same cherry, which 0.5 kg is enough to "break through" the usual office constipation.
Try not to eat seafood and meatIf you are in doubt about their quality or the quality of their treatment. With bad fried food in the body penetrate very insidious parasites - weeks of vacation may not be enough for the treatment.
During swimming / diving watch, that sea water does not leak into your mouth. If all the water had swallowed - take action immediately (enteros gel, activated carbon and so on.) To protect the body.
Drink water only boiled or bottled. It is strictly forbidden to drink water from the tap, shady springs and so on. Even for brushing your teeth, use boiled water.
Avoid unfamiliar products until such time as will not know everything about their composition and effects on the body.
After talking with the animals is required to wash your hands.
Use ice for drinks only made independently of boiled water. In cafes and street "eatery" use ice,made from ordinary tap water - and, as a rule, contrary to the rules of hygiene. As a result, bacteria are just frozen together with the water, not perish and thrive, finding himself in your drink after their defrosting.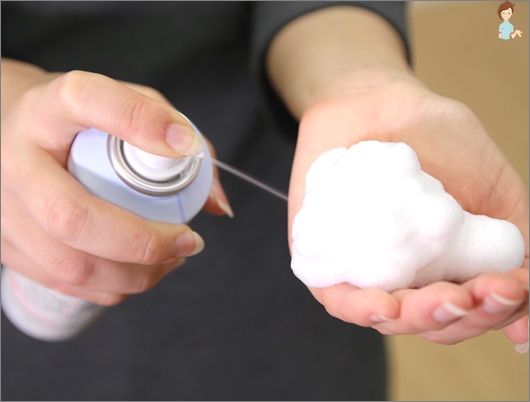 Always carry a first aid kit on a journey! In this case it must be antidiarrheal drugs (like smekty), adsorbents (like enteros-gel), antibiotics (such as tsifran), probiotics (Enterol type).
If you are traveling with a child, then you must take a trip to a special children's medicine cabinet.
Website Lady-magazine.com warns: self can damage your health! Treatment should appoint a doctor after the survey. So when it detects the symptoms of traveler's diarrhea, be sure to consult a specialist!