Glasses for the newlyweds
Glasses for the newlyweds, one of the most important attributes of a wedding. After all, they will stand on your holiday table, completing the overall composition
Wedding - an exciting and festive event,that happens in the life of almost every man. Modern organizers recommend future newlyweds to think in detail every aspect of the design and style of holiday, so he went around and smoothly. Glasses for the newlyweds - a kind of symbol of marriage that can preserve the memory of the most important event in my life for many years.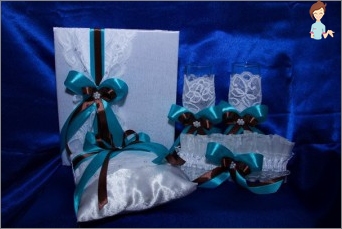 And although our ancestors were taken to break them, "fortunately", today many couples tenderly cherish wedding attribute, pulling it out of the cupboard for the celebration of anniversaries.
It really is such a thing can be rewardedthe title of this heirloom. Decorated glasses traditionally engaged artists working in a team with wedding organizers. But can prepare such an important "if you wish the newlywedstrifle"With his own hands.
---
Enough to include fantasy, to acquire the necessary tools and materials, and, finally, carefully arrange the product to your own taste.
Basic tips to couples who have decided to formalize his own glasses
If the representatives of your future unit of society far removed from the design and the visual arts - that is no reason to abandon the embodiment design ideas wedding glasses with their hands. Modern shops for decorators and artists abound with quality materials and fittings, so create a true masterpiece even today forces lover.
As for the classic wedding whipping glasses, if you want to follow the tradition - buy for this purpose a separate pair. It is advisable to take care of the notoriously spare glasses for the young.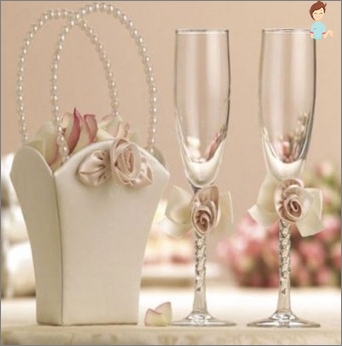 Therefore, once you undertake to decorate their own hands - do it in 6 copies. So you will save yourself from unnecessary worries about "props"If he suddenly lost.
The first pair will come in handy even in the palaceWedding, the second - for the outdoor photo shoot, if any, and the third will be an inherent part of the festive feast. Of course, all of these functions can run and one pair of glasses, but if all of a sudden one of them accidentally broken, or in the confusion someone from relatives zapryachet her in an uncomfortable place? ..
Silhouettes of glasses can be anything - oblong, rounded, streamlined.
---
And it is not necessary that the bride and groom kept the same capacity. The form of the glass of the future wife can be feminine, soft and subtle and solemn dishes "head of family"- Solid and strictly round.
But in the decoration, it is desirable to sustain a singlestyle. Moreover, it should take into account the design of the entire celebration. If the board and the room is dominated by variegated colors, is unlikely glasses design in classic style pompous become relevant here.
For decoration you can use the glassesstandard labels, but beware - it will not look so unique and exquisitely as handmade applique. In addition, you yourself will be pleased to make a contribution to the integral decoration of wedding paraphernalia.
Very original decoration for dishes - liveflowers. This design will be concise, nice eyes and incredibly beautiful. But in this case it is important to take certain measures to preserve the freshness of plants.
The stylish design of wine glasses for champagne: Ideas
Satin ribbons - elegant decoration elementWedding glasses. You can wrap a white, cream, peach, blue or pink ribbon wine glass stem. With fixtures for the tape can be fixed or a beautiful flower branch;
Rhinestones - typical decor option, whichable to handle anyone. Everything else, such a decoration of dishes will look luxurious, otbleskivaya the sun or artificial light. Rhinestones can purchase any: small and large, plain and colorful. You can also combine them, pasting on the glass. With their help, you can literally "littered with" glass, or put it figured silhouettes: the bride and groom, hearts, swans, rings, doves. You can create and discreet floral designs or initials of the newlyweds;
Lace - decorative element, which will giveFougeres your innocence, lightness, airiness and ethereal tenderness. Buy light guipure fabric can be in any shop or fabric store, in this case you are not required fabulous cost. Wrap glasses cloth and fix it, and the top will complete with pearls and ribbons;
Artificial rose - very elegant item fordecoration wine glasses newlyweds. These roses can be made of fabric or tape yourself, or buy ready-made at the store, adding to them any small items such as beads and beads;
Beads - the most appropriate in the case atglass coated with a graphical image. For example, using acrylic paint, you can paint the glasses with sprigs of cherry blossoms, and its flowers - put pink beads of different sizes. In the same way, you can create and stylize any song you would like to see a small symbol of his triumph;
Polymer clay - articles made of polymer clay also it can make anyone. The quality of modern materials for modeling very high, so the process is not time-consuming and energy-consuming. Ask different master classes, which are spread on forums and sites "seasoned" needlewoman. Mold out of clay colored roses, orchids or snowdrops. Decorate articles sequins, sequins or small beads, and glue them on a wine glass with a special liquid preservative.
You can experiment with any materials, and to implement any of their fantasies. But we do not recommend to start with "clean copy"If you have not previously engaged in decoration of dishes andother needlework. Buy the cheapest glasses, arm decorative materials, improvise, try different options. When you find her, are best suited to your taste and the overall style of the planned celebration - safely carry their works for quality wine glasses.
Let your family life will be filled with love, peace and beauty!