Scrapbooking: new - old art
No wonder they say that everything new is a well-forgotten old. Scrapbooking albums were made by themselves at a time when the art of scrapbooking was not heard yet
Scrapbooking album, write teachersMaster-classes, this is a modern and almost new kind of art for creating original albums. This word was formed from 2 separate - a clipping and a book. Scrapbooking technology - they emphasize - is easy to learn, therefore for several years it has gained wide popularity.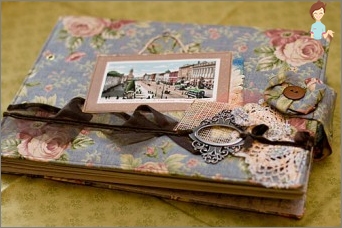 This art is really popular, but not soYoung, as they say. It was simply temporarily forgotten in connection with the general computerization and mastering of photoshop. Another 20-40 years ago, every self-respecting "Demobilization"- a soldier who served his time in the armed forces - brought from the army is scrapbooking album made by themselves.
Artfully made cover, originalCut in the pages of the frame for photographs, reflecting his complex army everyday life. The design of the album was very different, in the course were different materials - from dyed croup to scrap metal. All the necessary accessories were collected independently.
Now, when art has become firmly in fashionScrapbooking, for the ideas of albums and do not need to think. There are special shops in which the sets are sold: an album for a girl, for a boy, a wedding, for a child. It remains only to acquire and create!
Techniques and directions
The album is designed by combining different technologies.
These include:
Stamping - interesting effects are created using stamps that can be dipped in ink, a special stamp ink, water colors: watercolor and gouache;
Embossing - this technique allows you to receive convex images;
Distressing - aging paper;
Application - all known method;
origami…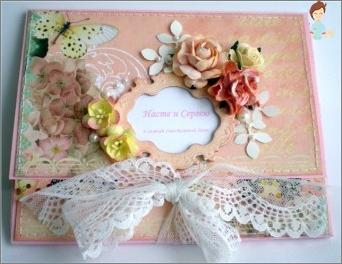 You can decorate pages selectively through several, each one, only the cover.
Depending on the style chosen, an album is purchased. In the assortment there are special folios on rings, on pins, in the form of books, on screws and paper clips.
True, such stores are only available in largeCities. But the inhabitants of provincial towns should not give up the pleasure of showing off to their close - and not very close - thematic collections of family history. The binding of the folio and skillfully carved pages can be done by oneself - there would be worthy ideas!
Preparing to create a masterpiece
If you want to collect the folio completely with your ownHands, then you have to think about cardboard and thick paper, paper clips for joining sheets, punch. But even experienced masters advise to acquire a basic "book"In the stationery store. If you want to independently engage in binding a scrapbooking album or its pages, it is desirable to have some basis.
Paper for scrapbooking should not contain acids, binding fibers, and lingine. Otherwise, after 2-3 years, it will turn yellow.
For ornaments, you can use any materials,It depends on the author's imagination and style of crafts. To design a scrapbooking album for a girl, you can use beads, rhinestones, ribbons, beads, etc. For the boy will fit cogs, small details of the designer, wire spirals ...
On the pages of thematic folios you can see the braid, the elements of the herbarium, small crafts made of thermo-ceramics - there are no restrictions in jewelry accessories.
No restrictions and when used in finishingWorks of tissues. The only advice, do not enter into the decoration of the building fabric. They are durable, beautiful looking, poured, but when in contact with the skin can cause irritation and itching.
List of necessary tools:
Knives and scissors;
Accessories for painting: paints, crayons, pastel pencils, markers;
Stamps and stencils;
Tools for stapling the pages and pages: punch, tape, stapler;
Adhesives of different types.
Scrapbooks for album scrapbooking can be purchasedIn a special store or cook yourself. Sketches are sketches, sketches, contours of figures. Those who can not draw, can find suitable images in advance and transfer them to paper using a carbon copy.
It is advisable to prepare in advance notes that will be pasted under the photos. They can be compiled independently, or ask for help from the classics, by editing the style.
Master class on making children's scrapbooking album
First you need to decide on the events that you want to enter into the children's album. Will it be dedicated to a single moment, or will it cover all life?
It is desirable to pick up photos in advance,Sort by years. Prepare their exact description, talk with eyewitnesses of growth or incidents - very interesting are the memories of different people who have different views on what happened. In the future these descriptions will make you plunge into the past, be touched, maybe even cry.
Next, choose the style of design. In the album, for children, children's drawings will be appropriate - even if they were not drawn by the inspiration of the idea, bright light colors are suitable for decoration.
Decorative elements of decoration should be thought throughAnd prepare in advance. There are no restrictions in accessories, but they must be combined with each other. Style and harmony are very important concepts. If the pages are not united by a common idea, the work of art does not work, there will be a scattered chronicle.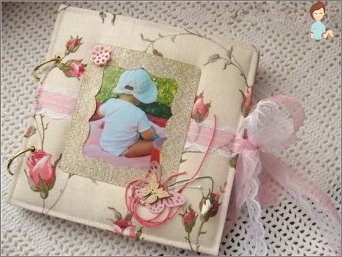 The style of the inscriptions depends on the images. Signatures to official events can be stamped out, and it is desirable to comment on the pretty pranks that are desired by usual handwritten signatures. Interesting are the inscriptions in which the letters are cut from paper.
Even with a good design style, immediatelyTo stick decorative elements and photos it is not necessary. First you need to schedule future places for images, put on each page accessories for its decoration. It is advisable to try several options.
Before you cut out the frames, contours are required.To circle. Cut pages better with a knife or a scalpel, putting something hard underneath them - for example, a board for slicing vegetables. The tip of the knife should not touch the surface of the next page.
It is advisable not to overload sheets with photos andDecorative elements of decoration. Larkiness does not indicate a good taste, and it is difficult to view photos if there are a lot of them, or the eyes scatter from the abundance of fine, shiny decorative elements.
Each page is drawn up separately, without unnecessaryHaste. Glue and paint must dry. Sometimes it's impossible to make an album faster than a page a day. To glue some accessories on the sheets will be required to put something heavy, leave for a long time. Leather and ceramic jewelry in less than 6-8 hours with a paper surface will not grasp.
By the same principle, weddingAlbums scrapbooking or other thematic crafts. If a wedding folio is made to the date of a silver wedding or even a golden one, then the edges of the sheets can be artificially aged, using the technique of torn paper.
It is not necessary to make an album capital. Technique scrapbooking is suitable for the design of mini-notebooks, album format diary. There are no limitations in the art of creating "annals in the future". Connect fantasy and enjoy! First, creativity, and then the results of their own work.